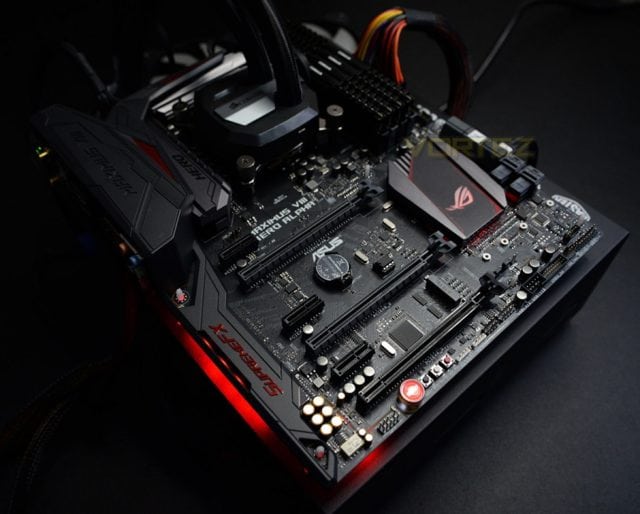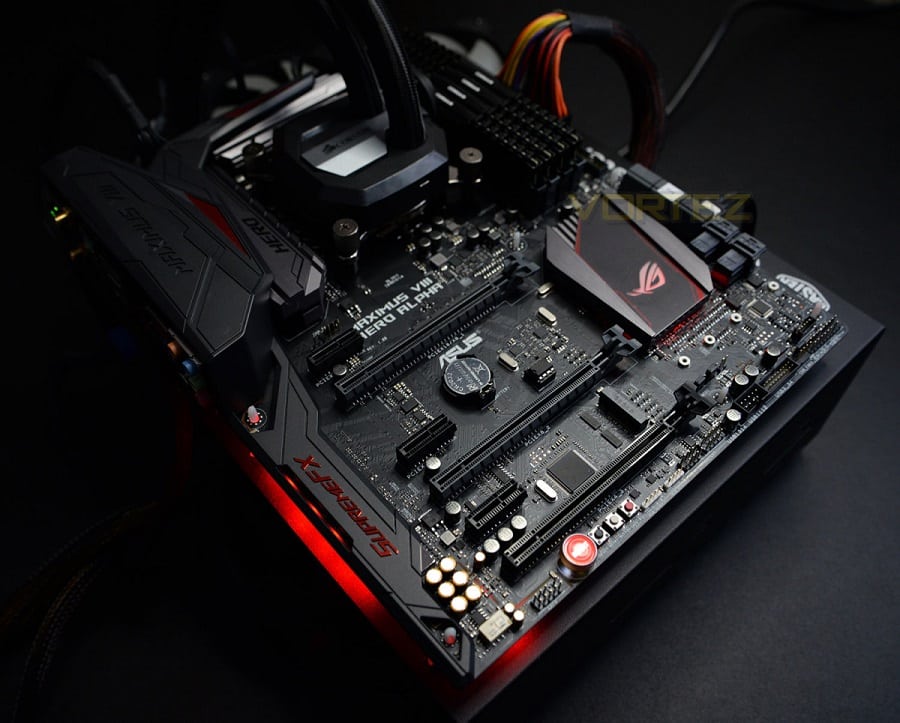 Looking for the best motherboard for i7? If this were 6 years ago, it would be easy for you to close your eyes, enter a store, pick any compatible motherboard and off you go. But this is 6 years later, and things have changed a lot and you need one of the best motherboards to get the full benefits of your Intel i7 processor.
I know that you must have heard the argument about what makes a motherboard. There are some that believe a motherboard can change everything, and there are those that believe all motherboards are the same except for features. That is my class.
A motherboard on its own doesn't do much when you are looking at raw performance. So we get back to the features because those are the things that decide what you get from a motherboard and what you don't. A motherboard with better and useful features is what you need. Of course, you shouldn't throw quality of build and beauty in the bin. But when the choice has to be made, features and quality, before looks.
These features that you must consider as a gamer include the number of graphics cards, memory, and storage it can take, overclocking features, onboard audio port, SLI, Crossfire support, and many other things.
Best Motherboards For i7 Intel Core Processors
Table could not be displayed.
ASUS MAXIMUS IX Formula Motherboard for Intel Core i7 CPU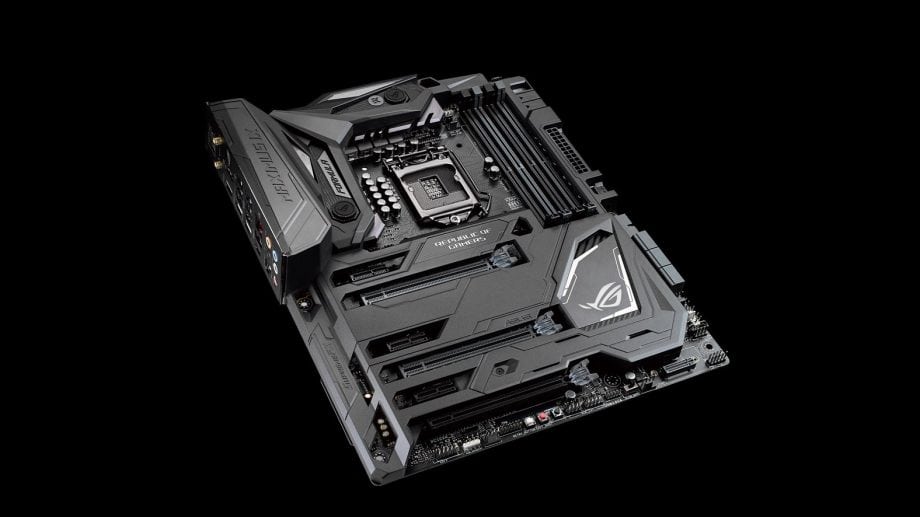 With the MAXIMUS IX FORMULA, Asus has designed a piece that is in a class of its own. The motherboard is a heavy user's piece as it doesn't just come strong but also with good features and water-cooling properties.
A Republic of Gamers board, the Maximus IX comes as an upgrade of the Maximus VIII Formula which has itself been a great board. The better take here is the improvement from the Z170 chipset featured by the former to the Z270 this comes with.
With Intel's 7th generation Kaby Lake processors on mind, the IX formula works seamlessly well like a horse on overdrive, maximizing the processor's features and interconnecting every other component without hitches. It is both clean and dominating. This is further enhanced by its tall standing water cooler, as well as good lighting.
It comes with the latest CrossChill EK II waterblock which was released in 2017 to offer great air and liquid cooling and overclock stability. This is one of the best features of the board. More so, it performs very quietly and gives you ease of monitoring the cooling performance.
Another interesting thing with this ATX form factor is that it provides slots for up to 4 DDR4 RAMs that offer you a maximum of 64GB.
Above everything else, this comes with many features that you may end up not even using. So if you want all the bells and whistles and sirens, this should do.
ASUS Maximus IX Formula Features
Socket Type: Intel LGA 1151
Chipset: Z270
Form Factor: ATX
CPU Support: Kaby Lake / Skylake
Expansion Slots: 4 PCIe, 6 SATA, 2 M.2
RAM Slots: 4 x DDR4
Maximum RAM: 64GB
Pros
Very good and enchanting looks.
Excellent cooling thanks to the CrossChill EK II waterblock.
Top tier features.
Good aesthetics.
Cons
On the expensive side.
Not the best when you look at its power consumption.
Verdict
Even though it is one of the most expensive you will get to lay your hands on, it is in its own class. If you are looking for generous quality and great functionality, then I don't think you can have a piece that is more maximum than the Maximus IX, most especially if you are using the latest technology in building your rig.
ASUS ROG Maximus VIII Formula Motherboard for Intel i7 CPU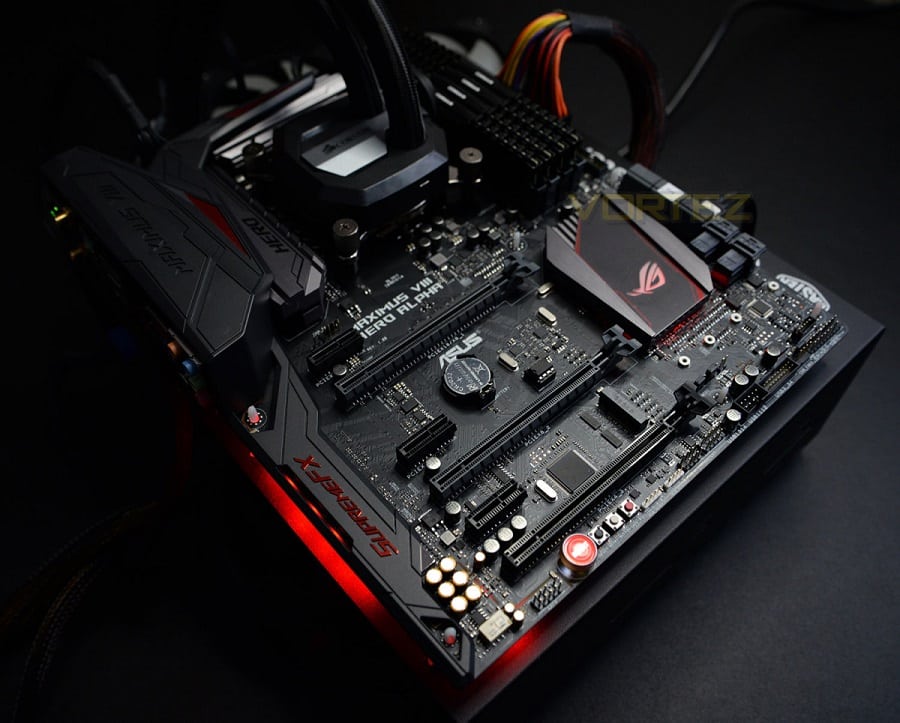 Another great board in the line of the Asus Republic of Gamers is the Maximus VIII Formula which comes as well designed as its other peers in the Formula line. And of course, it maintains the pedigree of the Formula when it comes to the best motherboards for gaming.
The ATX board comes with a Z170 chipset which although is not the latest, it still comes with great features. It also has a CrossChill waterblock that improves on the cooling performance of the board just like the IX Formula.
It comes with a very bold amour that has a very strong performance with 4 RAM slots that take DDR4 cards and offer a maximum of 64GB.
You will find out that the board is more than complete for a gamer if you consider its PCI extension slots for graphics solutions, many ports including USB 3.1 and 2.0, LAN, and eight SATA 6Gbps ports.
One of the sweet things about this motherboard is the customization option that it offers. Even though it is black and silver, you can decide to set the RGB lighting to any color you need and not necessarily the red that was forced on the Maximus VIII Hero.
ASUS ROG MAXIMUS VIII FORMULA Features
Socket Type: Intel LGA 1151
Chipset: Z170
Form Factor: ATX
CPU Support: Skylake
Expansion Slots: 4 PCIe, 6 SATA, 1 M.2
RAM Slots: 4 x DDR4
Maximum RAM: 64GB
Pros
Great design
Generous features and storage capability.
Easy customization.
The performance you get is top notch.
Good cooling.
Cons
Maybe expensive for some people but its features are well worth it.
Verdict
In the Z170 chipset category, this ATX board may be one of the more expensive ones, but it is as well one of the best that you will get. What is easy to appreciate with this are its generous and very useful slots and features it comes with.
Read: Recommended Gaming Hard Drives for the Ultimate Gaming Experience
MSI Z97 Gaming 5 Motherboard for Intel i7 Processor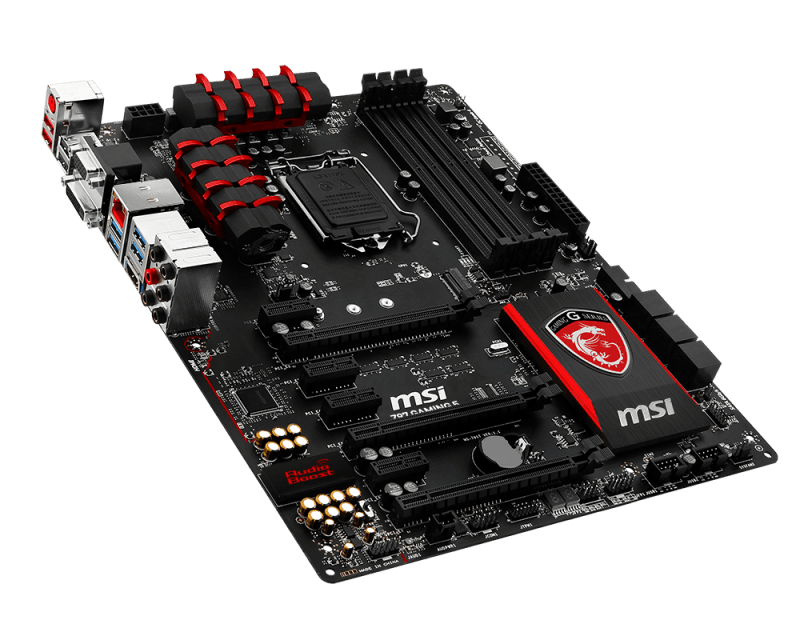 This may not be the one with every bell and whistle under the sun, but it is the one that will keep to all your gaming promises. In fact, it supplies all the main features you will need as an enthusiast gamer.
A solid Z97 chipset motherboard, this ATX piece is very easy to draw and sustain attention to itself. With a general black design, it comes with the touch red that you will almost always get with MSI pieces.
It is impressive to find that this comes with Killer E2205 Gigabit LAN for networking, the normal VGA, DVI, and HDMI ports. It also has 6 USB 3.0 ports and 8 USB 2.0 ports among other things.
Overclocking with this is as easy as it goes, and you get to have a three-way CrossFire and two-way SLI support, which gives you better gaming.
Even though it doesn't come with everything you may want, it comes with some that you will need including the Audio Boost, Military Class 4, and smart utilities. Also, it has a great software even as it is easy to install and use.
MSI Z97 Gaming 5 Motherboard Specifications:
Socket Type: Intel LGA 1151
Chipset: Z97
Form Factor: ATX
CPU Support: Broadwell / Haswell
Expansion Slots: 4 PCIe, 6 SATA, 1 M.2
RAM Slots: 4 x DDR4
Maximum RAM: 64GB
Pros
Very good build.
It is very valuable.
It accommodates almost any kind of gamer.
Designed with the Killer E2205 series network controller
Cons
May still be expensive for some
Verdict
If above many features you prefer solid performance and the most needed features, this is a motherboard that will win the bet for you. A piece for enthusiast gamer, this holds it well as a mid-range for almost any kind of gamer.
See Also: ATX vs Micro ATX Motherboard and Case: What are the Differences
Gigabyte Aorus Z270X Gaming 5 Motherboard for i7 CPU
Not every gamer has used a Gigabyte Aorus, but there is hardly any that has not heard of the Aorus. It is at the top end of things when it comes to gaming products, just as Republic of Gamers is.
With a Z270 chipset, the motherboard has a very good design and intelligent lighting. Apart from its design, the motherboard also has performance on its side.
It comes with four DIMM slots, strong SoundBlaster audio, and Killer Ethernet. More so, it has 2 M.2 sockets and 6 SATA ports. As a true gaming piece that it is, it supports a 3-way CrossFireX and 2-way SLI.
For the overclocking, this gives you options of either the using the software or deciding on the BIOS. And when the performance gets pushed, there is a very good heat control thanks to the onboard temperature sensors.
MSI Z97 Gaming 5 Motherboard Specifications:
Socket Type: Intel LGA 1151
Chipset: Z270
Form Factor: ATX
CPU Support: Broadwell / Haswell
Expansion Slots: 6 PCIe, 6 SATA, 3 SATA Express, 2 M.2, 1 U.2
RAM Slots: 4 x DDR4
Maximum RAM: 64GB
Pros
Offers great performance and solidity.
Top overclocking performance and options.
Good customization.
Good temperature sensors.
Cons
Many components are placed together that it seems to be busy in appearance.
Verdict
If you are wondering whether or not to buy the Gigabyte Aorus GA-Z270X-Gaming 5, and you are looking for a board that brings together performance and features, then you may as well settle for this. What makes it even better is that its price is decent.
Recommended: Top DDR4 RAM: A Complete Review of 12 Great Memories Money Can Buy
ASRock Z270 EXTREME4 Gaming Motherboard for Intel Core i7 CPU
The ASRock Z270 EXTREME4 is a board that may not make it rain, but when on budget, it will be able to get the job done better than many others in the same price range.
The motherboard like others in the Extreme4 line, is more versatile than the Faltal1ty line as it doesn't only concentrate on gamers like the other.
With the Z270 Extreme4, you get to have a motherboard that features the Z270 chipset, and has great and easy design, even though you will not find it to be the most beautiful one on the block. Still, it appears very pleasing with its RGB lighting that can be controlled from the software and the UEFI.
To some important features you get with the motherboard, it has 2 M.2 ports, 6 USB ports, audio connectors, 6 PCIe ports, and it supports CrossFire and SLI.
When you get to the ASRock's UEFI environment, there are many adjustment options which are rather very straight to the point. It comes with the advanced and simple mode in the BIOS. With the advanced mode, you are hit with up to 6 profiles for serious overclocking, changing fan speed and temperature and achieving other things.
ASRock Z270 EXTREME4 Gaming Motherboard Specs:
Socket Type: Intel LGA 1151
Chipset: Z270
Form Factor: ATX
CPU Support: Kaby Lake
Expansion Slots: 6 PCIe, 8 SATA, 2 M.2
RAM Slots: 4 x DDR4
Maximum RAM: 64GB
Year of Release: 2017
Pros
It gives easy and extensive control.
Excellent value for money
Crossfire and SLI support
RGB lighting that is easy to control.
It is versatile.
Cons
Doesn't come with the best overclocking.
Verdict
As stated, the ASRock Z270 EXTREME4 is not the biggest kid on the list, but you can hardly take it off the list of the best motherboards for i7 Intel Core Processors most especially if you want to combine affordability and performance on the same rig. You may decide on something else on the list, however, if you need extreme overclocking.
See Also: Review of the Best Mini-ITX Computer Cases
Conclusion
It doesn't matter whether you are building your rig or upgrading it, using one of the best motherboards for your i7 Intel Core Processors can change everything for you. Apart from that, it is important to know why you need a motherboard, and the type you need, because not all will suite your specific needs.