Optimum Online which is also popular as Optonline is an internet service provider that has a wide range of service and packages for people looking for internet speed that can go as high as 400 Mbps. More than just the internet packages, it also offers other products including TV and phone services.
As a result of these, its email services, settings, and customer service support have come to be very important for customers who are looking to get the best out of the ISP.
Optonline Webmail and Email Sign In
Like other ISPs, Optimum Online comes with a webmail service that makes it easy for one to access the email through the web browser. The webmail is designed to be easy to use and to improve productivity.
When you are having your modem installed, a technician from the ISP will create a primary email address for you, after which you will go on and set up a new account through the Optimum ID Management Center. Apart from your main email, you are also allowed to set up more accounts based on what your account supports.
Here are the steps to create your email account:
Go to the Optimum website and under the My Optimum ID box, click on "Don't have an Optimum ID? Create one". This will take you to the Create Optimum ID page.
Put in your account number, last name, and phone number in the fields provided and then click on the "Continue" button (you will find your account number on your Optimum billing statement at the top right corner).
The instructions you will see in the next page will vary based on the type of account you have. Follow the instructions and you will easily create your primary email.
Note: To set up your primary account, make sure that you make use of your home internet connection. More so, you will need to be at your server address.
How to sign in to email
Since you have the option of creating more emails for some more users that may be members of your household, you will first of all need to log into your email. Here are the steps to take to log in:
Go to the ISPs website and then click the "Sign in" at the top menu if the sign in field is not provided.
In the "My Optimum ID" field, put in your ID and in the "Password" field, put in your password.
Next, you will want to click on the "Sign In" button and this will sign you into your account where you can decide to view your email or create more email addresses.
How to create additional email addresses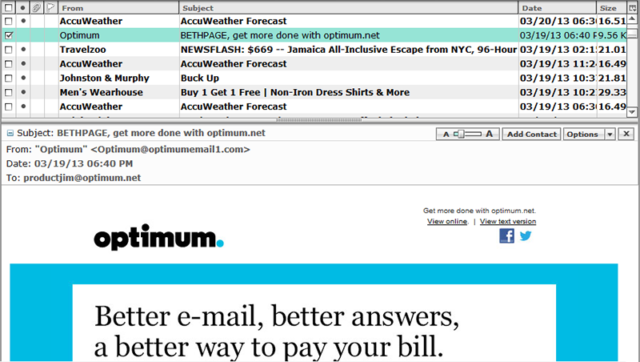 After you must have created your primary account, you can also create and manage 14 extra Optimum IDs. Through this, you will give access to members of your household to the account and other things including phone features and the bill features. Here are the steps to take.
Log into your Optonline account or if you are already signed in, you can simply follow this link.
Click on Add Optimum IDs to your account. You will find that on the right side of your page.
Fill in answers to the security questions.
The next thing to do is to go on and create the account by filling the necessary information of the new user.
Decide the type of access for the new user and check it.
Finally, click on Create Optimum ID and you are through.
Email Settings
While the Optonline webmail is very functional, you also have the option to access your email from your phone or through other desktop email clients. Not only are these options also reliable, but they are also quite easy to set up even though it will require care to be taken. Here are the details you need:
Incoming Mail Server
Account Type: IMAP
Username: Your Email address is not your username
Server hostname: mail.optonline.net
Server port: 993
Authentication: Password
SSL/TLS: Yes
Outgoing Mail Server
Account Type: SMTP
Username: Your Email address is not your username
Server hostname: mail.optonline.net
Server port: 456
Authentication: Password
SSL/TLS: Yes
Settings for Android Devices
For Android, you have the options of either going with the Gmail app to set the email which is the easier method or using the Android mail app. If you choose the latter, here are the processes involved:
Launch the mail app on your android phone
Next, tap on Settings and then tap to add a new email account.
Choose pop3.
Now put in your OptOnline email address followed by the password
Tap on "Manual Setup".
Under incoming settings, put in the details from Incoming Mail Server above.
Under the outgoing settings, also put in the details under Outgoing Mail Server above.
Select Next and then put in your preference including an account name. Now, you are done with setting up your Android email for OptOnline.
If you are unable to access the mail app, you can also use the Gmail app by following these steps:
Launch the Gmail app.
Go to "settings" and then select "Add Account"
From the list that you will be provided, select "Other"
Put in your Optonline email, tap "Next" and follow the steps above to complete the process.
See Also: Juno Email On The Web: How To Login, Settings, Personal Start Page 
Settings for iPhone
1. On your iPhone, go to the settings option
2. Select the Mail, Contacts and Calendars option
3. Below the iCloud, select Add Account and then other.
4. Put in your mail account details; the name you want, your username, and your account password
5. Tap on Next and then Imap.
6. For the incoming mail server, put in the details s provided above
7. For the outgoing mail server, also use the appropriate details above.
8. Save the information.
9. Select your mail account in settings and under the incoming settings, put in the SSL, Authentication, and Server Port above.
10. For the Outgoing settings, also put in the SSL, Authentication, and Server port.
11. After putting this correctly, you should be able to receive and send emails from your Optimum account.
Customer Service Support
You may have an issue or two with setting up your account or even with the setup of your email on either your iPhone or Android. With any of these, you can always rely on the customer service support to fix it as well as to get other information.
Here are ways to get the support:
Phone Number: Numbers based on location
Website: Optimum Support