All gamers know that the case and motherboard are two vital parts that help contribute to quality game time. Imagine a great looking case with poor airflow, overheating right in the middle of an exciting level when playing Call of Duty? As such, these two parts, which function in tandem, need to be suitable for your gaming needs. Even better, there are cases with unusual designs that can add some style to your hardware. Advanced Technology Extended or ATX and Micro ATX are arguably the gauging factors for all computer cases and motherboards and in this article, we explore in great detail, ATX vs micro ATX case and motherboard.
While many differences separate each one from the other, the most common feature is size. The design is also a factor to consider; in some cases having sleek designs that allow for multiple mounting options. Not to mention, computer motherboards come in all types and sizes, the case you choose should accommodate the motherboard comfortably and leave room for other additions such as an extra Hard Disk.
ATX vs Micro ATX Cases
While the problem regarding the size of the motherboard can help decide which case to purchase, other factors need to be considered before buying a specific ATX or Micro ATX case. These factors and features also act as differentiating factors, which can further help us draw a clear distinction between these two computer cases.
Differentiating factors when considering ATX vs microATX
Size of ATX vs MicroATX case
Gaming computer cases differ in size. The best case is one that can hold all your components and still leave room for any upgrades in the future. A full tower ATX case can fit almost anything and still leaves room for vital components such as modulators and a cooling water system. However, a Micro ATX case has less room thereby not all your components can fit inside.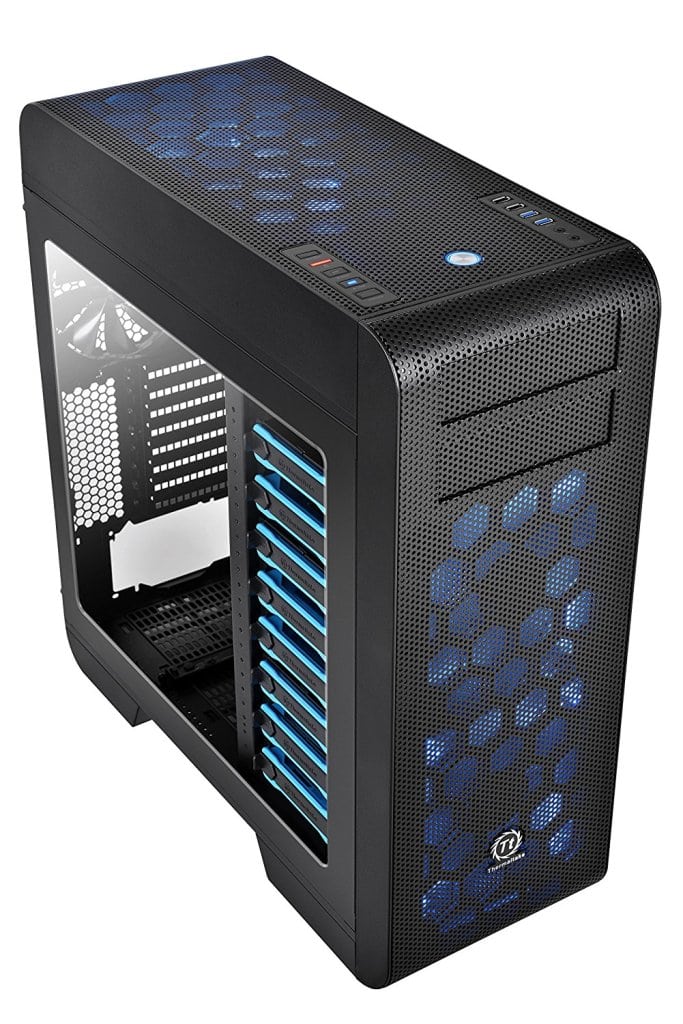 A good example of an ATX case with room to spare is the Thermaltake Core V/71 E-ATX Full Tower Gaming computer case. This case has an internal drive bay of 3.5 inches and an external bay of 5.25 inches. That's not all, compared to most Micro ATX cases that can hold up to around four slots, this case has eight expansion slots.
Its size is humongous compared to the VIVO Smart' Micro ATX gaming case, which has two internal 3.5-inch internal drive bays and two 2.5-inch internal SSD bays. Also, it has only four expansion slots and can host a maximum of 3 USB's. Nonetheless, this case is still convenient for some people seeing it still functions according to their requirements.

Size is also a vital factor to consider especially regarding your video cards. Personally, I use multiple video cards because I use different monitors at the same time. As such, a Micro ATX case might not appeal to me due to its size and ability to hold all my video cards. However, an ATX case such as the one mentioned above will easily hold a minimum of three cards and leave space for more.
Features
There are a lot of features to consider when choosing a gaming computer case. One of the most important of these features is the number of ports on the case. Gamers need as many ports as possible for any computer components required for the game. As mentioned earlier, most Full Tower ATX cases have at least eight ports while their counterparts have around four.
At times, you might be bored of using your keyboard for gameplay and instead opt for a joystick or a controller. Considering some computers use USB ports to connect your mouse and keyboard, there might be very little room left for any additional components such as SATA or even PCI network card if you purchase a Micro ATX case with only two ports.
Cooling
An average case used on a gaming PC should have at least one cooling fan to allow air to flow properly. Proper airflow means your computer will perform efficiently and won't overheat thereby stopping your game prematurely or even damaging your CPU. Although they have more room to spare, not all full tower ATX cases invest in their fans.
Probably because all the space left leaves a lot of room for air to circulate and cool the system. The Corsair Graphite Series 760T Full Tower Windowed case is big in stature but has only one standard fan at the back. However, the Thermaltake Versa H13 Window Black SPCC Micro ATX Gaming Computer Case has a pre-installed thermally controlled fan, which operates silently and in medium loads.
It's additional CX650M modular power supply also has a fan allowing your system to stay cool no matter the game being played. A proper cooling system is vital to ensuring your components do not overheat and get damaged. If you have a high-performance build, consider purchasing a case that has the best cooling qualities and can allow for additional options such as liquid or air CPU cooler.
Design and Longevity of ATX vs MicroATX Case
As a gamer, I know the importance of having a case that supports my motherboard and also has a stylish design. While some of the Micro ATX cases on this list might be highly effective and have plain designs the VIVO "Smart" MICRO-ATX Tower PC Case has LED lights, which makes it look more amazing.
On the other hand, LED lights might be a common sight on most ATX cases but not on the Corsair Obsidian Series 350D. Some cases have longer warranties than others; although most of the materials used for both ATX and Micro ATX cases are the same, a good warranty is advisable to ensure that you get a better chance for repairs after extended use.
Motherboard Compatibility for  ATX vs MicroATX
A gaming computer case is nothing without the motherboard; the latter can't perform without the former either. As such, it is advisable to get a computer case that is compatible with your motherboard build. It's a no brainer that your motherboard has to fit into your case. The good news about most motherboards is ATX, and Micro ATX are considered a computer's form factor.
A form factor is the standard size followed by manufacturers when making motherboards. There are chances that sometimes both ATX and Micro ATX cases can accommodate even ATX motherboards but The VIVO "Smart" MICRO-ATX Tower Computer Gaming PC Case which is a highly affordable top selling case only supports Micro ATX and Mini ITX motherboards.
While it may not support the Mini ITX, the Rosewill BLACKHAWK Gaming ATX Mid Tower Computer Case supports both ATX and Micro-ATX motherboards. Even better, it still leaves a lot of space between the fan and the motherboard for increased airflow. As much as these motherboards appear to share cases, they have differentiating factors that set each apart from the other.
ATX motherboards vs micro ATX motherboards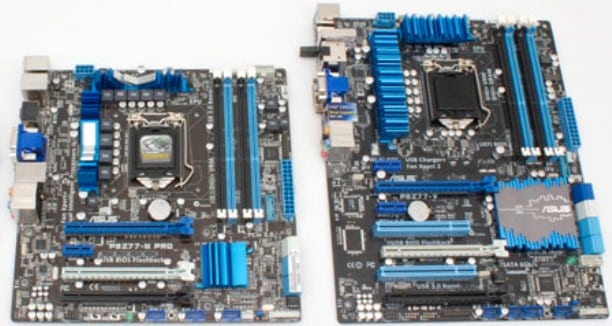 Motherboards are like a computer's central nervous system. They hold together vital parts that make it tick such as the CPU, RAM, power connectors, and many other components. MATX or Micro ATX and ATX are two of the major standard sized motherboards on the market. However, both of these motherboards are different, each with its own set of features and limitations.
ATX motherboards are bigger and more powerful compared to Micro ATX motherboards, which are efficient and more compact. So, which one is better? Letter us have a deeper look at their differentiating factors.
Related: Best 140mm Case Fans that are Quiet And Amazing in Performance
• Case Options for ATX vs MicroATX
By now you have an understanding of the two standard cases and their dissimilarities. A Micro ATX motherboard is the best bet for a Micro ATX case if you wish to save as much space as possible. The MSI Intel B85 LGA 1150 DDR3 USB 3.1 Micro ATX Motherboard would easily fit a VIVO Smart' Micro ATX computer case comfortably seeing its internal space almost matches the size of the motherboard.
Nonetheless, you don't have to match a Micro ATX motherboard with a Micro ATX case; you can also use the ATX case. However, the case must have mounts for a Micro ATX motherboard. While doing this might cost you an extra buck, you will still have space for long GPU's, thick coolers, and many other components.
• Budget
Aside from being smaller, MATX motherboards are cheaper compared to their ATX counterparts. Every gamer has the perfect motherboard on their mind personalized to meet their requirements. Aside from being small, most MATX motherboards are also considered budget oriented and rather basic.
On the other hand, ATX motherboards have more features and thereby more costly. However, not all Micro ATX motherboards are budget oriented, some such as the GIGABYTE LGA1151 Intel Z170 Micro ATX DDR4 Motherboard are awash with exciting features. They have one of the best audio codecs, can support 16 GB/s data transfer thanks to SATA Express Support, and their SSD drives can double that speed.
With each motherboard going for about $200 plus shipping, most people would consider their price a bargain. However, ATX motherboards are more expensive and for a better reason. The GIGABYTE AORUS GA-Z270X-Gaming 9 Gaming Motherboard costs more than an average MicroATX motherboard and has some of the best gaming features. It can reach data transfer speeds of 40 GB/s, supports both 6th and 7th generation Intel Core Processors, and has four-way graphic support.
This motherboard even has adaptive temperature control and a preset fan that uses pump modes. These features are hard to find in a Micro ATX motherboard, and the price is mostly the reason. You can find a Micro ATX motherboard at less than $100, it might not be fancy, but it can save you a buck or two. However, expect fewer features such as fewer ports and less space for peripherals.
Read: Best Wireless, Wired & Bluetooth Trackball Mouse for Gaming
• Form Factor for ATX vs MicroATX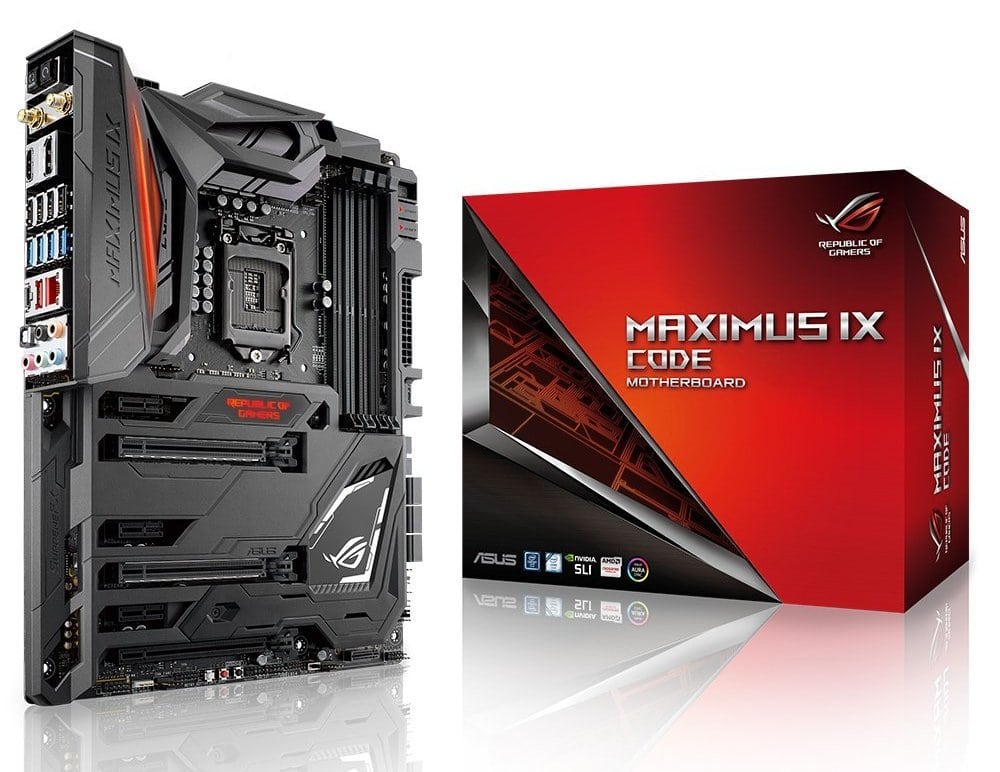 Size, price, and fewer features are not the only factors separating ATX motherboards from their Micro ATX counterparts; the form factor is also decisive. Most Micro ATX motherboards have two RAM slots while ATX has four. A good example is the ASUS ROG Maximus IX Code LGA1151 DDR4 DP HDMI M.2 Z270 ATX Motherboard with onboard AC Wi-Fi and USB 3.1, which not only has four RAM slots but can support up to 64GB of RAM.
However, there are exceptions in the number of ports either motherboards can have such as the GIGABYTE LGA1151 Intel Z170 Micro ATX DDR4 Motherboards, which like the ATX equivalent above, has four memory slots. No gamer likes a slow computer, and thus we all strive to purchase the motherboard with the best form factor.
Still, there are several ways to go about this issue. If you wish to build a basic computer and upgrade it with time, then an ATX motherboard would be a perfect choice. However, if you are more budget oriented and just need a motherboard that you can use until you get enough money to replace, then Micro ATX is your best bet.
• Basic vs. Loaded
This factor ultimately depends on your preferences. Some people prefer a motherboard with a traditional BIOS while other prefer one with cutting-edge features, others are just looking for something that works. Some people love Micro ATX motherboards because they are more compact and saves space.
Recommended: Review of the Best Mini ITX Cases
Personally, I prefer an ATX motherboard because I always upgrade my machine after some months. Tech companies are always manufacturing add-ons, some of which are essential for a smooth gaming experience. It is easy to lack space to install these add-ons if you purchase a simple Micro-ATX motherboard.
However, as mentioned earlier, not all people are interested in adding every new component to their computer, and in truth, if it isn't broken, why fix it? Whether loaded or basic, the kind of motherboard you choose regarding these two is entirely up to your personal preferences.
Conclusion
Both ATX and Micro ATX motherboards and cases have their advantages and disadvantages. If your objective is building your PC with time, then the best option is the ATX motherboard and case. However, if you are looking at a one-time purchase that will save you space and money, then the Micro ATX motherboard and case are your best choice.
In the end, the winning motherboard or case is only a reflection of your intention, budget, and other factors.
Watch the Video on Motherboard ATX vs microATX Sizes