In a day and age where most of our shopping is done from the convenience of our homes from a single click on our smartphones or other personal devices, online retail businesses like Amazon are blossoming and have come to stay. The ease in the transaction and the time it saves for buyers have made such companies a huge part of our day to day activities, and have given rise to numerous other ones, creating healthy competition that consumers are sure to benefit from.
Online retail outlets like Alibaba and Amazon have grown to become driving forces, not just in the retail world, but in business and technology in general. Putting Amazon into context, the company started off as an online bookstore before it diversified to start selling videos, MP3, audiobooks, software, video games, electronics, clothing, furniture, and every other item that is essential to our lives. Amazon's growth seemed to happen overnight but a closer look at the company's policies and services, such as the one in question here, Amazon Prime, will shine a light on why it keeps staying relevant and will continue to thrive despite the huge competition within the industry.
Amazon Prime
Amazon Prime is a paid membership service offered by Amazon that was created to provide a few added advantages to its frequent and loyal customers, setting them aside from its regular customers and that of other e-commerce platforms. Some of such advantages include free and faster shipping, deals and discounts, entertainment access, and a few other bonuses.
Shipping
Amazon Prime offers its users free same-day delivery or two-day shipping on eligible purchases. The same-day delivery service is available to customers in eligible zip codes while the two-day delivery service is eligible to addresses in the contiguous United States.
Also in regards to shipping, Amazon Prime members further have the chance to subscribe to an exclusive service only available to them called Prime Now. Prime Now gives its members the opportunity to receive their deliveries within an hour or two, for extra fees.
Deals and Discounts
Amazon Prime members are often given early access to various discounted products on its website or affiliate sites such as myhabit.com, wholefoodsmarket.com or kindle.com where they can also get free items.
Through other exclusive services only available to Amazon Prime customers such as Amazon Prime Day and Prime Pantry, members enjoy further discounts. On Prime Day, which is an artificial holiday created by the company, similar to what Black Friday serves as to most retail outlets, Amazon Prime members get deep discounts and deals. On Prime Pantry, on the other hand, members can purchase low-priced non-perishable groceries and discounted household and pet care items that can be delivered to them for an extra fee.
Entertainment
Amazon Prime members have access to unlimited streaming of movies and series via Prime Video, unlimited and ad-free access to hundreds of Prime Playlists and more than a million songs via Prime Music, secure unlimited photo storage in Amazon Cloud Drive via Prime Photos, access to Prime Reading and Kindle Owners' Lending Library.
Prime Reading
Prime Reading is a service available to Amazon Prime members that like to read. This service gives such users unlimited access to a selection of interesting and hotly sought after Kindle ebooks, magazines, children's books, comics, and many more at no additional cost.
Prime Movies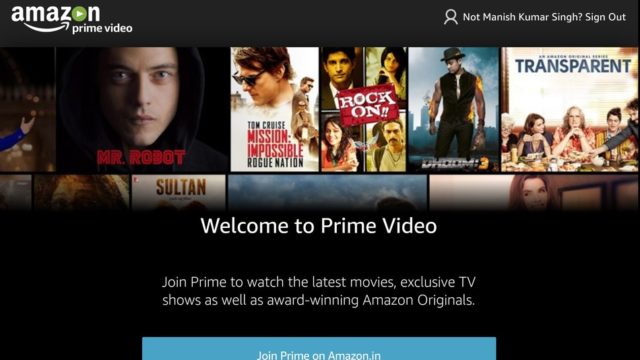 Movies, television shows, documentaries, sports, cartoons, and a whole lot more can be viewed through Prime Video, an internet video on demand service that comes free with an Amazon Prime membership and is available to other Amazon customers for a subscription fee.
This service was launched at Amazon Unbox on the 7th of September, 2006 for only customers in the United States but it has since been rebranded as Amazon Instant Video and is available to customers in parts of Europe and Asia.
Prime Music
Through Amazon Music, Amazon's music streaming platform and store, Amazon Prime members have unlimited streaming access to Prime Music which contains a catalog of more than a million songs and albums. To get access to more songs and albums, Amazon Prime members will need to subscribe to Amazon Music separately for a cheaper fee than what regular Amazon customers would pay.
Costs
To sign up for membership on Amazon Prime, it costs $119 per year or $12.99 per month. Annual subscribers get the first 30-days free, after which they can choose to cancel or go ahead with the subscription.
Amazon Prime is also available for students at a discounted rate. College students who have a valid .edu email address, can subscribe to Amazon Prime Student for $6.49 per month, half the prices of the regular Amazon Prime membership but still get access to all of the same benefits as well as other student-specific deals and coupons.
How to Get Amazon Prime Free Trial
As discussed above, to get an Amazon Prime free trial that lasts for 30 days, customers would have to sign up for the annual membership which can be canceled anytime within that period. Customers can however also choose to sign up directly for a free trial although once the trial is over, the customer will automatically be upgraded to a paid membership plan.
To sign up directly to a free trial, go to Amazon Prime free trial portal here, click start your free trial and then follow the on-screen instructions if prompted.
How to Cancel Membership
To cancel or end your Amazon Prime membership, got to Amazon Account and select Manage Prime Membership. The next step would be to click "End Membership" if you are actively subscribed, or "Do Not Continue" if you are on a free trial and do not wish to continue.
Note that Amazon may charge customers the regular prices for any Prime benefits that were used before cancellation. If no benefit has been used since being charged for a subscription, a customer might be entitled to a full refund.
Read Also: Mydish: Account Login, How To Pay Bills, Customer Support
Popular Questions
How long does it take Amazon to refund after cancellation?
It depends on the customer's bank, however, it usually takes about three to five business days for a refund to be completed.
How many devices can you have on Amazon Prime Music?
Prime Music can be download to a maximum of four authorized devices on your Amazon account.