Steelcase chairs have come to be among the favorite office chairs for a lot of people mostly because of their premium design and comfort. One of its flagship chairs, the Steelcase Leap Chair is also popular for the same reason. Even though it is less expensive than the Steelcase Gesture Chair which is also another popular chair from the same company, this is also not the cheapest that the market has to offer.
Beyond the price this stylish chair asks for, there are also a lot of things that the chair comes with including ergonomics, adjustability,  good build and design, as well as other things that can get one easily believing that this chair is worth getting. But is it really?
Quick Features
The Leap comes with Live Back technology that mimics the movement of the human spine.
Designed for long-term office use for people that sit for up to 8 hours.
Height, arms, back, seat depth, and lumbar adjustability.
It has a weight capacity of up to 300 lbs
From the floor, it has a height of from 15 1⁄2″ to 20 1⁄2″, a seat depth of 19", and a seat width of 19 1⁄4″.
Made of materials that are up to 98% recyclable.
It comes in leather and fabric material.
Steelcase Leap Chair Design and Quality
The first and most obvious thing about this chair is that it is a piece that comes with aesthetic fullness. The second thing is the solid quality that seems to explain the premium price you pay for the chair. It comes in six different colours based on what you want.
Inasmuch as this chair has been around for over a decade, it still maintains a very modern design which other newer chairs are even emulating. Over the years, it has been improved upon, but the main things about the best-selling office chair have remained almost the same.
Comfort
What Steelcase sought out to achieve with the Leap chair is not just something that you can use in the office, but something that you can get to use for long hours. Now, any chair that aims at achieving this has to be very comfortable which is what Steelcase has taken a lot of time into doing.
While the materials used in the chair emphasize comfort as the goal including the foam it makes use of to offer breathability and hence thermal comfort, it is the adjustments that it offers that is more important. With that, you get to set the chair in the way that you can get comfortable with. Most chair manufacturers make the mistake of believing that a single chair can be comfortable for everyone, but the truth is that comfort is something that everyone gets differently and that is why chairs with greater adjustment options are better in offering comfort.
More so, to the comfort that the Steelcase Leap Chair comes with is ergonomics. It will favour you to achieve a good sitting position and for people with back problems, this may be able to help you out. Even though there are those who have a problem with the lumbar support. That can easily be taken off without causing any problem.
Adjustability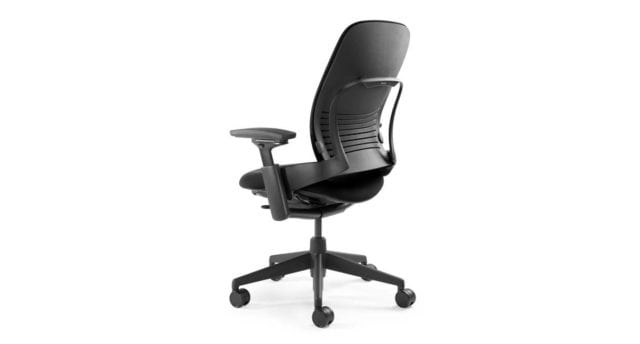 More than most things that you get with the Steelcase Leap Chair is its adjustability. Like most other office chairs, the height is adjustable and you can even adjust the seat pan either to come forward or backward.
What many people find to be their favorite adjustability option with the chair is the available adjustable options with the arms. You can decide to adjust the height level of the arms and adjust them also in almost every other way; forward and backward as well as sideways and pivot. You will not be able to have the arms taken off, but if you are not comfortable with it, you can adjust it wider and have it backward and that will simply get it out of the way.
See Also: Herman Miller Embody Chair Review – Is it Really Worth It?
The Leap chair also has adjustability option for its flexible back support, hence you can adjust the tension for reclining. It is also very easy for one to have the seat set on a particular recline position from the available five-step recline positions. Not to also forget the lumbar adjustability in both height and firmness that it comes with for back support.
There is one problem that most chairs that are very easy to adjust have and that is the problem of durability. Nevertheless, even though this has adjustability that is more than many other chairs, you will not have the problem here because of the premium build quality it has.
Pros
It has a sturdy build quality which means that it is one that you get to use for almost always.
It is very customizable because of the different options you get with it.
Premium comfort and ergonomics.
Excellent adjustability options at almost all levels.
Cons
The Lumbar support is one of the things that many do not like about this chair because it can sometimes be uncomfortable. Nevertheless, as stated above, you may decide to take them off.
It is not among the cheapest chairs that are available out there, even though there is no denying the fact that it is worth what it asks for.
Conclusion
The Steelcase Leap chair is with hardly any doubt, one of the best office chairs that you will find out there. The first version of the chair was created years ago and it became one of the most popular office chairs, something that the newer version has also achieved and maintained.
The chair has built its popularity on its great build and design, but it is on the comfort it offers, ergonomics, durability, and massive adjustability that it has been able to sustain. Except you find the price to be something of a problem, there is hardly any serious reason why one should not go for this workstation chair.
Finally, in the same way as the Steelcase Gesture Chair which has its place among office chairs, this is one that comes with the main intention of serving as an office chair but can also serve as a computer chair and for many other uses, most especially if you want to work for very long hours.