Quick Answer
If you are one that likes to take paid surveys and visit online rewards portals, PrizeRebel is one of the more legit platforms that you can sign up for on the world wide web. The platform's legitimacy can be seen through the numerous opportunities it gives for earning money, it's low payout threshold, and the opportunity to get paid in cash. Another thing that speaks to its legitimacy is its reliability and existence for many years.
PrizeRebel is an online paid survey and get-paid-to website where you can go and take a survey or perform various other online activities and get rewarded for it. Some of the other activities which you can perform on the website include watching videos, signing up for trials (products or services), play video games, and referring other people.
The website, which reportedly has more than 8 million users has paid out over $17 million in rewards since it came into existence (it was created in 2007). It offers users different levels of membership, meaning that you start off at the lowest level before being able to rise to a higher level following some activity and earnings on the site.
Earning Methods
There are different earning methods PrizeRebel offers so you know immediately if it will be for you or not. Below are the various available options you have to earn on the website. You can do so by just clicking on the 'Earn' link.
1. Paid Surveys: PrizeRebel offers a good amount of paid surveys, and it is a sure bet way to earn on the website. Under the 'earn' tab, you will find a variety of surveys which you can take after which your PrizeRebel account will be rewarded. First-time survey takers will be asked for a few profile questions to ensure you are not a bot but a real person. This helps the website in ensuring the quality of the participant on their site.
2. Paid Offers: This is usually an advertisement by one of PrizeRebel's partners in which you would have to interact with in order to earn your reward. This option has proven to be an easy way to earn rewards, although first-timers usually have a hard time seeing it through as some of its demands might appear to be annoying and in some cases, scary in the sense that you might have to pay some money for a product.
3. Paid Tasks: Here, you get to perform small online jobs usually through a platform called Figure Eight. Some of the jobs you can come across here include checking a website for links that do not work, checking a website for certain errors, and checking citations among other things. These tasks might not pay so much in the beginning but in the long run, after having performed a number of tasks, the rewards get bigger.
4. Watching Videos: PrizeRebel has a long list of videos/ads on different topics ranging from viral videos to health videos, that users can watch and earn by just doing so. Here, users usually get paid for every 3 videos/ads they watch, however, you will need to watch a huge number of them to earn significant rewards as this option does not quite pay well.
5. Raffles: PrizeRebel offers new raffles every week that users can use some of their earnings to enter. If you are lucky here, it can be a great way to multiply your earnings although the prizes here usually come in the form of gift cards.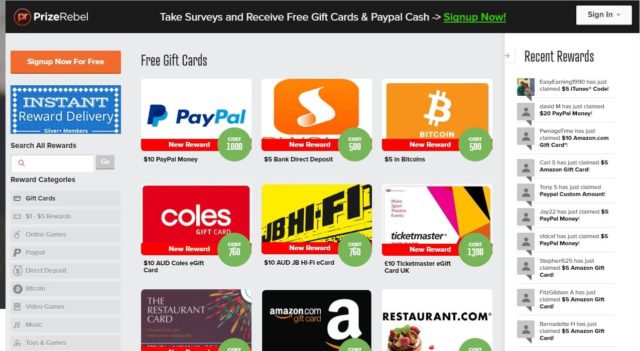 Is PrizeRebel Legit?
Having already given you a quick and definitive answer above, we will be listing a few pros and cons of using PrizeRebel for you to go ahead and make the final decision on whether PrizeRebel is a scam or a legitimate online survey website.
Pros
1. In addition to having a user-friendly website that is pretty straightforward, the first thing you will notice when joining PrizeRebel is that it is free to use. The site does not require members to pay a subscription fee.
2. Compared to many other similar platforms, PrizeRebel has a huge amount of surveys, offers, and tasks for users to take to earn points. Thanks to this, users do not have to wait for a while before a task is made available to them, rather, they are readily available waiting for you.
3. You can get paid in cash if you prefer that option. Its payout time is also quite fast, within 24 hours.
4. If ever you encounter any problems along the way, you are able to get great support from the platform's customer service. Thanks to the efficiency of the customer service, you are most likely not to see a bad review of the online survey site, however, that is not to say that there might not be one or two people with negative reviews.
Cons
1. You are most likely not to qualify for a survey, even after filling out 10 or more pre-survey questions, as it is with many other survey sites.
2. Depending on your location (country), there are likely not to be a lot of opportunities to earn rewards as it is with other users elsewhere.
Read Also: Swagbucks: Is It Legit, Safe, Scam, How Does It Work? Codes, Customer Service
How To Use PrizeRebel
PrizeRebel, like most other survey and get-paid-to websites requires that users must be over 18 years of age. If you happen to not be up to that age, but range between 13 and 18, you would be required to get parental consent in order to be able to use the site. Once you complete the signup process, you will be immediately presented with "bonus" offers that you can answer or skip and move to the main site. A popup screen would give you a chance to take a tour of the website and learn about it.
Note: filling out your profile will earn you easy points.
PrizeRebel Membership Levels
As earlier mentioned, new users of PrizeRebel start at the lowest level of membership from which they will be able to grow through activity and earnings. The website has five membership levels starting from bronze, to silver, gold, platinum, and going all the way to diamond.
To get to silver level from bronze, you would have to have earned 1000 points. The next step, which is gold, requires you to have 4500 points while platinum requires a minimum of 10000 points. The highest level, platinum, requires a minimum of 16000 points. Users who have gotten to gold level membership will have their preferred reward automatically processed when they have made enough to claim it. Also, the higher you go, the more bonuses you will get.
You will further get more bonus for inviting friends to join the platform as you move up through the levels. You will also start receiving special bonuses at the end of every month, which will be a percentage of all your earnings, as well as a discount on the rewards you claim.