The first time I came across the Steelcase Gesture Chair, the first thing that came to my mind was this: how much is too much to spend on an office or gaming chair? "It depends," was my answer. It depends on a lot of things such as the build of the chair, the durability, the comfort, the versatility, and much more.
This chair comes as a piece that is designed for almost every kind of office use, but what has had it out from the lots is that it can as well serve as a gaming chair. The ergonomically designed chair is one that has wide adjustability without losing its simplicity and beauty.
There is hardly any doubt that the chair is a good one but then, the question it has left many asking is whether it is really worth what it is asking. Why this is a very important question to ask is because from $500, it should not be too difficult for one to get a very good office chair, yet this is asking for up to a thousand. That said, let's see what this chair has to offer.
Quick features
Drawing an inspiration of its build form human body movement, Steelcase integrates features that can allow for the technology to flourish in an excellent way. Here are some important features:
From the floor, the seat has 16" to 21"
The seat depth is 18.4 inches and the width is 20"
Recommended for a long-term use of up to 8 hours.
Like most other chairs, it comes with Steel five-star caster base
The backrest is flexible.
The armrest can be adjusted into different positions.
Steelcase Gesture Chair Design and Quality
The design of the chair is not something we have never seen before, but it is still futuristic and appealing. More so, it is designed to be adjustable not just in the height, but also with the armrest to be able to go higher and lower and also to open wider and come closer. The chair can likewise bend backward when you need it to, though not like a rocking chair.
In addition to its good looks, the technology of the chair makes it behave as needed, which is to rhyme with the movement of the human body, that is why the arms can move just like the human arm and the chair can respond to almost every move you make, even though it is still sturdy. Finally, it comes in many colors.
No matter where one decides to subtract points from this chair, it will have nothing to do with the quality. Your first experience with it will have you attesting to the solid materials that are used in building the chair, making it clear that it is one that will last probably until you get tired and drop it down the window and someone decides to take it away to continue from where you stop.
One thing that I have come to notice with chairs that allow for good adjustability is that they often do not hold on for a very long time. I do not see that with the Steelcase Gesture Chair. It is able to accommodate up to 300 pounds and it comes with a warranty of 12 years as the testament of its solid construction.
Comfort
For me, this is where the chair faces the toughest questions as it doesn't seem to give what it has given in other places. Starting with the things not so pleasing in this department, the chair does not come with the best back support you will get.
According to Steelcase, you can work in this for as much as 8 hours and still feel comfortable, but I think you will get the comfort for even 2 extra hours. But the problem I have is that for a chair that asks for a thousand bucks, the backrest, most especially the lumbar area, can be improved upon. More so, it doesn't have a headrest, which is also something I would have loved to see.
Let's look at the good side of the chair. The most comfortable thing about it is that it improves on your posture and it comes with easy adjustability so as to allow you to find different positions for yourself.
The foam used in the chair has also added in making it comfortable. It is neither the softest nor is it the one that will win the Olympics of breathability, but it maintains a good stand between firmness, breathability, and overall comfort.
See Also: How Ergonomic Chairs Might Be Changing The Gaming Experience
At the end of the day, not everyone will find every chair to be very comfortable because of one's body shape and type as well as your kind of work. Nonetheless, I believe that for many, this chair will be a very comfortable one.
Pros
It has all the points for beauty and it has a futuristic look.
Offers great versatility and adjustability.
It has good features
The build is premium so you can count on the quality of the chair.
It has a warranty of 12 years.
Cons
I would have loved to see it with a better backrest and headrest considering the amount it sells for.
The lumbar support can be improved upon.
Is It Really Worth The Money? 
Without any doubt, the Steelcase Gesture Chair is mostly worth every cent that it asks for, and it may just stand as one of the very best office chairs at the moment. Better than everything else is the versatility that you get with the chair since it can serve as your normal office chair, a gaming chair, and whatever chair you want it to serve as. More so, it has great beauty, style, and durability.
Conclusion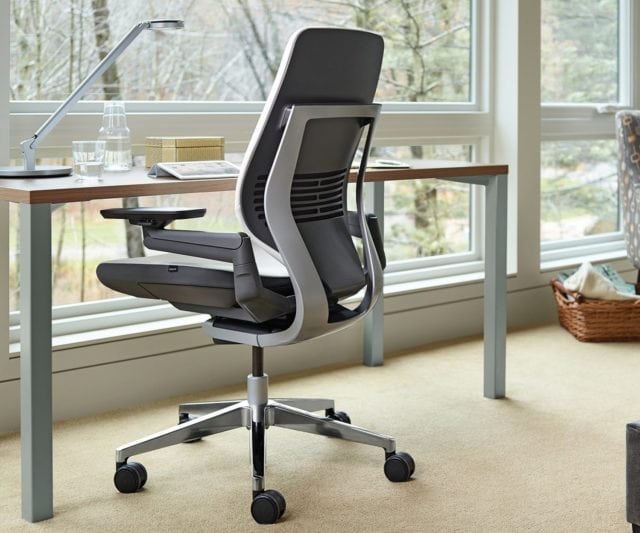 The Steelcase Gesture Chair is a well thought of chair that has beauty, brains, and quality construction, hence, it is not surprising that it is as popular as it is. The gesture comes as one that will be good for your regular office work, computer works, gaming, or any other thing. While it is very satisfactory, another chair that can serve as a replacement for this, in case you end up not liking it, there is the Herman Miller Embody Chair which is likewise great, although slightly more expensive.