Back, butt, and thigh pains are some of the things that anyone who sits for a very long time can easily come to relate with. The main cause of these pains is not sitting for so long, even though that can also contribute, but it is your sitting position as well as the type of chair that you make use of. That is why you will find out that the pain becomes more with some chairs, less with others, and completely absent with others. It is in the last category that you find the Herman Miller Embody Chair.
Recently, the chair has become very popular among other office chairs because of the many not-everyday things it has to offer. It has been designed as something that will take off the problem associated with bad sitting position for people who spend a lot of time in the office, as well as for people who have back problems.
Even though the chair has a lot to offer in almost every way that one may decide to look, it asks for a premium price which is not surprising considering the fact that it is a premium product. But then, the question that it leaves many asking is that with over a thousand dollars as the asking price, is the chair really worth what it asks for? In order to rightly answer the question, let's look at what it has to offer.
Quick Features
It is a heavyweight chair.
The frame, arms, and base are all graphite made.
Just as with most other traditional office chairs, this also has a five-star base.
It is highly adjustable.
Measurements:
Overall Height: 42-45 inches,
Seat Height: 16-20.5 inches
Width: 29.5 inches
Depth: 15–18 inches
Design and Quality of the Herman Miller Embody Chair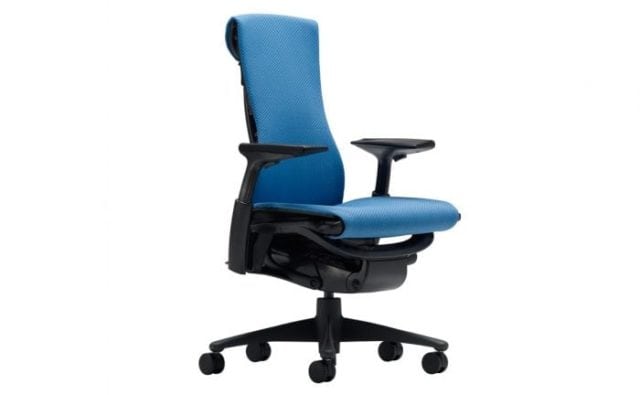 Not the kind of chair that you get to see every day, the Herman Miller Embody Office Chair has a very good design that shifts from the conventional office chairs that litter around. It comes with a spine that is not only flexible to allow for movement but one that also mimics the human spine.
Better than the looks of the chair is the versatility and responsiveness it has. For example, you get to control the armrest in any way that you want by either shifting it forward or backward, as well as up or down. Also, you can make the chair recline easily or you can make it rigid.
The design of the chair is the first thing it has to draw attention, but what it utilizes to keep interest is its quality. It has a premium build with customizable sides that are all strong and durable. Herman Miller has made the chair to also be as much as 95 percent recyclable. It has a Graphite Frame for both the arms and back.
Also with the design, the chair comes in different colors, affording you something beyond the dominant black.
Comfort and Ergonomics
One of the most important things that the Herman Miller Embody Chair has to offer is the exact thing that it preaches; ergonomics. This is mostly so, thanks to the manner that it is built, to be easily adjustable and friendly to almost any body type just as it is very flexible.
See Also: How Ergonomic Chairs Might Be Changing The Gaming Experience
When tired of sitting in a particular position, you have different adjustable levels that you can achieve with the chair including a tunable backrest, adjustable seat, and armrest that you can adjust.
The seat itself is soft and breathable so that you can seat for an extended amount of time without worrying about anything.
Pros
Modern and excellent design that is everything but boring.
The quality is good, making it a chair that one may get to use almost forever.
Very comfortable thanks to the soft and breathable seat as well as the flexible build.
One of the strongest charms of the chair is the adjustability which even includes the height and length of the chair.
The biggest advantage that this chair has over what the market offers right now is the health benefit that it promises and delivers.
You get a 12-year warranty for the chair.
Cons
There is obviously no denying the fact that it is not price friendly at all, most especially for someone who is low on budget.
For a premium seat as this, I would personally have loved to see the Herman Miller Embody Chair with a slightly better quality of fabric than what it comes with.
Lastly, I would have loved to see that there is an option for a seat that comes with a headrest. Not too many people would find this important for an office chair, but it would have served the class of people that consider it as something needed in a chair.
Verdict
According to Herman Miller, it did not design this chair in isolation, as it brought in many physicians to get their ideas on how to come up with something that will be able to be health-friendly. That said, the chair does not leave one with any doubt on how friendly it is to the health of users.
In addition, it is a chair that shifts from conventional chairs in many ways than one can count, leaving no box unchecked as far as comfort, durability, ease of use, adjustability, and almost every other thing you can ask for in a chair.
Is it really worth it?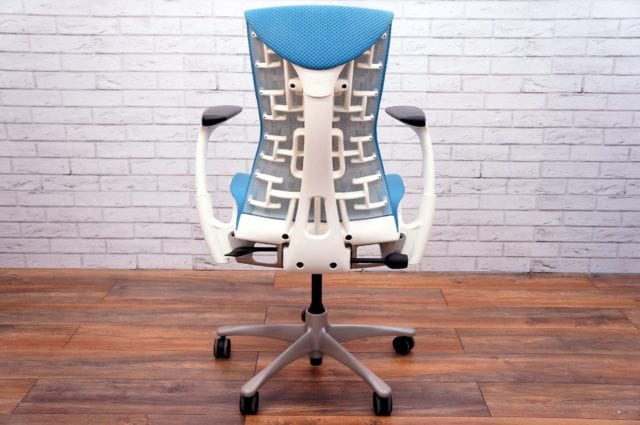 Going for over a thousand dollars, the Herman Miller Embody Chair is not one of those that many would be able to get since it is simply on the expensive side of things. Hence, for someone who only sits for less than four hours a day in the office, paying this much for a chair is simply not worth it. You can as well go for a much cheaper chair that delivers good ergonomics. Nevertheless, considering all that it has to offer including a warranty of up to 12 years, it is a chair that is worth it for someone who sits for over four hours in the office. More so, it is also worth it for people with backaches and any other issue relating to poor sitting position.