Steam is probably the most popular platform that is created to help gamers in buying and playing video games. Although the platform was created in 2003, it was until 2015 that the Steam Refunds policy was introduced. Before that point, it was very hard for gamers to get a refund for purchases made as a result of the no-refund policy that it operated.
Even when the no-refund policy was in place, there were some circumstances in which gamers could request for a refund such as when it removed games from its store or when you bought a game before it was released only to realize it was not compatible with your device.
With the introduction of the Steam refund system, Valve has made it possible for people to have their money back after making purchases that are either bad, fail to work with their system or one that is different from what has been advertised. While this may seem a walk in the park, there are a number of things you have to understand before you go ahead to ask for a refund.
Login Process
Before you can request for a refund, you will need to first log into your account following the usual process.
Simply go to steam
On the top-right side of the page click on "Login"
Put in your Steam account name and then your password.
Click on "Sign in".
Steam Refunds
The refund covers almost all the purchases you make on the platform whether you buy the game and after playing for a short while you don't like it or because of hardware issues or other things. For you to be eligible for refunds, there is a window that you need to stay within.
Refund can be asked for anything bought from games to software applications from the Steam store.
You can only request for a refund within two weeks of making the purchase.
One must not play the game for more than 2 hours.
Refund can also be gotten for in-game items bought after a request is made in less than 48 hours after it was bought. More so, before a request can be made, ensure that you have not utilized the item. Such in-game items have to be from Valve, but for those getting from third-party, the developers have the option of either processing a refund or not.
For pre-ordered games, you can ask for a refund any time you want, but once it has been released, the standard refund period begins to count.
The Steam refund also covers things like steam wallet once it is bought from Steam and the funds have not been used. The refund policy for this is also 14 days.
Refund can also be requested for bundles on the conditions that no item in it has been transferred or used for more than 2 hours.
For funds used to purchase gifts, it will be refunded to the original buyer within the standard window of 14-day/two-hour period.
You will not get a refund for items bought outside of Steam, video contents, or after you have been banned for cheating or other such things.
How to Get Refunds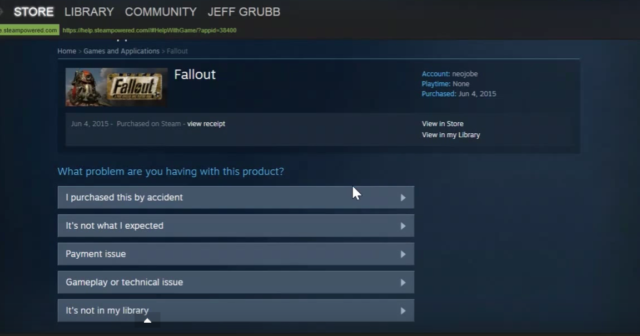 If you meet all the requirements for a refund, here are the steps that you should take to get it:
Go to steam help and then log into your Steam Account.
In your account, click on "A Purchase"
There, you should see the purchase you want a refund for. If it is not there, it is most likely that the window period for a refund has closed or it is not eligible for a refund.
Select why you want the refund which is there as the problem you are having.
From there, click on "I'd like to request a refund."
A request form will be provided for you to fill.
A confirmation mail will be sent to you if it is successful.
Note: If you are outside of the 14 days period or you have used the product for more than 2 hours, even if you request for a refund, it may not be granted.
Support
If in the process of requesting for the Steam refunds you have any problem, you may consider getting the needed help from the support at help.steampowered.com.
How to share your Steam gaming library
After you must have completed your refund and you now have the games you need, you may decide to share your library with family and friends. The first thing before anything else is to enable the Steam Guard Security feature.
See Also: What are Steam Keys? How to Buy Cheap, Sell, Use, or Get One For Free
To do this, go to the steam setting and then click on the "Account" tab. Select "Manage my account with Steam Guard security." With that done, you can continue with the process:
Using your account, log into the computer of the person you want to share the library with.
Open the Settings menu and click Family
Select "Authorize This Computer"
You will see the different accounts that have logged in using the computer. Select the accounts you want to share your library with.
Click "Ok" and log out. Now, the person can download and install games he wants from your library.
You can set up as much as 5 users who would access your library.
Steam Charts
Using steam charts, you can measure your trend of games on the platform so as to get some important insights. You will be able to tell the popular games on steam as well as the 24-hour changes and the changes in the last 48 hours.
Other Questions
How long does a refund take on steam?
After every process has been completed, Steam Refunds should not take more than a week. If, however, you are requesting international payments, it may take longer since it is more complex.
If after 7 days you are yet to have your refunds, you are advised to contact your bank for details on pending funds.
Can you get a refund on Steam games after 14 days?
After 14 days, you can request for a refund through the support, but it will not be granted because as stipulated, it can only be done within 14 days.
Is there a limit to how many games you can request a refund for?
You can ask for as many Steam Refunds as possible, however, when it gets too much within a short period, you may be warned that future requests may be declined if Valve thinks you are using the policy to test out games.