Quick Answer
Steam keys are unique activation codes that gamers use to activate, access, and play the full copy of a game from the digital distribution platform for video games called Steam.
In 2003, video game developing company, Valve Corporation, came up with the idea to build a digital distribution platform for video games called Steam. Steam aimed to provide its customers with the installation and automatic updating of video games, hosting multiplayer functionality, and social networking, among other features. The company went a step further to provide developers with access to an application programming interface (API) that they could use to integrate some of Steam's functions into their products, as it also made third-party games available for purchase and download on the network.
By 2007, following the successes of games like Rag Doll Kung Fu and Darwinia which was developed by other companies, and Valve's own Half-Life 2, on Steam, the company had grown to have more than 13 million accounts on its service. Valve was able to do this because it required gamers who wanted to play those games to have a Steam account and the Steam game client before they were able to do so. With a huge clientele behind it, Steam was able to get the attention of other big game developers and publishers like id Software, Eidos Interactive, and Capcom, who all began distributing their own games on Steam's platform, thereby making it the largest digital distribution platform for PC gaming.
What are Steam Keys?
As Steam grew, the company went away with its traditional anti-piracy measures for product keys, activation codes, and game keys, or what is better known as steam keys. A Steam key is a serial number that consists of letters and numbers which is used to activate a game. Once a user buys a game from Steam, the company issues a key that is permanently attached to the user's Steam account which allows them and them alone to play the game through their account even after they might have deleted or uninstalled the game.
It was also designed to be a convenient tool for third-party developers whose games have been integrated with Steam's API to be able to sell their games on other online stores and retail outlets.
Note that there are three different types of Steam keys. There is the standard steam key, the release override steam key, and the dev comp steam key. The standard key is the most common of them since it is used by the average user. The release override is used for beta testing as it grants access to a product before its release on Stream to reviewers or press. The third one, dev comp, is only intended for developers only. These keys are created to automatically provide developers with access to the product.
How to Use a Steam Key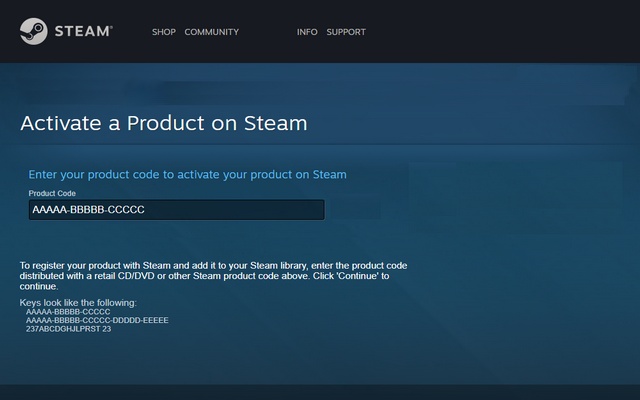 To get a key, users are required to request them through the Steam network portal. Click the "Request Steam Product Keys" button. If for any reason you don't see that button, your account doesn't have the permission to "Generate Steam Keys".
To activate a game through steam, a user must have or would have to create a steam account before downloading and installing the Steam software. The next step would be to launch Steam and enter your login details. After logging in, click on "Add game.." to reveal a pop-up window that displays "Activate a Product on Steam". Follow on-screen instructions and then enter the Steam key, which is case sensitive, to activate the game. After completing this process and Steam verifies that the key is valid, the page will take you to the game library where you will be able to download and play the game.
How to Buy Cheap Steam Keys?
You can find cheap games if you buy your keys off grey market / third-party sellers like Kinguin, Humble Bundle, HRK Game, and G2A, among others instead of going through the more trusted sources like Steam and Origin. If you are wondering why their game keys from these sites are relatively cheaper, it is because they acquire their games from cheaper regions and then resell them for slightly higher prices which is still miraculously cheaper than what you would have gotten them for on the main sites.
However, note that a vast majority of these third party or grey market sellers are not authorized to do so by Steam. This means that you as a buyer will be solely bearing the risk if you purchase a key and it is not delivered or you encounter a problem.
How to Sell One
Game owners can sell their games as long as the keys have never been activated and do not belong to a specific account. The games can only come from your inventory but not from your library. To sell a game, you can do so through the various grey market sellers listed above who are always looking to get a good deal.
Read Also: Godaddy Workspace, Domain, Site Builder, Hosting Services, Promo Codes 
How to Get Free Steam Keys
There are various ways to get free steam keys online as a number of websites usually give them out, some as frequently as on a daily basis, although at times there might be a catch to it. You could either be required to fill out a survey or play different games on the site to earn points which further depends on what country or region you are located in.
A website like www.steamgifts.com uses draws to give away hundreds of steam keys per day. It is, however, said that people here do not have the luxury of choice when it comes to what game they receive and they also must have an inventory that is worth more than $100. Another website is the interactive tremorgames.com where people earn coins by playing their games. At the end of the day, the coins earned can be exchanged for your needs which include different available steam keys.