Wireless adapters are hardware devices that help computers connect to a wireless system like the internet. Also known as WiFi cards or WiFi adapters, they are the ideal way to connect your computers to a network because they do away with the need for long and cumbersome Ethernet cables. The only concern is that connecting to the internet wirelessly can result in slower speeds and service disruption from interferences if you are not using a good wireless network adapter. Click here jump straight to the review
So if you are waiting too long for your game or Netflix to buffer before you are able to play or watch, maybe it is time to add an external wireless adapter.
It is important to note that there are two major types of wireless adapters, and you have to be familiar with both of them to decide on the one that suits you best.
1. PCI-E Wireless Adapters
PCI-E or Peripheral Component Interconnect Express is an expansion slot installed on your computer's motherboard to aid in internet connection. They do so through PCI-E-based expansion cards and are the replacements for older and slower AGP and PCI connections. As the current standard internal interface, PCI Express slots come preinstalled on most computer motherboards lately.
PCI Express not only allows communication between your device and the motherboard but between other hardware as well. This high bandwidth interface makes reading from and writing to your drive faster, and some even come with built-in SSD.
There are four types of PCI Express interfaces all differentiated only by their size:
PCI Express 1: 25 mm (18 pins)
PCI Express 4: 39 mm (39 pins)
PCI Express 8: 56 mm (49 pins)
PCI Express 16: 89 mm (82 pins)
A PCI Express card can fit into any PCI-E slot as long as the size of the slot is equal to the card or bigger. So, if you can only afford a PCI-E 1 card, you do not have to worry about it fitting into your motherboard if the slots in there are bigger than the card. They can also fit if the slot is smaller than the card, but the slots have to be open-ended (without a stopper at the end).
2. USB WiFi Adapters
USB wireless adapters make it possible to connect to the internet and support data rates of up to 600 Mbps. These adapters are usually plugged into your computer's USB port and often use Wi-Fi technology as a protocol for signaling. Unlike PCI-E adapters, which hardly limit network speeds, USB adapter speeds vary with regard to their FireWire.
USB wireless adapters are by far the most common and the easiest to use since all you have to do is plug them into your computer's USB port, download the drivers (if your computer doesn't already have them), and start browsing. Seeing that USB ports have become the standard means of connection and data transfer between a computer and any other device, it's no wonder USB wireless adapters are mostly preferred as opposed to their counterparts.
Putting these into consideration, here is a review of the nine best wireless adapters in the market to further help you make a sound decision.
Best Wireless Adapters and WiFi Cards
ASUS Dual-Band -AC1900 PCI-E Wireless Adapter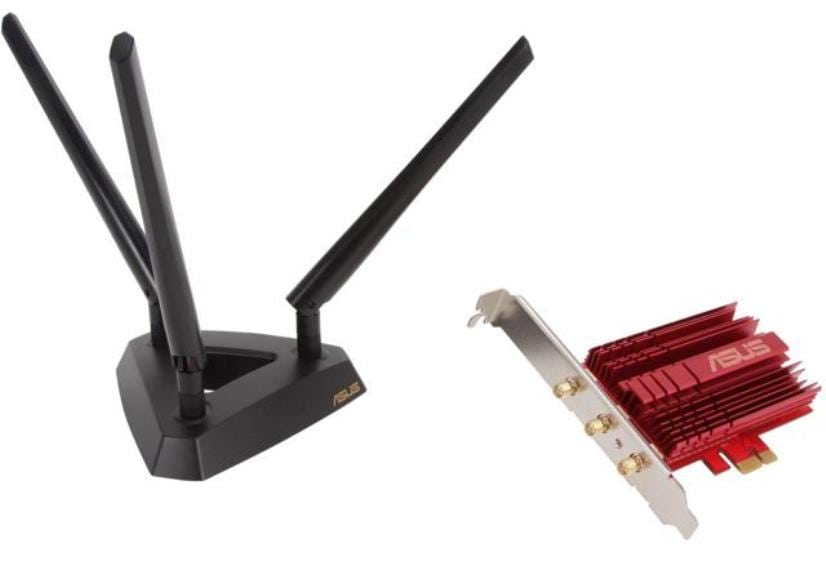 The ASUS Dual-Band Wireless-AC1900 PCI-E Adapter can upgrade your internet speed to up to 1300mbps and efficiently rid your PC of cluttered Ethernet cables. Also, its extensible design prioritizes on data so you can say goodbye to those moments when your computer loads one internet page for over a minute. With this adapter, you need not worry about dead zones as they are cleared by its high-power design that offers 150% superior coverage.
Also, the ASUS Dual-Band Wireless is among the few with a custom heatsink, so your device won't overheat adding stability and reliability to its list of services. Its dual-band (2.4GHz and 5GHz) feature is made possible by a 5th generation chipset, which is responsible for increased speed. Lastly, this adapter has detachable antennas that can be positioned remotely using bundled extension cables for better connectivity, how cool is that?
TP-Link Wireless Dual Band PCI Express Adapter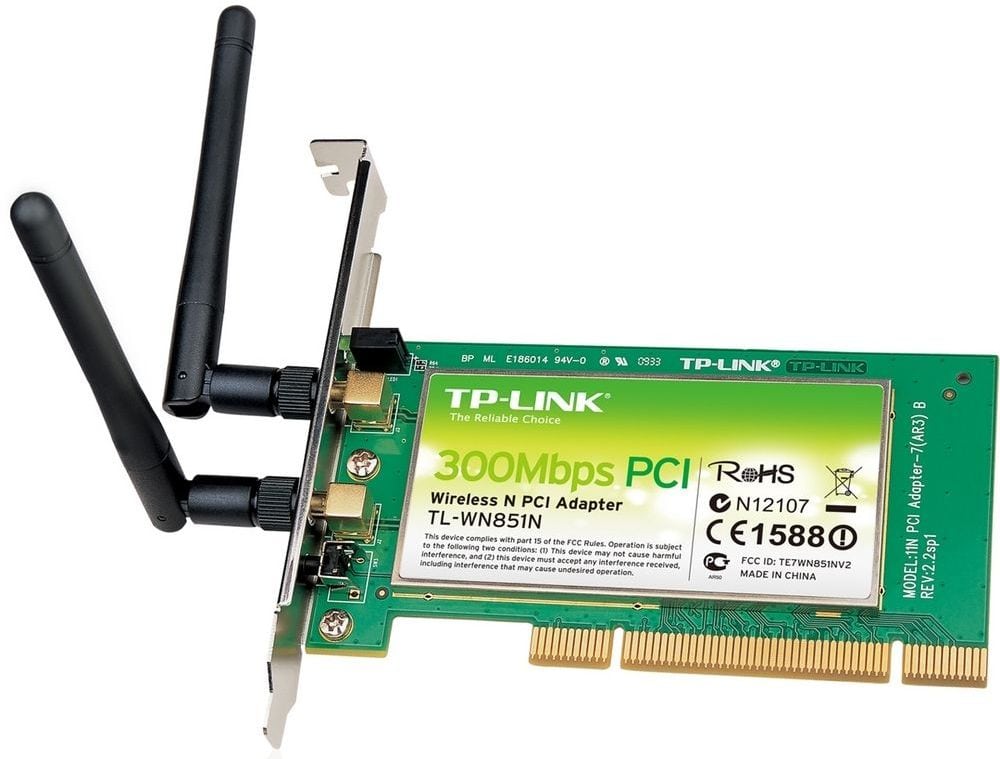 Just like its counterpart above, this dual-band (2.4 GHz or 5 GHz) adapter can reach incredible speeds when it comes to internet connectivity. Not to mention, it is easy to install and has three antennas to increase its stability and wireless performance. At 450Mbps, the TP-Link Wireless Dual Band PCI-E Adapter is among the few currently on the market with endless round the clock technical support.
The adapter also comes at a very low price and with this adapter, video streaming and online gaming are made easy. The adapter also supports infrastructure and ad-hoc modes.
ASUS USB-AC68 Dual-Band AC1900 USB 3.0 Wi-Fi Adapter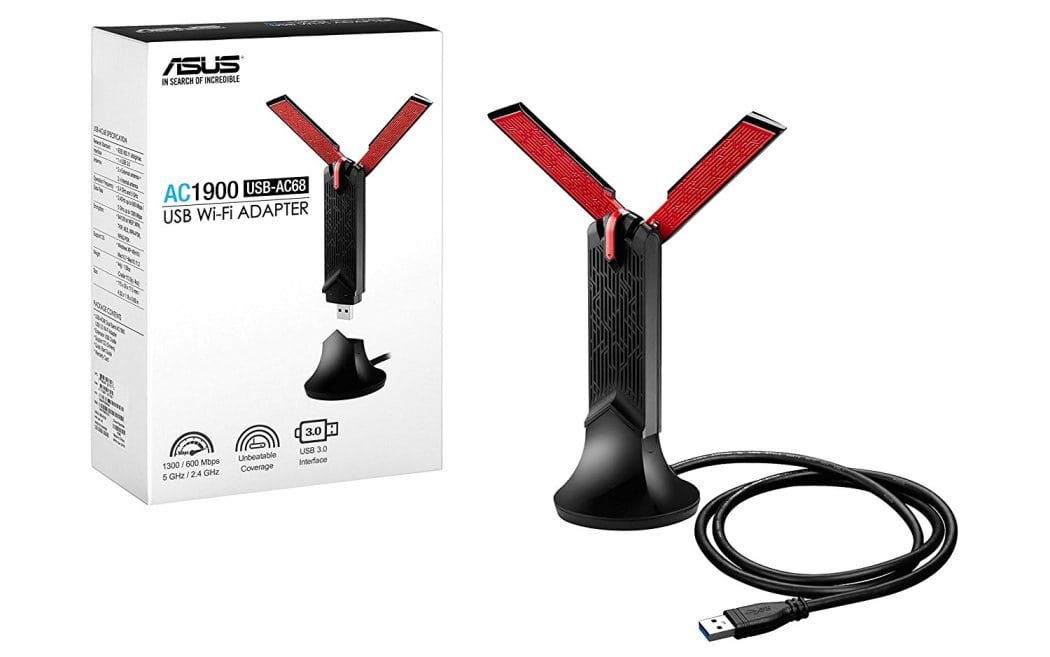 ASUS is increasingly becoming the go-to company for anybody looking for state-of-the-art WiFi cards. The ASUS USB-AC68 not only has a dual-band but it also comes with preinstalled dual internal antennas. These further aid its 3-position internal antennas in looking for the best signal. That's not all, the antennas are also foldable guarantying portability when closed and enhancing laptop reception when open.
Compared to the previous generation N900 adapters, the ASUS USB-AC68 increases your Wi-Fi speed by over 300%. You could pair this adapter with your notebook, desktop or laptop easily and experience an outstanding improvement in wireless connectivity.
D-Link Systems AC1900 Ultra Wi-Fi USB 3.0 Adapter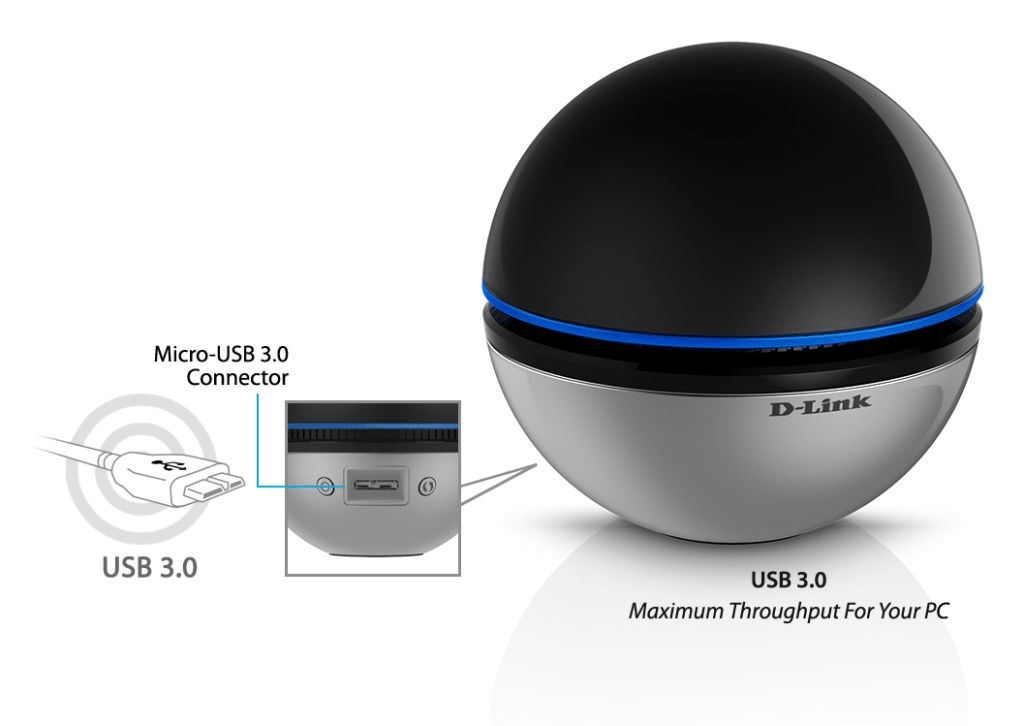 Otherwise known as the DWA-192, this adapter is the perfect blend of design and performance. The Dwa-192 has a dual band and can reach speeds of up to 600Mbps when on 2.4GHz and 1,300Mbps when on 5GHz. This adapter is also appealing with a sleek round design that makes it look like those technologically advanced orbs often used in movies that direct lasers to aid in determining a building's blueprint.
In directing bandwidth between the adapter and your Smart Beam Router, performance and coverage are exponentially increased thanks to its advanced AC Smart Beam. The AC Smart Beam is so amazing that it can direct bandwidth to your device even if you start moving around the house with little to no effect on the signal strength. Also, it has a USB 3.0 interface so connecting it to your PC should be very easy.
Asus (USB-AC56) Dual-band Wireless-AC1300 USB 3.0 Wi-Fi Adapter
Whether you are upgrading the current adapter or pairing a powerful AC router, the Asus (USB-AC56) Dual-band Wireless is sure to increase your device's wireless networking exponentially. This adapter not only has a desktop cradle for improved signal strength but it also has an external high-gain antenna that can increase your Wi-Fi signal by up to 150%.
When using the 5GHz band, you can achieve speeds of up to 867 Mbps. Streaming videos, downloading content, and online gaming has never been easier. This adapter is ideal because it can cover large homes or offices with ease and still maintain exceptional signal quality. However, if your environment is full of objects that may hinder your signal, its three-foot cable makes positioning easier ensuring that you get the best signal strength no matter your location.
TP-Link AC1300 Wireless Dual Band PCI-Express Adapter (Archer T6E)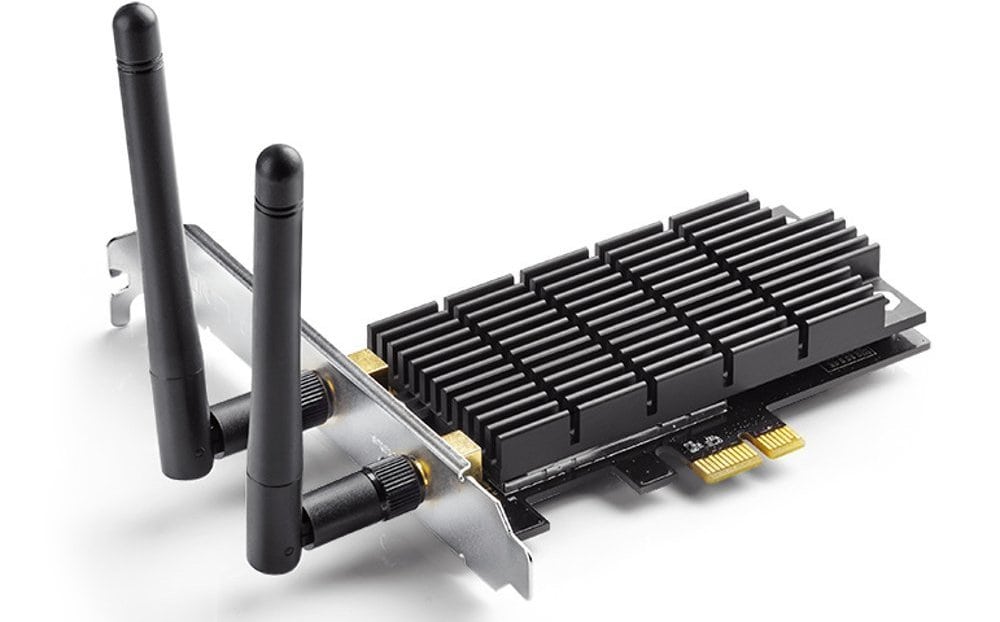 The Archer T6E is an easy to install Hi-speed Wi-Fi adapter with 2.4 GHz and 5 GHz bands. These can reach speeds of up to 400Mbps and 867Mbps respectively. If your job entails high-intensity network usage, then this is your ideal adapter. Most adapters use the standard 802.11n band, but with an 802.11ac dual-band, the Archer T6E is three times faster.
The Archer T6E comes with a 2-year warranty and round the clock technical support. As far as antennas go, the Archer T6E has two flexible antennas that aid in the search for the strongest signal. And once connected, the adapter is insanely fast and will give you a new experience altogether regarding any online activity.
LG AN-WF100 Wi-Fi USB Adapter
The LG AN-WF100 Wi-Fi USB Adapter might not have a standout design like its counterparts on this list, but its effectiveness is not to be underestimated. It looks like a USB Flash drive and weighs in at just a pound, which makes it highly portable and can enable wireless LAN for both DNLA and Broadband. Also, it is very easy to install since all it requires is plugging in, setting up a wireless access point, and unlocking your network through the router.
The only hurdle that comes with this USB adapter is the fact that it is only compatible with LG products. This adapter is ideal for those Netcast content such as YouTube, Skype, Yahoo, and Netflix just to mention a few. Also, other than streaming your favorite movies and TV shows, you can connect the router to another device such as your computer and download content to your PC at reasonable speeds.
Linksys Dual-Band AC1200 USB 3.0 Wireless Adapter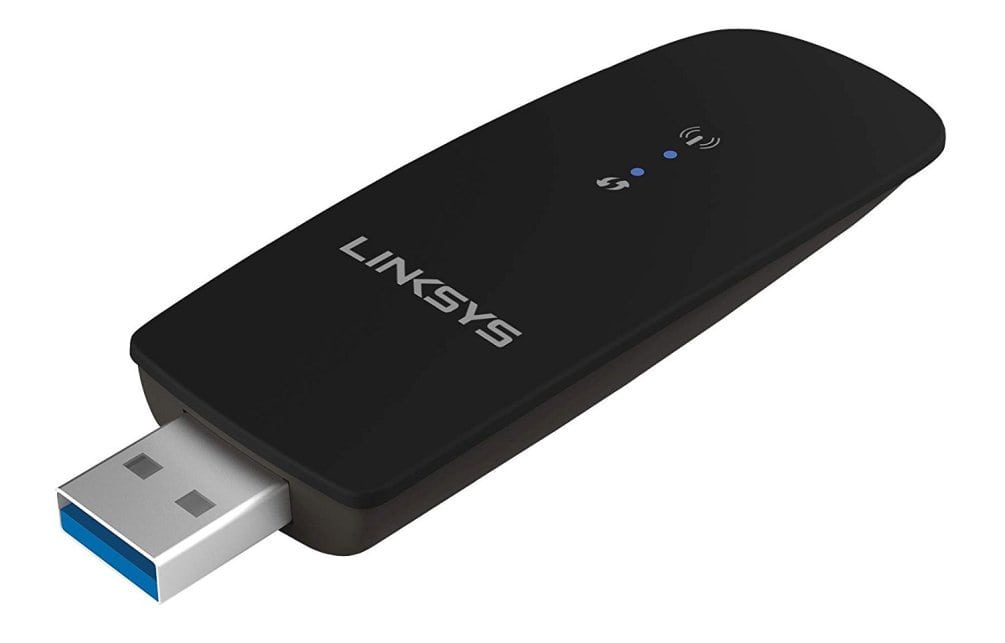 The Linksys Dual-Band AC1200 Wireless USB 3.0 Adapter supports extremely fast High-Definition video streaming and online gaming. When on the wireless-AC 5 GHz band, this USB flash drive-like adapter can reach speeds of up to 867 Mbps and clock up to 300 Mbps when on the 2.4 GHz band.
It also has a WPS button for easy connectivity and supports up to 128-bit encryption for either WEP, WPA or WPA2. Even better, if you have wireless 802.11 AC routers, extenders or access points, you can enjoy the benefits that come with this adapter thanks to its compatibility with all three.
Alfa Long-Range Dual-Band AC1200 USB Wireless Wi-Fi Adapter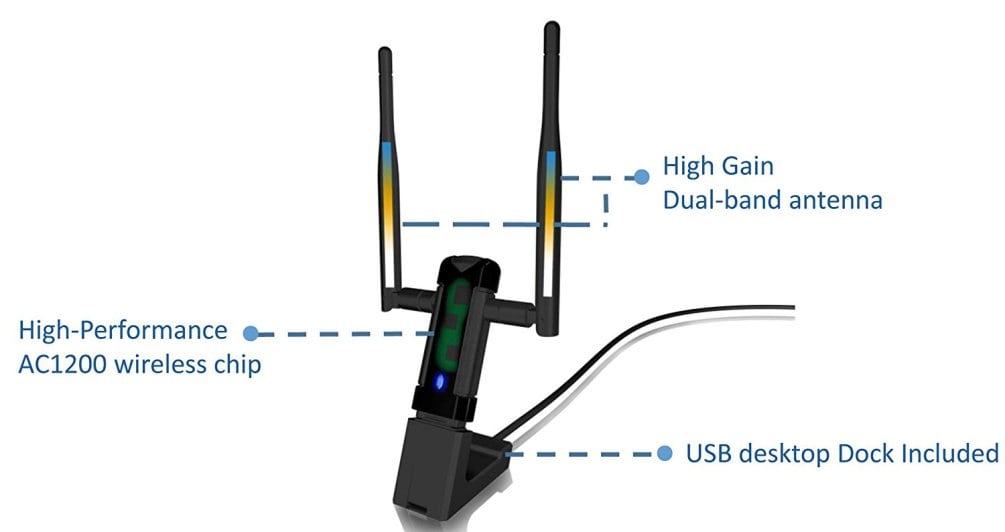 Just like most adapters on this list, the Alfa Long-Range Dual-Band USB 3.0 Wireless adapter can hit speeds of up to 300Mps or 867Mps depending on the band (2.4GHz or 5GHz) you opt to use. However, unlike most of them, it supports five standards (802.11a, 802.11b, 802.11g, 802.11N, and 802.11ac). Also, detachable 5dBi Rubber Duck antennas make it easy to position the adapter wherever the signal is strongest for a fast and reliable service.
The best feature about this adapter is its ability to support almost all operating systems and the design alone is elegant enough to make you purchase this adapter.
What to look out for in a Wireless (Wi-Fi) adapter
While the design may be sufficient for some people, wireless adapters need to be evaluated based on compatibility, dual-band, and network support just to mention a few. Other than these, you also have to consider the machine you intend to use it on. For instance, a PC might have room for a PCI-E adapter, but the same cannot be installed on your television; for that, you need a USB adapter such as the LG AN-WF100 Wi-Fi USB.
Many people may not be comfortable opening up their computers, to attach the WiFi card in which case, a USB adapter seems a better option than a PCI-E adapter. You also have to consider their wireless standards. Most wireless adapters have a standard of either 802.11b or 802.11g but the difference between the two, other than the letters, is the speed. The modern 802.11g wireless standard can transfer data at a rate of 54Mbps when at its maximum but the 802.11b can handle up to 11Mbps at its peak.
Don't Miss: Recommended Modem Router Combo – Wi-Fi/Cable
However, the latest standard (802.11n) not only has faster data transfer rates of up to 100mbps but a longer range and better reliability as opposed to its two predecessors. Purchasing a wireless adapter not only requires patience but also an understanding of the device you are using. Data speeds and overall design can easily sway most people to purchase the adapter they deem fit for themselves. However, checking your adapter's security, card design, and wireless standards is the difference between internet nirvana and perdition when browsing. Bear in mind that online gaming – especially multi-player online gaming – is heavily data intensive. Therefore, as much as you may want to strike a balance between price and functionality, bear in mind that your ideal adapter ought to be capable enough to handle the demands of intensive browsing and data transfer comfortably.