There are many services that run on your computer. Some are for internet connectivity and networking, data sharing, gaming, security, and many other things. One such service is the iphlpsvc (IP Helper Service). Like every other service, the IP Helper Service which may be very confusing to many has a role to play.
What is iphlpsvc (IP Helper Service)?
Also referred to as Internet Protocol Helper Service, iphlpsvc serves in the retrieval and modification of network configuration settings for the local computer. What it does is to create the tunnel connectivity through IPv6 transition technologies.
In a very simple way of explaining what it is, the IP Helper service allows for tunnel connectivity through 6to4, ISATAP, Port Proxy, and Teredo, as well as IP-HTTPS.
Unlike some services like that of the antivirus you are using which comes to your computer after you manually install it, the IP Helper Service is a service that comes to your computer with the Windows. More so, you do not need to manually run it as it starts automatically.
Is It Safe To Disable It?
With all said, we are back to the big question of whether or not it is okay for you to disable the IP helper. The simple answer to this is that unless you are running a remote database, there is no reason why you cannot disable it if you are either not using IPv6 or if it is not supported.
More so, there are a number of services on your computer that may not be essential for you, but they are put in there for people who may need them. If you find yourself with such services, there is actually no problem if you disable them. Have it, however, that there are some services that when you disable them, may lead to a problem or two, so before you disable any service ensure that you know what its functions are.
See Also: Fix ERR_SPDY_PROTOCOL_ERROR in Chrome With These Simple Steps 
Regarding the IP Helper, once it is disabled or stopped, the enhanced connectivity it serves to provide will also be stopped. So you should only stop it when you don't need the tunnel connectivity that it offers.
How to disable iphlpsvc (IP Helper Service)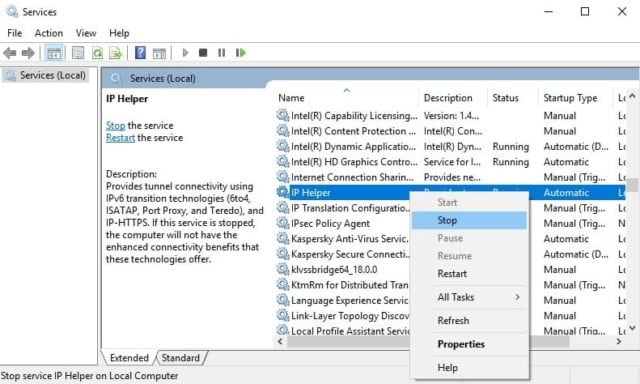 There are ways that you can disable the IP Helper Service or other services that you do not need in order to improve general system performance. This is because each program that is running, whether it is important to you or not, takes some of the resources that could have been used for other things. The programs or services are tapping from your memory and processor among other things, hence they limit the performance of those that really need such resources.
To disable the IP Helper and other services, here are three methods:
Method 1:
Go to control panel
Select Administrative Tools
On the next menu that opens, check the list and double-click on Services. This will show you all the services that you have on your computer. It will also show you those that are running and those that have stopped.
Find IP Helper or any other service you want to disable.
Right-click on the service you want to disable and select stop.
You will get a prompt that it is being disabled and once that is done, it has been disabled.
If you want to enable it again, simply follow the same steps and after right-clicking, select start.
Method 2
This method is much easier than the first. Simply follow these steps:
Hold the Windows key and press R to open Run
Type in Service.msc and press Enter
Check the list of services and right click the one you want to disable and click on Stop.
This will stop the service. You can follow the same process to activate it again.
As stated, you have to be careful with the services you decide to disable because they are installed on your computer with the operating system. The most essential ones are those that are running automatically while those that you can run manually are not that much important except when you need to run them. Some like the IP Helper run automatically, but you can disable them without any problem except when you need them.
Method 3
This method involves making changes to your registry. Care should be taken if you want to make use of this method because there is the risk of a serious problem if you make an error here, so we do not recommend this method except you really know what you are doing. Here are the steps to take:
Hold the Windows key and press R to open Run.
Type CMD and press Enter to open Command Prompt
In the prompt, type regedit and press Enter
Select Yes in the next box that will open to give permission.
In the registry, navigate to: HKEY_LOCAL_MACHINE\SYSTEM\CurrentControlSet\services\iphlpsvc
Find Start on the second pane and double-click on it.
In the Value Data: Put in the value you want 2 (Automatic), 3 (Manual), 4 (Disabled)
Click OK and your data is saved.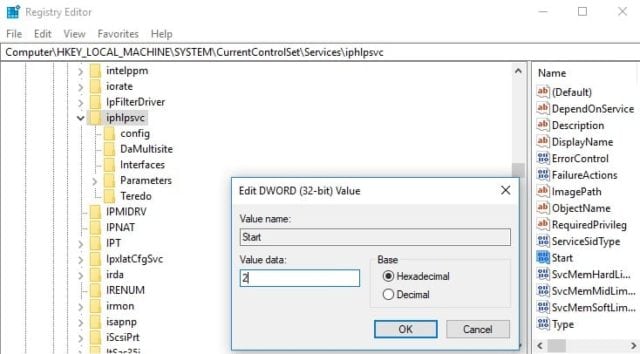 IP Helper won't start automatically
For someone who needs to use the service, there are instances that because of one problem or another, your IP Helper may fail to start automatically, and sometimes even when you go to the Services.msc to do try, it will not work. Here is a way that you can have it fixed:
Open the Services
Double click on IP Helper service and a properties box will open
On Startup type, if it is on Manual, Disabled, or Automatic (Delayed Start), change it to Automatic.
Click Apply and then Okay. Now you can close the box. It will immediately turn to automatic and whenever you start your computer, the IP Helper service will start running.
Conclusion
The iphlpsvc (IP Helper Service) plays a very important function as regards IPv6 connection over an IPv4 network. However, as indicated above, not everyone may need the connectivity benefits that it offers. Also, it is not free of causing some problems that may lead one to want to disable it. One of the main downsides that have been associated with the service is that it consumes a lot of memory among other resources. Because of this, you can disable it or set it to manual startup so that you can only enable it when you need it to be active.