People who have used different firmware that come with routers will agree that most of the firmware are either straight boring or lacking in terms of features and configuration options. This applies to even routers by popular brands including Netgear, Linksys, and Asus. This is the reason why third-party firmware for routers are very popular. While there are a good number of firmware, we are looking at arguably the best three: DD-WRT vs Tomato vs OpenWRT.
Why most people would prefer to go with the third party firmware over the one that comes with the router is because most of such come with certain limitations such as poor security features, no capability for tracking bandwidth consumption, and limited coverage among other things. These are some of the reasons why people prefer to go with the third party firmware.
DD-WRT vs Tomato vs OpenWRT
DD-WRT
A Linux based firmware, this is probably the most popular because of the rich feature it has as well as its extended configuration options. Beyond just that, it works with a large number of routers. With the so much that it has to offer, it is not the easiest to use of the three even though it has a good interface.
Some functionalities that this firmware has over many others that are available out there include its additional security settings, vast Virtual Private Network (VPN) compatibility, and Quality of Service (QoS) options. More so, it supports Micro, Mini, Nokaid, Standard, VoIP, VPN, and Mega versions of firmware for devices.
Pros
It comes with many features that are useful with good configuration options.
The firmware has broad compatibility
You can easily manage your bandwidth with the firmware.
It allows for storage devices to be attached easily to the router to be accessed by all members of the network.
Cons
Not the best when it comes to stable performance
It is not the easiest to use because of the wide array of features it has as well as all its configuration options.
Verdict
The main thing this has to offer in the DD-WRT vs Tomato vs OpenWRT comparison is rich features and configuration features over everything else. Also, its wide compatibility is another advantage it has over others.
Tomato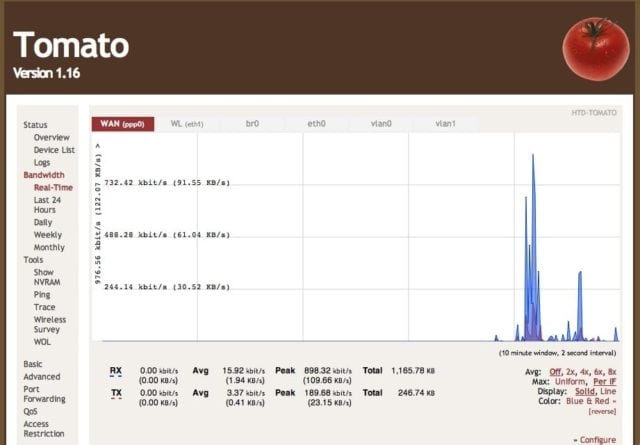 This is also a Linux based firmware that has a lot in common with the DD-WRT. It also has good features, although not as much as you will get with the DD-WRT. The good thing, however, is that it strikes a good balance between the features it has and its performance.
Another interesting thing with the firmware is that it is very easy to set up. Where you will find it dragging behind the DD-WRT is when it comes to its compatibility and configuration features.
Pros
When it comes to the stability performance, this may as well be the best.
It is both easy to set and use when compared to the former firmware, and the interface is good.
Among the standout features it comes with are Bandwidth tracking, access restriction rules, Wireless Distribution System support, configurable quality of service rules, and printer server.
Cons
The features it has is not as extended as one may want.
Not the best in terms of router compatibility.
Verdict
While it is not as good as the DD-WRT when you want to consider features or compatibility, this is easily the choice for someone who is looking for stable performance and good configuration options. That said, the features it has are still very good and once it is compatible with your router, this simple to use firmware should deliver more than many others out there.
OpenWRT
This is yet another Linux based router firmware, although it comes quite different from the other two on the lits. The first thing to know with this firmware is that it is not the easiest to use and one may need to take the time to properly set it. The good news, however, is that this has even better features than the other two.
See Also: Router and Wireless Network Resources To Help you Do it Like a Pro
The main difference between this and others is that instead of coming as a single package that will have all the features, it gives you the platform to come up with the packages that you need. The services it offers are well advanced to suit the needs of many people including tech-savvy people, and that is why it is not the most popular when looking at the 3 router firmware. Some of the features that you get with it are advanced VPN functionality, QoS, and a GUI interface among other things.
Pros
It has good control and many features that are very useful
The router firmware allows for easy customization which means that you can tailor it according to your specific needs.
It is constantly being updated.
Cons
This is not the most friendly firmware to use, although there is much improvement.
Verdict
This is not the one that we can recommend for a beginner or someone who just wants something very simple. However, if you need a firmware that will give you great customization option with SSH support, QoS, and SSH support, QoS, and VPN among other things, this is something good to have.
Which Is Better Firmware For You Router?
From the DD-WRT vs Tomato vs OpenWRT comparison, it is not very easy for one to decide which is the better one for you. This is because they all offer great features and they have different things they offer so it will all depend on what exactly you want.
That said, the better one for software developers, programmers and tech-savvy individuals who are looking for something that will give them great customization option is the OpenWRT. On the other hand, if you need a firmware that is rather easy to use with your emphasis on performance and stability more than anything else, Tomato is the better firmware for you, and if you are looking to get good features and rich compatibility, DD-WRT is the one.
Conclusion
It is important to point out that while each of the router firmware is good, not all are best for every single thing you need them for. More so, you also need to realize that before you can make use of a third-party firmware, you will need to flash your router.