There are different brands of gaming desks in the market, however, Atlantic gaming desk is the best one I have used so far. The desk design is centered on gamers' needs, and it ensures that everything a gamer might need can be accommodated on it. Every tiny detail is geared towards a trouble-free gaming experience.
The Atlantic Gaming Desk is outstanding and exceptional especially if you have limited space to deal with. Atlantic's gaming desk only measures 32 inches across, but with so many features that are not available in other similar desks.
It comes with an elevated monitor stand, a stand to hold your games and controllers, a cupholder, and speaker stands. It also comes with a charging stand, a headset stand, and built-in cable management with a power strip holder
Atlantic Gaming Desk Review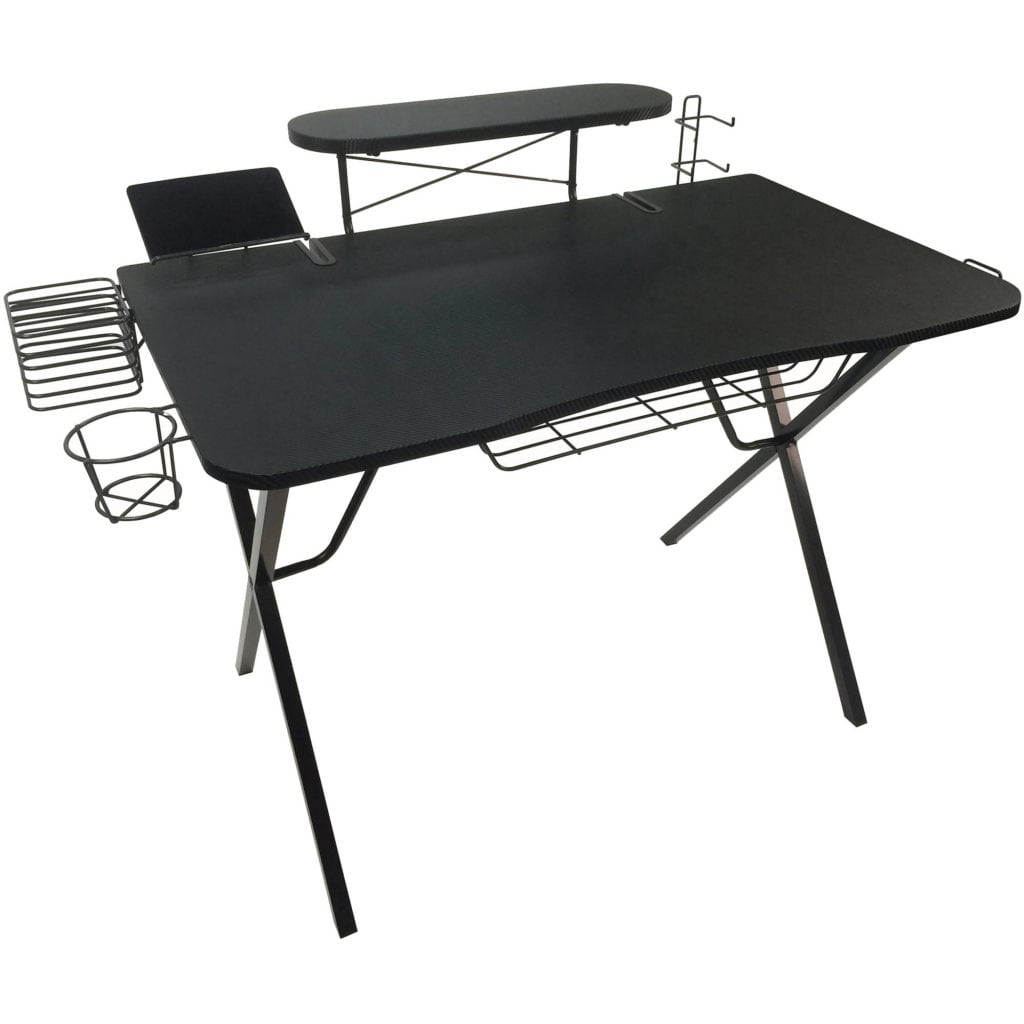 I purchased my desk two weeks ago after a friend recommended it to me. Initially, I had considered it a waste of money since I perceived it as an ordinary desk. Nonetheless, I still went ahead and bought it. Two weeks later, I consider this as one of the best buying decisions I have made in the recent past.
So far I have identified several benefits from this desk.
Firstly is its aesthetic value coupled with the ability to customize it by removing things that are not needed. Beauty is of great essence to me. I find solace from it whenever I am playing my game and I have to concentrate in order to win. Once my immediate environment is tidy, it somehow renews my energy and encourages me to go through any given challenge with clear mind.
Read Also: How to Chose A Great Gaming Earbud
Secondly, the simplicity of its assembling and disassembling process. It has been fashioned in a way that ensures anyone can easily and quickly assemble it without having to ask for help. The assembly process does not consume a lot of time and can be done without special tools. This is the same case when it comes to its disassembly, the process is straightforward and smooth. The desk has pre-drilled holes that are used in attaching different parts together.
The third and most important feature is plenty of space for you to place other things such as snacks and drinks without interfering with your gaming sessions. This helps a lot when your mind is fully submerged into the game and you do not have time to concentrate on the things around you. Normally, it is not advised to have your drink around the computer, because of a liquid spill while gaming, however with the Atlantic Gaming Desk, there is a provision for drinks; where you can keep it safely away from any electronics so the liquid doesn't spill on it.
The cup holder is not cup specific and can hold a wide range of cups. While taking your soda and other energy drinks, you can finally no longer be worried about spillage. The cup holder can also be used as an ashtray if you smoke.
Click Here to See Price on Amazon
Check Price on Bed Bath and Beyond
The desk also comes with other holders which range from CDS/DVDS, controllers, speakers to headphones holders. The aim is to have an organized desk whereby one can easily access the needed accessories. It also has a monitor stand which can be removed if you want to set up multiple monitors. The good thing with this stand is the ease with which one can remove any part you don't need, making it highly customizable. If you would rather use the monitor stand, it can hold a 32-inch screen which can weigh up to 40 pounds. As for the speaker holders, you will have to put into consideration the size of the speakers before purchasing it. This will help to avoid cases of them not fitting into their stands.
Its carbon-fibre desk feels sturdy and is usually beautiful in appearance. This guarantees a quality product that will last for long. The desk also comes with an effective wire management setup. The use of wire trim plates ensures all the wires in use are properly organized. Furthermore, it incorporates an excellent and durable power station which you can use to power your gadgets. Its steel structure offers a strong frame that can go for a long time without deforming. The design leaves a lot of unobstructed leg room to position or stretch your legs however you want to ensure you do not get fatigued while playing for too long. Match it with one of these Top 7 gaming chairs for a magical experience.
Finally, with respect to price, Atlantic Gaming Desk is a lot better off in comparison to other desks in the market but what I admire the most is the fact that it gets you better organized than most of the high-end gaming desks so you would be getting great value for your money. Moreover, you can get it a lot cheaper from here
Why you might not like the Atlantic Gaming Desk
Despite having a plethora of benefits, there are some features which I feel were of no use or were a hindrance to me. Firstly, is the fact that I had to be certain of the dimensions of my speakers before purchasing it. Even though this was a cautious measure, I do believe its designers should come up with an optional speaker stand instead which could accommodate all speakers regardless of their dimensions. Another thing is the numerous parts that are used in assembling it. Although this made the gaming desk much more customizable because you can afford to move a few things around but I felt, despite the whole process being easy, the parts were a bit too many.
See Also: What Is The Best Wireless Network Adapter for Gaming
Conclusion
This Atlantic Gaming Desk Review points to one thing and that is its superiority in terms of comfort, customization, and efficiency as compared to many other desktops. From its ability to be easily assembled and disassembled to a strong steel framework that has several holders, the desk will not only guarantee durability but also enhance users experience through a comfortable and a strong gaming environment.
For any gaming expert or a novice who is introducing himself to the world of gaming, Atlantic gaming desk is a must-have item and will surely solve the space problem that most gamers experience.