What is Fubo TV? (Quick Answer)
Fubo TV is an internet television service that operates in the United States and focuses mainly on live sports but also provides news, series, and movies.
One of the many opportunities and businesses the internet has given mankind is the ability to watch television via video streams online. This became possible around the mid-2000s when internet usage saw tremendous growth with more than a billion active users. By this time, in 2005 to be exact, Apple's iTunes began selling television programs and series as video-sharing platform YouTube launched. Both ventures showed huge potential and gave rise to other similar services from both television networks and independent companies.
Amazon Unbox from Amazon was launched in 2006 while DVD rentals and sales website Netflix began providing streaming content in 2007. In 2008, broadcasting networks NBC and Fox co-founded Hulu TV while CBS launched tv.com in 2009. All these platforms and many others seemed to concentrate on movies, series, and documentaries, leaving sports lovers, specifically soccer fans, with no option but to still be tied down to the traditional television set to get their dosage of sporting events. This vacuum gave rise to Fubo TV.
Background Information: How Did It Come Into Existence?
Fubo TV was co-founded by David Gandler, Alberto Horihuela, and Sung Ho Choi in January 2015, just after the number of internet users in the world surpassed 3 billion, 43.6 percent of the entire world population. It was intended to only offer live streams of soccer games, however, by early 2017, it began to encompass entertainment, news, and other types of sports; American football, basketball, baseball, and hockey.
2017 saw the company enjoy huge growth as it added channels like CBS, MSG, Pac-12 networks, NFL Network, and NESN to its lineup and then became an official sponsor of the Los Angeles Kings professional hockey team. By the end of that year, Fubo TV had surpassed 100,000 subscribers and a few months later, in February 2018, it registered more than 150,000 total viewers for Super Bowl LII.
In 2018, FuboTV became the first live-TV streaming service to support 4K HDR video for the FIFA World Cup. In September that year, it started offering live streaming and video-on-demand programming from FOX, NBC, AMC Networks, TBS, TNT, Cartoon Network, CNN and Showtime, making it a direct competitor of live-streaming services such as Sling TV as well as normal cable TV.
Packages and Cost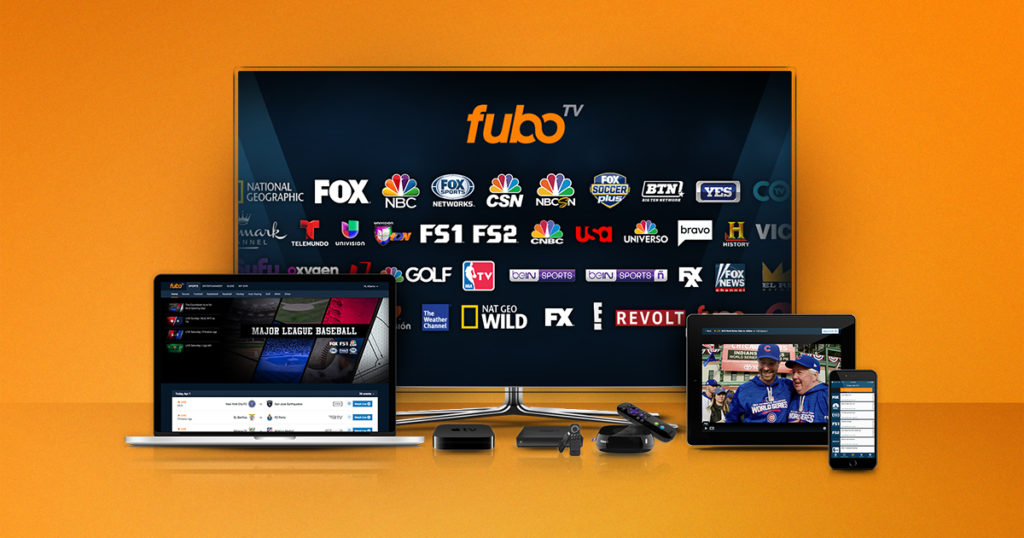 Package: Fubo TV Standard/Base
Price: $44.99 per month ($39.99 – first month)
Inclusions: 86 Channels (popular sports channels, excluding ESPN, entertainment and news channels, and live local CBS, NBC, FOX, and Regional Sports Networks in select markets).
Notable Channels: AMC, beIN Sports, Cartoon Network/Adult Swim, CBS Sports Network, E!, FOX Deportes, Golf Channel, Hallmark Channel, MSNBC, Nat Geo Wild, National Geographic, NBA TV, Oxygen, truTV, USA, Viceland, WE TV, etc
Package: Fubo TV Extra
Price: $49.99 per month ($44.99 – first month)
Inclusions: 105 channels (includes everything in the standard package with a few extra lifestyle and entertainment channels)
Extra Channels: BabyTV, BBC World, Boomerang, CNN International, Cooking Channel, DIY Network, Game Show Network, Hallmark Drama, INSP, People TV, REVOLT, Sony Movie Channel, Stadium (+3 Overflow), XITE (+2 xVibe, xRock)
Package: Fubo Latino
Price: $7.99 per month
Inclusions: 15 channels (designed specifically for Latino-speaking customers)
Channels: BabyTV Hd, BeIN Sports (2 channels), Cine Sony, CNN en Español, Fox Desportes, Fox Life, El Gourmet, Galavisión, Gol TV Spanish, Más Chíc, Nat Geo Mundo, TyC Sports, Unimás, Univision, Univision TDN.
Package: Fubo Portuguese
Price: $19.99 per month
Inclusions: 5 Channels (designed for Portuguese-speaking customers)
Channels: RTP Internacional, Liga Portugal, Benfica TV, GolTV Spanish, and beIN Sports
Fubo TV offers various add-on packages that can be purchased and added to any of the base packages listed above. They are:
Add-on Package: Sports Plus
Cost: $9 per month
Channels: NFL RedZone, Universo, PAC12 Arizona, PAC12 Bay Area, PAC12 Los Angeles, PAC12 Mountain, PAC12 Oregon, PAC12 Washington, Fox College Sports Atlantic, Fox College Sports Central, Fox College Sports Pacific, GolTV English, GolTV Spanish, TyC Sports, FNTSY Sports Network, Fight Network
Add-on Package: International Sports Plus
Cost: $6 per month
Channels: Fox Soccer Plus, Chelsea TV, GolTV English, GolTV Spanish, TyC Sports
Add-on Package: NBA League Pass
Cost: $29 per month
Channels: NBA League Pass
Add-on Package: Fubo Cycling
Cost: $12 per month
Channels: Fubo Cycling, Fox Soccer Plus, Chelsea TV, GolTV English, GolTV Spanish, TyC Sports
Add-on Package: Showtime
Cost: $11 per month
Channels: Showtime, Showtime West, Showtime 2, Showtime Showcase, Showtime Extreme, Showtime Beyond, Showtime Next, Showtime Women, Showtime Family
Add-on Package: Fubo Latino Plus
Cost: $8 per month
Channels: GolTV Spanish, Fox Deportes, TyC Sports, Fox Life, Nat Geo Mundo, Cine Sony Television, BabyTV HD
Add-on Package: Mundo Plus
Cost: $6 per month
Channels: Fox Deportes, GolTV Spanish, TyC Sports, Cine Sony Television, Fox Life, Nat Geo Mundo
Add-on Package: Portuguese Plus
Cost: $15 per month
Channels: RTP Internacional, Liga Portugal, Benfica TV, GolTV Spanish
Add-on Package: Kids Plus
Cost: $3 per month
Channels: BabyTV HD
Add-on Package: Adventure Plus
Cost: $5 per month
Channels: Outdoor Channel, Sportsman Channel, World Fishing Network, Outside TV, MAV TV, Motorsport.tv
Free Trial
Free trials are only available to first-time Fubo TV customers. To qualify for a free trial, customers must first sign up for Fubo TV by first creating an account and then agreeing to the Terms & Conditions and to receiving promotional emails. A free 7-day trial will commence after which you will then decide to continue with a paid package or not.
How To Login
To login to your Fubo TV account, follow the easy steps listed below:
Go to fubo.tv
Click on the "Sign In" button
Enter your e-mail address, which will be used as your user login ID, and password to access your account.
How To Cancel
Customers of Fubo TV can choose to cancel whether they are on a paid subscription or they are using a free trial. Free trial customers who choose to cancel, will immediately lose access to Fubo TV while paid customers will enjoy Fubo TV channels until their current subscription runs out. To do so, the customer will have to go through the platform; Fubo TV website, iTunes, or Roku through which they signed up from to cancel.
For iTunes subscribers:
1. Go to Settings on your Apple device and select iTunes & App Store.
2. Select your Apple ID and View Apple ID.
3. Select Subscriptions and go through In-App Billing to find FuboTV.
4. Select Cancel Trial or Cancel Subscription.
5. Select Confirm
For Roku:
1. Sign in to your Roku.com account and go to Subscriptions
2. Click Unsubscribe next to your Fubo TV
3. Confirm by selecting Yes, Unsubscribe
For Fubo TV website:
1. Having signed in, go to My Account
2. Scroll down to the account section and under Subscription, click Cancel Your Subscription and select Cancel