Once a baby is on its way, a million things will be on your mind such as the changes you need to make in your home and the best things to get for your baby. Of all these, one that may be more critical is getting the entire things that you need from baby shampoo to cribs and strollers. It is because of this that Walmart Baby Registry is very popular.
There are many others like the Amazon Registry, Target Registry, and much more, but with over 5,000 Walmart stores spread all over the US, it is a good place for one to shop for a lot of things including baby products.
How to create Walmart Baby Registry 
To create a Baby Registry, there are two options available; through your mobile app or through the main website. While both have their advantages, the app offers more convenience as it is easier to use:
Through Website
Go to the home page of Walmart
In the search bar, select Registry.
Next, you will want to select the Baby Registry. Wedding Registry is what you will select if that is what you want to open
At the right side of your page, you will see a Find a baby registry box. Click on Create a registry.
If you are yet to sign in, you will be required to sign in and then continue with the creation of your registry.
Through the Walmart App
After launching your app, go to the main menu and select Gift Registry
Tap on Create Baby Registry
Now, put in all the required information including the baby's due date
Tap on Create Registry when you are done
Go ahead and register for gifts.
How to Log In
The only thing easier than setting up your baby registry is to log in. For you to do this, you will need to:
Go to the baby registry.
Go to Account and select Sign in. Put in your details and sign in.
To manage your registry, click on Manage a registry.
To find a baby registry of a family or friend, go to Walmart, on the search field, Select Gift and Registry, and then Baby Registry. On the baby registry page, go to Find a baby registry and put in the name of the registrant (first name and last name) and the registrant's state and click on the arrow to search. The available registry bearing the name in the state will appear.
Walmart App
As already pointed above, you can use the Walmart App to create the Baby Registry, even as it has many other uses. The app is available for both Android and iOS devices.
The benefit of using the app is that it makes it easy for you to shop even when you are on the go while also making it easy for you to make payment using Walmart Pay. With things like diaper and baby lotion, you can easily reorder with the app.
Other features that are useful are the Mobile Express Money Services, Mobile Express Pharmacy, and the Savings Catcher feature which compares prices for you. Note, however, that for Savings Catcher, you will need to submit your eReceipts as you checkout.
To download the app for iOS devices, go to App Store through this link.
You can preview the app screenshots on both iPhone and iPad
Next, go ahead and click on Download to download and install it on your device.
For Android devices:
Simply go to Google Play through this link.
Click on Download
Now, the app will download and install.
Benefits of Walmart Baby Registry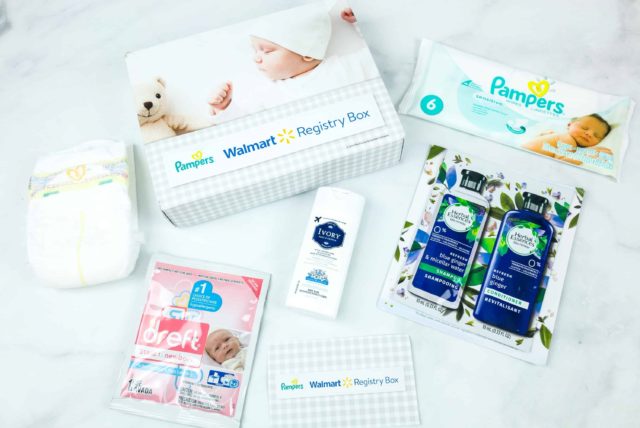 When you register with Walmart, there are some benefits that come with. Before that, you will get the needed tips you need in creating your registry which is something you do not get with Target or even Amazon Baby Registry. This is something that first-time parents will find very useful in addition to the Walmart checklist.
1. Walmart App
The first benefit that you get is the Walmart App which you can get to download when you begin the registration. With the app, you can shop more easily, use Walmart Pay, among other things.
2. Walmart Box
Welcome boxes have become very popular with having a baby registry. The box which you also get with other retailers comes with different free gifts such as diapers, toys, a bottle of lotion, and other baby essentials. The only problem with the Baby Welcome Box is that it is not always that the boxes are available.
3. Price Match Guarantee
One benefit that is unique to Walmart is the price matching feature that you get. With this, it matches the lowest prices on products that you can get from any competitor.
See Also: What is Amazon Prime Now, How Does It Work? Cost And Tow To Tip
What this means is that if you find any specific product cheaper on any other online store, you can tell Walmart through its customer care and the price will be matched for you. However, this does not include products sold on discount. There are other requirements to meet before you can qualify for this.
4. Free Returns
Another thing you stand to benefit with the Walmart Baby Registry is the return policy which makes it possible to return products you are are not comfortable with or you do not like. The return policy is open for as much as 90 days.
What Do You Stand To Gain With Walmart Baby Registry?
There are many advantages that you stand to gain with setting Up your baby registry more than just the benefits. Here are some of the gains:
The products you get on Walmart are very affordable. In fact, this is one of the things that makes it still able to hold its ground in the competition. More than just this is the price matching feature stated above.
There are many Walmart stores available in the US so it is very convenient for one to have the registry.
It is easy to create your registry and to manage it.
Although it is sometimes not available, the welcome box is entirely free.
That stated, the registry does not offer some of the things that you get with Amazon such as the Universal Registry which gets products from other websites if they are not available on Amazon.