Att.net is one of the companies under AT&T which alongside others like flash.net and wans.net form the AT&T Worldnet. AT&T Worldnet just like Ameritech Interactive Media Services, Southwestern Bell Internet Services, SNET Diversified Group, and Prodigy among others all belong to AT&T with the singular function of providing its internet services.
For customers of the company through Att.net, you can have an email account through which you can send and receive emails and also manage your account which may include various services such as wireless or internet services. If you already have an email account, here is how you can log in to it, make configuration settings, and pay bills.
How To Login To Att.net Email
When it comes to logging into your Att.net email account, it is important for you to understand if you have an Acess ID with an AT&T email address, you can use the same password for your Att.net and att.com. To log into your email, you can either use your browser or the mobile app.
While from your app all you will need to do is to launch your app and put in your log in details, here are steps when using the browser:
The first thing to do is to go to Att.net's homepage – start.att.net
At the upper-right side of the page, click on Sign in
Put in your email and password and then click on the Sign in button.
Att.net Email Settings
For your Att.net configuration settings, it is the same with all other AT&T email domains except for the domain name which is always the domain you are using (ameritech.net, bellsouth.net, etc) and the IMAP User ID/User Name. As you start the settings, you will select Manual setup or additional server types before POP or IMAP and then your user information.
Here is the Att.net configuration setting:
Domain: att.net
IMAP Server / Port: imap.mail.att.net / 993
SMTP Server / Port: smtp.mail.att.net / 465 or 587
SSL Required?: Yes
IMAP User ID/User Name: [email protected]
Protocol Type: IMAP
More so, if you are using any of AT&T's domains, you can use the settings below for either POP3 or IMAP on any desktop program as well as any mobile app. Settings for POP3. It is very important to get the server and port settings correct as it can prevent you from receiving and sending emails.
Settings For POP3
Email protocol: POP3
Inbound server: inbound.att.net
Inbound port: 995
SSL: Yes
Outbound server: outbound.att.net
Outbound port: 465
For your login information, you will use your full email address for User Name and then put your secure mail key for the password.
Is Att.net Email The Same With Yahoo?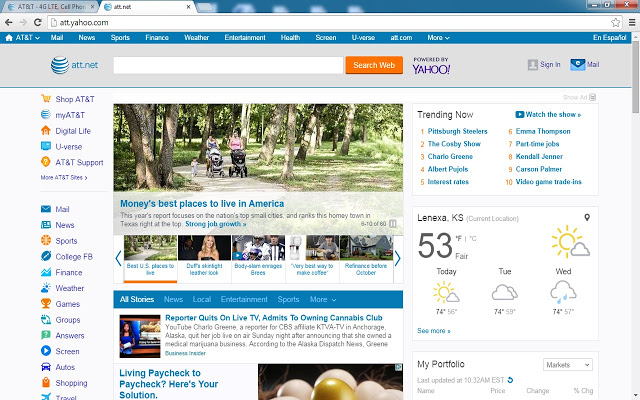 While there was a time when you could use your Att.net account to link to Yahoo websites, the two are not the same. When it was allowed, you could use your AT&T email address to access yahoo.com sites such as Yahoo, Yahoo Answers, Yahoo Auto, and others.
It was as recently as 2017 that the Dallas-based telecom stopped its customers from accessing Yahoo websites from the email service. In addition to that, customers could not also access sites like Tumblr and Flickr which at first were accessible through AT&T accounts.
Apart from Att.net, other AT&T domains that were also affected by the change include pacbell.net, prodigy.net, flash.net, nvbell.net,sbcglobal.net, snet.net, swbell.net, ameritech.net, bellsouth.net, and wans.net.
As the deal with Yahoo lasted, AT&T's domains acted in some ways as yahoo accounts but after Verizon bought Yahoo's internet business and the merger with AOL before AT&T walked away, the two operated independently. Hence merged email accounts between the two is no longer supported hence customers had to separate them.
Back to the question of whether Att.net email and Yahoo are the same, they are not the same, although they have partnered for up to 15 years before AT&T Inc.
Att.net Bill Pay
When it comes to making your AT&T payments, there are various options that you can utilize such as through the mobile app, by phone, in person, online, by mail, and through some bill-paying services.
1. Online Payment
When you are using the online payment method, you will need to log into your account and then go to Make a payment.
From there, you can select the bill you want to pay if you are managing more than one account.
As you review it, you can select Split this payment if you want to make the payment twice or you want to use another method to complete it.
Follow the prompts that come next and then submit your payment.
When using this method, you can use your debit or credit cards, checking or savings account details, or even AT&T promotional gift cards.
2. Through myAT&T app or mobile site
This is a pretty much straightforward method. All you need is to:
Launch your app or go to the mobile site
Select make payments
Put in the payment details.
Follow the prompts that come next and then submit your payment.
3. Through AutoPay
With this method, you will set up your bank account or card to pay your bills automatically each month. If you manage multiple accounts, you will need to follow the same process above to set up each of the accounts:
Log into your account and go to Profile.
Select Update stored payment methods under Popular Tasks
Under AutoPay, select Sign Up for AutoPay.
Select the account you want to set the AutoPay for.
Select the payment method you want and then put in the details.
Click on Continue and then review the information.
Click on Submit if everything is alright.
You can delete or change a payment method at any time. Here are the steps:
Go to Profile again
Select Update Stored payment methods.
If you want to delete a payment method, select the option and then follow the prompts.
If you are adding a new method, select either New checking/savings or New debit/credit card and then you can continue with the prompts.
4. In person or by mail
Another way that you can pay your AT&T bills is by visiting one of the authorized payment locations. Here you can make your payment using cash or other methods provided.
See Also: AOL Email, Games, Chat Rooms, Customer Support, How To Delete Account
Apart from making the payment in person, you may as well make your payment by mail through one of the mailing addresses provided on by AT&T.
5. By Phone
There is also the option of calling AT&T to make your payments. Before making the call, you will need to have your bill and payment information as well as passcode handy. Wireless customers can call 800.331.0500 while dosh customers can call 866.266.1292, and 800.288.2020 is available for others.
6. Att.net Bill paying services
Finally, you can also pay your AT&T bills through services such as eBill Place and doxo. Once you visit either of the websites, you can decide on which to make use of.