Are you confused on what website builder you should go with; GoDaddy or Squarespace? You don't need to be. The two builders are absolutely great in their own rights but when you throw them into the waters against each other, you may find one swimming in some areas and sinking in some others, vice versa.
Before anything else, it is important to point out that the two web builders may not necessarily serve the same market as they were both designed with two different people in mind; GoDaddy with those looking for Web hosting services and those who want to build their websites, while Squarespace is more for those who want to build their websites above any other thing.
GoDaddy Or Squarespace
Before getting at which of the two site builders is better, here is a quick look at what they are:
Squarespace
In the website building space, Squarespace occupies a great spot. It began in 2004 and rose pretty much fast for its all-in-one solution as a website builder content management system, domain name registrar, and web hosting among other things. However, it has come to be known for its website building services than for anything else.
GoDaddy
Dating back to 1997, this is one of the most popular names in the website business. However, it is well known for web hosting services and domain registration than any other thing. It has come to add website building to what it does, but is it having the daddy authority in the market?
Which Is Better; GoDaddy Or Squarespace?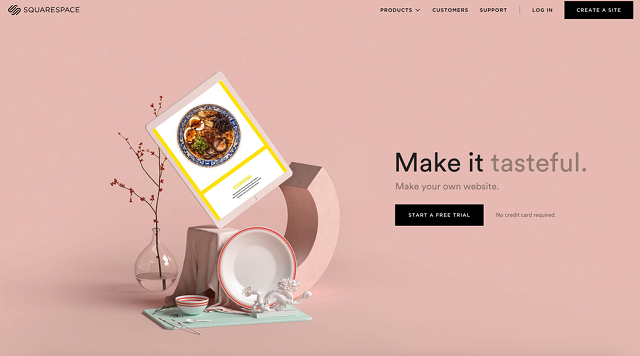 Because neither of these builders can be better than the other in all regards, here is a look at them in different categories:
1. Designs
Keeping the need to have your website running as soon as possible, you also want it to look as good as possible. GoDaddy has impressive templates and gives you decent control to achieve exactly what you want or something very close. Using its Artificial Design Intelligence (ADI), you can design your site faster with GoDaddy as you will only need to answer some questions and it will come up with a design for you.
With Squarespace, the control you get is far-reaching compared to what GoDaddy offers. Because of this, you are more able to achieve the specific designs you have on mind.
Verdict: Squarespace has more tricks up its sleeves when it comes to design and features than GoDaddy.
2. Ease of Use
A website builder is expected to above everything else, be easy to use. Both of these have strong statements to make, but GoDaddy has a way of making website building very fast. It is one of the fastest among all other builders including Wix.
They both have drag and drop features, but the interface of Squarespace is easier to interact with than that of GoDaddy. Also, it has fewer options, even though the latter doesn't have too much as well. What this means is that you do not get overwhelmed by options that may sometimes be needless.
Verdict: Squarespace is the easier to use, although it is much faster to have your property built with GoDaddy builder.
3. Ecommerce
GoDaddy has a plan that is specifically designed for eCommerce. The issue with this is that it is very much limited as against the different plans of Squarespace that are all designed to give you a great eCommerce platform.
Also, Squarespace integrates various features that you need for the shop including payment support, good security system, and it allows you to sell any kind of product you want; both digital and physical as against GoDaddy which allows you to create for physical products only.
Verdict: The clear winner here is Squarespace because it has all the features you will need for your eCommerce website. Nonetheless, you will be better off with woo commerce or Shopify than any builder.
4. Blogging
As simple as it gets, Godaddy is again not the best builder when you want to build a platform for blogging. The features it provides are very much limited when compared to many others including Squarespace which gives more features that are also useful for blogging including comment section.
More importantly is SEO capabilities since you will want to rank on Search engines. In that regards, both of them will give you a good run for the ranking competition. They allow for good optimization of images and other elements while they also have responsive mobile themes and templates.
Verdict: While for SEO they hold the baton together, Squarespace leads the way for blogging.
 5. Customer Support
The importance of customer support for anyone having anything to do with a website is never overstated. Between these two builders, GoDaddy has it much better because of how it is able to make available all support systems for users to reach to them from phone support to live chat, forums, and even knowledge base.
Squarespace also has a lot of things to boast about with strong support that covers live chat, to forum, and email among other things.
Verdict: Leaning on its experience and how broad-shouldered it is, GoDaddy has the lead in terms of support, using more support tools than most other builders.
6. Value For Money
Squarespace has established itself as a premium website builder and so understandably, it is more expensive than GoDaddy. Its cheapest plan start at $16 while that of GoDaddy goes to as low as $7.00 per month, and with promotional offers, you may get it even cheaper.
Needless to say, these two both have their more expensive packages but they are still cheaper than a good number of others in the market.
Looking at value, Squarespace may still have the last laugh because it offers more than you get with Godaddy. Its options are broader and there are more templates as well as customization options and flexibility.
Verdict: GoDaddy is the cheaper of the two but Squarespace has better value.
What Is The Difference between GoDaddy and Squarespace?
Finally, apart from the comparison above, the GoDaddy and Squarespace are a little different from each other based on the services that either is more concentrated on. While Godaddy is more popular in the domain name, web hosting, CMS services, and other things around the line, Squarespace has come to be known much more in the website building space.
Hence, while Godaddy still offers web building services, its main target is those who want to host their websites and while Spacesquare also provides web hosting services, it has those who want to build their websites as its main target.
See Also: Godaddy Email Login (Webmail, 365), Settings, Setup, Coupon Code
Conclusion
At the end of the day, whichever of the two web builders you are going for will still give you a great experience.  However, because Squarespace is better known for web building, it has better services in that regards than the former which is more pronounced in the web hosting area.