G2A is an online marketplace similar to eBay and Gumtree, however, it focuses mainly on distributing computer game products such as gaming keys that can be played on a variety of platforms such as Steam, uPlay, Origin, Xbox, and PlayStation. The platform prides itself with being one of the most trusted online stores for buying & selling game keys, as well as being arguably one of the cheapest places online to find game keys that will be highly priced elsewhere.
While G2A has found success and popularity for being a very good gaming keys marketplace, there are several alternatives to the platform that have proven to be as safe, legit, reliable, and even better in terms of offers and discounts. Here are 10 other platforms that can rival G2A.
What Are Other Sites Like G2A?
1. Kinguin
Like G2A, Kinguin is a marketplace where businesses or other individuals can sell their gaming keys, among other things like Windows keys, anti-virus software, etc. Just like the aforementioned platform, Kinguin also provides cheap game keys that can be used on a variety of platforms such as Battle.net, Xbox, Steam, PlayStation and Uplay.
One notable feature of the website that has proven to be very attractive to users is that it gives useful information like if the games are region locked or not, what are the requirements to run it, who the key seller is, and how much discount you are getting on it as compared to other platforms.
2. CDKeys
If you are looking for the best place to purchase Steam CD Keys, CDkeys.com, one of the oldest and well-known online marketplaces, is the perfect stop. The platform, which is owned by Omnyex E-Commerce, a Dubai-headquartered wholesaler of digital products, further offers games that can be played on Origin, UPLAY, Xbox One, PSN (PlayStation 4), and Nintendo (Wii U, 3DS, Switch).
CDkeys.com customers can browse and buy full video games on amazing deals. All gaming keys are provided through digital copies and are instantly delivered to the buyer. The sites further set itself apart from the rest as it allows payment in a variety of ways, most notably Bitcoin.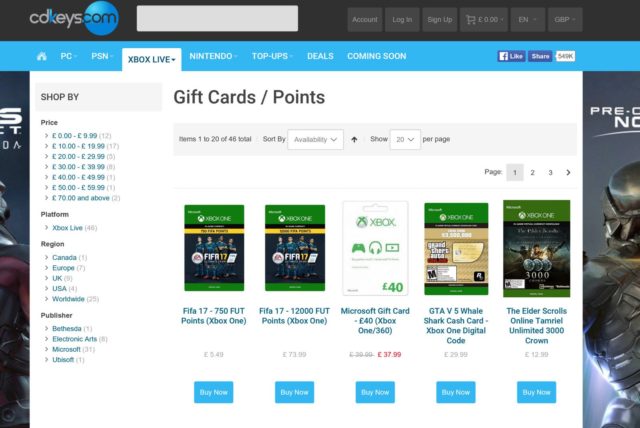 3. GamersGate
GamersGate is a perfect alternative to G2A because it offers a superb selection of gaming keys – steam, non-steam, and games from small independent developers, at very discounted prices. Just like some bundle sites, the Sweden-based online video game store has an under $1 tab for games from small independent developers. This gives customers looking for a bargain or who do not have as much money a chance to still be able to play a variety of games.
4. Green Man Gaming
British-based online video game retailer Green Man Gaming is another platform that serves as a decent alternative to G2A. The multiplatform catalog has over 6000 games from more than 600 developers and publishers that are relatively cheap. Like most other gaming keys marketplaces that will appear on this list, Green Man Gaming gives its customers a chance to pre-order games, and it is further said that most of all the unreleased games can be found on the 'Coming Soon' section of the game.
5. GamesDeal
Cheap console games, gift cards, and most significantly, gaming keys, can be found on GamesDeal. The fast-growing marketplace has proven to be an ideal destination for many gamers due to the number of deals that can be gotten on the site. It helps the customer know that the website has a deal page that keeps track of the current ongoing deals on their site. Such deals, which usually comes from big publishers, include surprise deals, limited time offers, and best deals.
Another attractive thing about GamesDeal is that customers can get games way cheaper than the actual price, and can activate it without a key. This is done through a service called 'Cloud Activation.'
6. SCDKeys
Most of the PC game keys, including keys from Steam, Ogrin, and Uplay can be bought from SCDkeys. Early access to games through the pre-order/coming soon section is also viable. In addition to other amazing features, the platform offers 24/7 customer support for any problems you might encounter. You can contact them through chat and within a minute or two and they will answer your query.
7. GameFlip
GameFilp is another trusted and good alternative to G2A for getting gaming keys among other items. The website, which was launched in 2005, stands out from other sites on this list because, in addition to selling keys, they also sell actual physical games, movies, etc. You can purchase old school console games from here in case you have one at home lying around that you wish to get powered on again.
8. DLgamer
DLgamer has a large collection of games from different vendors that can play on a variety of platforms. The website further gives customers the option of sorting out games for your platform as it shows which games are supported on your operating system.
Like most other gaming keys marketplaces that appear on this list, DLgamer also has sales and gives discounts on their games. The platform's legitimacy and authenticity are solidified by the 5-Star rating it has on Trustpilot. This goes a long way in assuring customers on the safety of the keys.
Read Also: Steam Refunds, Login, Charts, Support, How To Share Games Or Get Refunds
9. GamesRocket
GamesRocket sells game keys, software and gift cards for cheap prices, however, they do not quite measure up to G2A. This is because even though the eight-year-old platform offers deals every 24 hours through what they call "Deal Rockets," most of the games that appear here are from small developers and publishers.
10. Instant Gaming
Instant Gaming is the last safe alternative to G2A on this list. The platform, which has a Trustpilot score of 5, is undoubtedly one of the best trustworthy marketplaces around that sell gaming keys for Steam, Uplay, Battle.net, Origin, GOG and digital game copies for consoles like Xbox, PS4, and Nintendo (3DS).
Instant Gaming's product page has been said to look like eBay. On it, you can use filters to easily search for the type of games you need. Aspects like language, price, ratings, platform, and region are available to help narrow down your search. Another additional advantage of the website is that payment can be done using Skrill, PayPal or Bitcoin.