Today, it is very easy to close your eyes and pick any gaming chair because on the surface, they are all the same thing; they have the same design and are mostly in the same price range. However, when you look deeper than the surface you will find out that all gaming chairs are completely different in almost everything. That brings us to the Secretlab Titan which like others, looks like others on the surface but is completely different.
While there is hardly denying the fact that the chair is a good one for gaming, the question that will always suffice is on whether it is worth what it asks at between 300 and 400 dollars. Let's find out.
Quick Features of the Secretlab Titan
If there is one thing that the name of the chair gives away, it is the fact that it takes a different approach from most chairs to build something that is large for people of medium to much height and also people who have weight. Here are some features of the chair:
The Secretlab Titan gaming chair has a steel frame which makes it light.
The upholstery material used is the PU leather.
You get a full-length backrest recline with the Secretlab Titan.
it features adjustable armrests.
The recommended height of the chair is between 5 feet 7 inches and 6 feet 4 inches while the maximum weight is 290 pounds.
It comes with a warranty of 2 years.
Design
Coming in all black, black with orange accents, ash, and tempo colours, the Titan is a gaming chair that is not very different in design from too many others. Still, it will take home all the available points when it comes to good looks and simplicity of design. Because the emphasis is on tall people, it has a high backrest which measures 34 inches and the width is 22 inches.
Complementing its good looks is a premium build that utilizes steel frame and a good PU leather. While this is not the real leather, which is something that has generated a lot of ethical controversies and which you can only find on some high-end chairs, it is of a very good quality emphasizing durability. More so, the leather is easy to clean and maintain.
Coated in PU rubber, the wheels are also well made for any floor whether you are using a carpet or hardwood floor. The use of the rubber eliminates floor tearing that you can get with some chairs when used on wooden floors.
Overall, while this is a gaming chair, it has a design that may even fit in as an office chair.
Assemble and Adjustment
In the same way as it is with most other gaming and office chairs, you will need to assemble the Secretlab Titan after receiving it. It is easy for one to have it assembled although because of its size, you will be better off getting extra hands. Nonetheless, you do not need the experience of an expert before you can rightly set it up.
One of the best things with the Titan is that it gives good adjustability option. Its height can be adjusted to between 19.5 and 23 inches off the ground while the recline back of the chair is set at between 85 and 165 degrees. One thing you should know is that it is not the best when it comes to rocking it.
The adjustability of the chair also extends to the armrests. The height can be increased or decreased, and you can have them move either forward or backward as well as right or left by up to 15 degrees. The only thing that is better than the adjustment is the ease with which that can be achieved.
Comfort and Ergonomics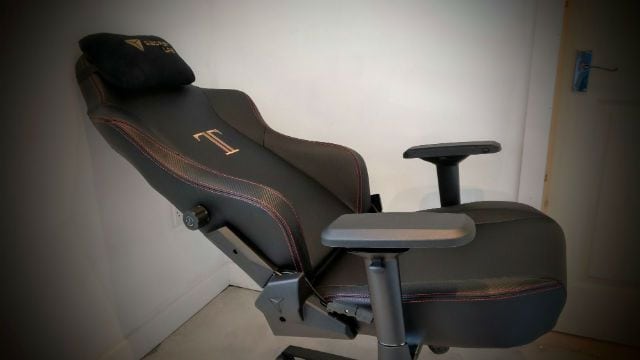 In the department of comfort and ergonomics, the SecretLab Titan has most of the available points. The comfort of the chair is enhanced by its good padding. The foam used may be good but it could do much better with a little more.
The headrest is not just well designed, it is very comfortable with the complement of a very good pillow that will be able to give what you get with more expensive chairs a run for their money.
See Also: Steelcase Leap Chair Review: Everything You Need To Know 
At the center of the ergonomics of the chair is its easy adjustability to support various sitting positions that you want.  For the lumbar support, it is internal and can be adjusted using a knob. Compared to the external lumbar support, this falls short but its adjustability makes it still good.
Pros
It is rather straightforward and easy to assemble.
Premium build and good design.
The adjustability is rather on the good side.
The chair is an excellent fit for people who are tall and weighty
While very simple, it is versatile enough for someone who also wants to use it for office use.
For what you get with it, the pricing is good.
Cons
We would have loved to see it with much padding to add to its comfort.
Not the most excellent armrest that you will get.
It would do well with a better lumbar support.
Is It Worth the Money?
While there are many gaming chairs that you will get for $100 and even $200 which is significantly less than what you pay for this, there are also many others for which you will pay between $500 and even $1000. That said, with all that the chair offers, we believe that it is worth the money.
This is because while it comes with comfort and most other things that a gamer would want, it is also very durable. Of course, it will not deliver what gaming chairs that are well more expensive can deliver, but for others in the same range, there is no reason why one should not go for it.
Conclusion
With all said, it is pretty easy to find this chair among the best gaming chairs when you are looking for others in the same price range. Of course, it is by no means a perfect chair but it is simply worth what it asks for. It is the kind of chair that should be able to accommodate almost people of all sizes but it is most ideal for people of large size.
Check on Amazon