Logitech wireless keyboards have become very popular with gamers because, on one hand, they are cheap, while on another, they work very well for gaming just as most other peripherals from Logitech. Inasmuch as the keyboards have become known around the world for their reliability, there are times when while gaming or using it for something completely different, it may fail to work.
Sometimes, the problem may also affect your Logitech wireless mouse. However, whether the problem is only with the keyboard or it is with the mouse as well, here are some simple steps that can be taken to fix it.
Fixing Logitech Wireless Keyboard Problems
The most common problems that you will have with your keyboard failing to respond or connect. To fix these problems, follow the steps below:
1. Uninstall Keyboard Driver
The issue with your Logitech wireless keyboards failing to work (or mouse), may just have to do with the driver, and so what you will want to do is to uninstall it so that it can reload. Here are the steps to follow:
1. Go to Device Manager by right-clicking on your Start Menu and then select Device Manager
2. Once it is open, expand the Keyboards
3. You will see the Logitech keyboard drivers. Right-click on it and then select uninstall.
4. Confirm this by selecting OK
5. Once that is done, reboot your computer and then plug in your device. The driver will load automatically and hopefully, this should solve the problem.
2. Restart the Human Interface Device (HID)
The HID is what activates and maintains the predefined button on your keyboard. What this means is that if the keyboard fails to work, the problem may as well be from the HID and so you may consider to restart it by following the steps below:
1. Right-click on the start menu and then click on Run so as to start the run command
2. In the box, copy and paste this: services.msc and then click on the OK button.
3. On the list of services, look for the Human Interface Device Access and double-click on it
4. Change the Startup type from Manual to Automatic
5. With that done, simply restart your computer and this should fix the problem.
If, however, the problem is still there, follow the same process and go to your Device Manager and click on Keyboards to expand it. If you see any driver that has a question mark, simply right-click on it and then click on Update driver software. Search automatically and allow it to finish. Now you can restart your computer and see if the problem is solved.
Disable Filter Keys
The filter keys serve to help your computer ignore brief and repeated strokes. These strokes are responsible for the slow response you get as well as inaccurate finger movements.
To fix this problem, simply follow these steps:
1. Open your control panel by right-clicking on your start menu and then clicking on Control Panel
2. Click on Ease of Access Center
3. You will want to click on Ease of Access again in the new window that opens
4. Now, you want to click on "Make the keyboard easier to use".
5. From the list that is displayed, look for Turn on Filter Keys and then uncheck the box.
6. Click on Apply and then OK. Most likely, this should solve the issue.
Resync your Logitech wireless keyboards with the USB receiver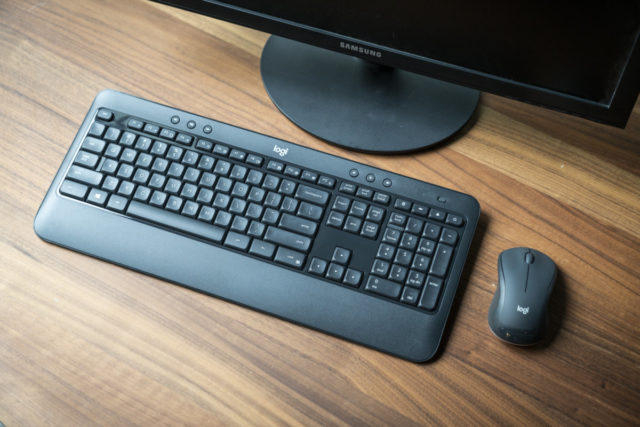 One of the things that may stop your wireless keyboard or mouse from working properly is when the device does not sync properly with the USB receiver as that is what receives the wireless signals sent by your device. To resync it, follow these steps:
1. Most of the time, your USB receiver will come with a button. The first thing you want to do is to press the button and it will soon start flashing a light.
2. Look for the connect button on your keyboard and then press it.
3. When you do that, the light on the receiver will stop flashing and this means that it has synced.
4. But then if this doesn't solve the problem, or if there is no button on your USB receiver, you may refer to the guide that came with your device for a more specific guide on how to reconnect.
Lag Time Problem
Another common problem that you may face with your Logitech wireless keyboards is that of the failure of the keyboard to respond immediately as you punch the keys or sometimes, some keys may skip some keys. This problem can occur after you leave the keyboard idle for some time. To fix this problem of lag time or skipping of keys, here is what you should do:
Make Use of USB extender cable
Rather than restart the system or try working on the drivers, the simple thing you may consider doing is not to plug the receiver/ transmit unit of the keyboard directly to the computer through the USB port. Instead, you may need to get a USB extender cable and then place it close to the keyboard.
How to fix other problems
For most other problems you may be having with your Logitech Wireless keyboards, one of the first things you should consider doing is to update the drivers of the keyboard as well as ensure that your computer system is always updated. To update the keyboard drivers, follow these steps:
1. Go to your Start Menu and then right-click
2. From the options that appear, click on Device Manager
3. Go to keyboards and expand it. Right-click on the drivers of your Logitech keyboard and then click on Update Driver Software
4. In the windows that appear next, click on Search automatically for driver software
5. Once this is done, you can restart your system. This simple process may solve many problems that may be caused by outdated software.
See Also: Logitech Wireless Mouse Not Working: Common Problems and How to Fix
Conclusion
If all these fail to work, you may as well consider trying your keyboard on other systems because it could also be that it has gone bad and may require to be fixed or have it replaced.
Finally, because it is a wireless keyboard, you will need to make sure that it has power. Even though it is easy to forget, your keyboard will not work once the battery is dead and so you will need to change it.