Just as in economics, resources are also limited to computers. Because of this, you do not want any single application or process to consume too many resources than all the others because it can deprive other programs of running in their best capacity, thereby slowing down your computer. if you are using Avast, it is possible that you may have encountered the Avast Service High CPU Usage issue.
Before anything else, antivirus is naturally known to demand more resources than most other programs but when you start seeing CPU usage spike higher than necessary, then there is something to worry about.
Why Is Avast Using So Much CPU?
Antiviruses, in general, are tools that perform many tasks and so it is only right to expect that Avast will need more resources than other programs. It is involved in many operations including background scanning, computer cleaning, and virus removal among other things. Compared to most other antiviruses, however, Avast still maintains a very good CPU usage which only gets high when there is an issue.
That said, when you start experiencing Avast service high CPU usage, it is not a sign that Avast is working well, but instead, it is a sign that something is not right which will lead to your computer to start slowing down. The things that may cause Avast to use too much CPU may include incorrect configuration of Avast and system settings, using an old version of the application, and screen saver scanning among many others.
The good news is that no matter what causes this issue, it can easily be fixed by following the steps below:
Fix Avast Service High CPU Usage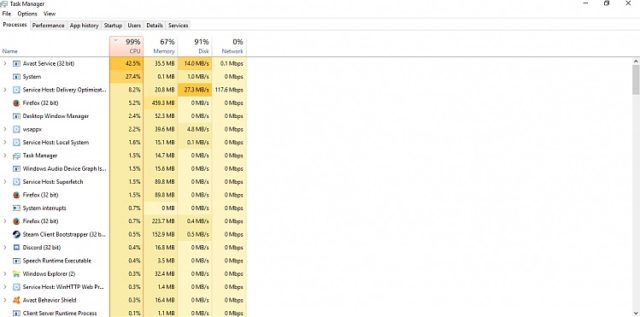 Method 1: Update your antivirus
As stated, one of the main things that cause this issue is when your computer is still running on an old version of Avast. Once a new version of the program comes, it is because an issue has been detected with the previous version, there are newer challenges that it cannot handle, or simply because there is a need to have a better version. Therefore you need to update it. To do this, simply follow the steps below:
1. Launch the Avast program
2. On the left side of your computer, scroll to Update and click on it.
3. Go ahead and update bot the Virus definitions and the Program.
Method 2: Check If Avast Screensaver Scanning
It is possible that the Avast screensaver continues to scan even when it is not running. When this background activity continues, the Avast high CPU usage may be experienced. To solve this, here are the steps:
1. Right-click on any file on your computer and then click on scan file for virus
2. This will bring up an Avast window that will show all the scans that are currently running.
3. Look for Avast Screensaver scan and see if it is also running. Once you find it, click on the Stop button close to the process.
4. With this done, you will want to check to see if the high CPU usage is still there.
Method 3: Repair Avast From Control Panel
Another thing that may cause this problem is something going wrong with the antivirus. To try this method, simply follow these steps:
1. Log to your computer with an administrator account because that is the way you can delete programs.
2. Go to start menu and search for Control Panel, then click on it.
3. Once in the panel, click on Uninstall a program which is under Programs
4. Your various applications should appear. From the list, select Avast and then click on Uninstall/Repair
5. From the uninstallation wizard that will appear showing Repair and Remove options, click on Repair.
6. Click on Next and then confirm the process.
7. Once this is done, click on Finish and then restart your computer.
Method 4: Remove Avast Cleanup
The Avast Cleanup serves to make resources available for background activities. What this means is that it functions in real-time, which can also contribute to the load that Avast places on the CPU just like any other program that runs in real-time. Because of this, you may as well consider removing it. To do this, follow these steps:
1. Launch your avast and go to the interface
2. Go to the Avast Settings and then click on the Component tab.
3. Scroll down the list of component and go to Avast Cleanup.
4. Click Uninstall Component and then confirm the process by clicking OK
5. Now, restart your system when Avast prompts you. Once that is done, check to see if the issue has been fixed.
6. If it doesn't work you can go through the same process and remove the Behavior Shield. The Behavior Shield is another component on Avast that is found to sometimes contribute to the use of excess CPU.
Method 5:  Fix Avast Service High CPU Usage Through Command Prompt
You may also decide to tweak the command prompt so that you can change the scan frequency in order to reduce the CPU load. Why this is something you may consider doing is because, with the continuous background scanning, there is so much load that is put on the computer resources including the CPU and RAM. To tweak it via the command prompt, here are the steps to follow:
1. Press the Windows key and X.
2. Click on the Command Prompt (Admin) option
3. Type the following command and it will take you to the folder: C:\ ProgramData\AvastSoftware\Avast
4. Look for avast5.ini file and then open it and type in the following command: [GrimeFighter] : ScanFrequency=999
5. Save the file and then restart your computer.
See Also: Avast SecureLine VPN: Is It Good? Review, Price, How to Fix Common Problems
How To Check Avast Service High CPU Usage 
If your system has suddenly gone slow after you have installed Avast or after upgrading your computer, a lot of things may be behind this but you may also want to check on your CPU usage. You can also use this method to check if the Avast service high CPU usage issue has been fixed after using any of the methods above. To check how much of your CPU Avast uses, follow the steps below:
1. Open your Task Manager by pressing the Ctrl, Alt, and Delete buttons at the same time.
2. Select the Start Task Manager and this will open the manager.
3. Select the Processes tab and scroll to Avast and under CPU, you will see the resources you are consuming.