When Destiny 2 dropped in 2017, it did not come as a very big game. In fact, the First-person shooter failed to make any significant impression as was expected of it. However, like most other games, it still has its legion of followers that it started amassing right from the release of the first game in the series. And like any other loyal fans, they have been waiting since D2 dropped for the release of Destiny 3, but is it coming?
Is There Going To Be A Destiny 3?
Whether Bungie will ever release a Destiny 3 game or not, is something no one, for now, can give a definite answer to. Before now, what everyone was hoping to see was a release of the game sometime in 2019 or at worse in 2020.
However, while the hopes of many have shifted the goalpost, that of others have left the field of play entirely because instead of making an announcement to the release of the game, Bungie surprised everyone with a revelation that it is still stuck on the second game in the franchise and it is working on an expansion of the game which will come as Destiny 2: Shadowkeep.
With this expansion, the simple thing that everyone is taking home is that for now, there won't be a D3. If it will come, which is something no one can rule out, it may take a few more years to come.
There are those who sincerely believe that because of the rough paths that Bungie has been on with the franchise including its divorce from Activision in 2019 as its main publisher, it may find it pretty hard to release the third game in the series any time soon, but we only have to wait and see.
So When Will Destiny 3 Be Out?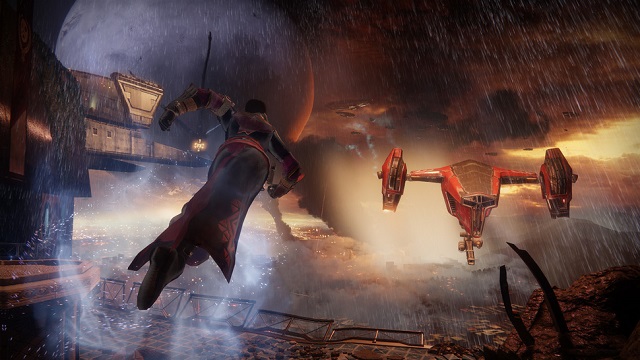 As already stated, a release date for the game will not be easy to speculate at the moment. This is because rather than the game which was expected, Bungie announced that everything will change for the looter-shooter and there is now a five-year plan for D2 which may be starting with the new expansion that is soon to be released as Shadowkeep. The expansion was first billed to be released on September 17, but it has now been pushed forward a little to October, 1.
In essence, if Destiny 3 is happening, it is not happening anytime soon. What is more disappointing is that no one can even go ahead to speculate a release date for the game since we may remain in the loop of D2 for much longer than we may think.
As revealed by Luke Smith who is the creative director of Destiny, anything that will come after Shadowkeep is way far out as the entire team is now committed to keep working in D2 as a franchise as well as on its new chapter for the entire franchise, he indicated that there is a long term vision for the franchise.
But then, while there is nothing tangible or official, there have been rumors as one would rightly expect. One of the major rumor is from AnonTheNine which has come to be known for being reliable. It revealed that Bungie has started work in 2018 on Destiny 3. There are some who are still holding on to this, believing that because Destiny 2 was released three years after the first game in the series, three many likely maintain the same timeline and be released in 2020. To be more specific, the rumor is that the game will be released on September 2020.
That, however, was before the divorce between Bungie and Activision, which has come to be thought of as something that could to a very large extent, affect the release of the game. More so, when it comes to the development of games, a lot of things can happen and derail a game. Who can ever tell if Shadowkeep is what has now happened to derail the third major game in the series?
There is another class of thought that seriously believes that the expansion of Destiny 2 is only a way of delaying D3 for a year or two before it is finally released.
Another thing to put into consideration is that PS5 and Xbox Project Scarlett console generation is set for the later part of 2020. And so even though there are fears that the game may take a very long time to release, Bungie may want to factor that as it plans for the release of Destiny 3, which means we may, after all, see it even as early as 2021.
See Also: Life Is Strange 2 Characters And Release Date: All You Need To Know
What Features Will Destiny 3 Have?
The question of the features of D3 will only be serious when there is all certainty that the game will finally see the light of the day as opinions are still yet to align.
Nonetheless, many questions are still lingering on the release of the game itself, the feature D3 will have may not be easily known. But then, we can anticipate that it will find a way of building on the story of the origins of darkness following in the steps of those before it, while also trying to understand the purpose of the light. Of course, like most other things about the game, this is only a speculation.
Other things we could see in the third game are ourselves in new planets including Europa, Venus, and earth. Instead of light powers, there are rumors that Darkness powers may be expanded in D3, and so how that will play out with other elements will only remain to be seen if it happens to be so. There are also speculations that we will see more of more RPG elements in a very big way for hardcore gamers while also making it enjoyable for all others.
The hope is that no matter what features will be added, it will all lead to a better loot economy, new enemies and factions, and also new subclasses and abilities among other things that will make the game more enjoyable.
At the end of the day, even as we keep waiting for D3, we can still take the time to appreciate the expansion of D2 because as easy as can be said, Bungie seems to be doing everything in the right way with the game.
Coming in the same way as Destiny 2, Shadowkeep is expected to be released for PS4 and Xbox One as well as PC. It is also expected to be the last game in the franchise to be released for the present Xbox and PS console generation. This means that when Destiny 3 finally comes, it is more than likely that it will find itself in a new console generation.