Intel Core i5 vs Core i7 For Gaming; Which Processor Should I Choose: Simple Answer
Irrespective of the fact that Core i7 is slightly a better processor, the i5 is perfect for gaming. It is largely unnecessary to spend more for the not-too-significant better gaming performance which the i7 affords, spend the extra cash on a robust graphics processing unit which you will pair with the Core i5 processor instead.
You don't need to be told that gaming has gone beyond the "just a hobby" phase and is now a serious business, do you? Well, if you do, you can catch up with the rest of the world by keeping up with shows like PC Gaming Show, Dara O Brian's Go 8 Bit or follow e-sports players like KuroKy. Guys like the German Dota 2 player with earnings running into several millions of US dollars have shown how gaming has evolved over the years, going through momentous changes which have seen its emergence as a legit profession that is increasingly becoming business-conscious.
There are a handful of things that make a great PC gaming experience, above them all, having the perfect central processing unit (CPU) has been prioritized by the gaming community with numerous opinions offered by enthusiast and those who truly understand the workings of a processor blurring the line between facts and claims that can barely be substantiated.
In view of that, the Intel core i5 vs core i7 debate for gaming has largely remained inconclusive. To gain some closure on the issue, we will be looking at the key differences between the processors, the user experience and ultimately help you decide which processor to choose.
Intel Core i5 vs Core i7: What Are Their Differences
The latest 8th, 7th, and even 6th generation products of Intel Core i5 and Core i7 processors are furnished with the Turbo Boost Technology 2.0 which are meant to surge processor and advance graphics productivity for peak loads. Essentially, this technology is automated to improve application performance, they allow processor cores to work quicker than its rated frequency of operation when the processors are working below power limits. Don't miss the point, both Intel Core i5 and Core i7 are equipped with this important technology.
What then makes the difference? Well, from faster performance to achieving higher clock speeds, integrated graphics, larger cache, and hyper-threading, the Core i7 lords it over Core i5. But then, these advantages are barely significant as they are only noticed on rare occasions by extreme users who multitask and run technical applications. It is imperative to point out that most workstations heavy users and lusty gaming machines cope fine with the responsiveness and productivity of Core i5.
Which Processor Should I Choose For Gaming?
Even though we'd outrightly recommend you settle for Core i5 and spend the extra cash on a robust graphics processing unit, the processor to choose between Core i5 and Core i7 slightly depends on other factors. Over and above other reasons you may have for wanting to spend more on Core i7, you should first answer these questions…
Do you intend to excessively multitask; will you be running some intense and professional video editing software and technical applications?
If you do really think you're up to some deep-serious gaming-related activities; intend to utilize multi-graphics processing unit (GPU), and convinced you will be needing all the productivity you can get to facilitate such responsiveness that would guarantee faster completion of tasks, then the Core i7 processor is worth it.
Nevertheless, you should know that Core i5 has proven itself to be an excellent processor appropriate for even heavy gamers. Without a doubt, the processor can hardly be found wanting in terms of multitasking and overall gaming performance. Irrespective of the fact that Core i7 is a better processor designed for high-end users, the i5 is a perfect processor for gaming and it is largely unnecessary to spend more for the not-too-significant better gaming performance which the i7 affords.
Still skeptical? Let's take you to UserBenchmark a bit. True, this shouldn't be the ultimate basis for reaching a conclusion in this discourse. But looking at the linked page containing the stats of best user-rated CPU which of course focused on gamers' experience, you'd observe that whereas Core i7 is significantly costlier than Core i5, the ratings in terms of their performance and suitability for gaming is almost a tie.
Meanwhile, as graphics cards are one of the components that can gravely limit the capacity of a computer system, gamers are often concerned about being bottlenecked. Though this is a valid fear, it shouldn't be dwelled on as it is highly, most unlikely to encounter this problem. For most of the times bottlenecking is experienced, it is when multiple graphics cards are used or when the central processing unit is very much older than the graphics processing unit.
See Also: How Much VRAM Do You Need For Gaming? [Quick Answer]
Other Things You Need For A Good Gaming Experience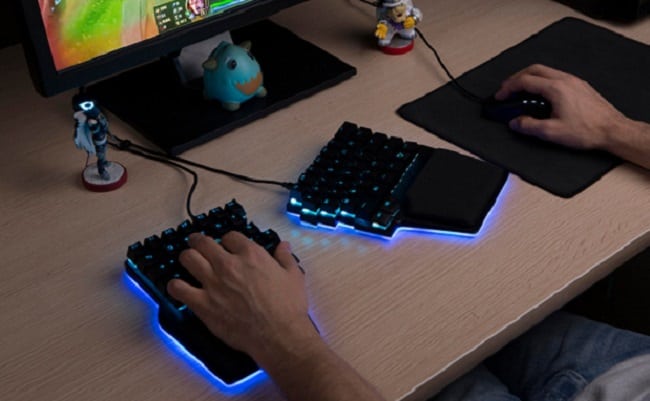 Beyond having the right processor, there are other factors that contribute to a better gaming experience. Disregarding the need for downloadable content (DLC) which would offer abundant storylines, more game modes/level to assure deeper gameplay, you would not want to sacrifice good and stunning graphics for anything, it's everything! In the same vein, you should have a total control of the game and impressive sound.
The good thing is that it's practically up to you to decide where you need more and adjust accordingly. If we are to assume you want finer picture quality, there are various options you could explore like updating your graphics drivers and upgrading your graphics card. Even more satisfactorily, you can ditch your monitor for a better one, keeping in mind that bigger is better.
For flexible and excellent control, a friendly gamepad, responsive keyboard, and mouse are all you need. Sound-wise, gift yourself a stellar pair of ear-speakers, we would recommend a headset if you are an online gamer.
Also, your interaction with a game can only be as good as how much you are keeping up with software updates. Being steadfast in updating software can be very tiring for obvious reasons. On the other hand, it is absolutely necessary as it goes a long way in enabling better performance and playability. This is also true for having a strong and fast internet connection, without taking care of these things, you are bound to always have a frustrating gaming time even with the right processor.