There are a million and more gaming chairs on the market from which a gamer can select. The problem with most of these chairs is that they come as affordable options while offering nothing else while others come as the high-end ones but still fail to offer anything significant. The few remaining chairs offer you value, comfort, and almost all that you will need in a gaming chair- it is in this class that you will find the Homall gaming chair.
Most chairs that make it to so many lists of the best gaming chair are those that come as premium chairs. However, there is a good number that although do not cost you an arm and a leg but still deliver the best gaming experience. Coming at $100, this gaming chair is one that is highly affordable.
A bestselling chair, Homall takes advantage of its great looks, affordability, adjustability, and comfort to remain among the top choice for gamers. Nonetheless, the question that remains is on whether the chair is really any good for someone who needs a gaming chair that is more than an ordinary gaming chair? Let's find out.
Quick Features
The first thing you will find out with this chair is that it comes with all the most important and standard features that you will get in most other gaming chairs.
It has a steel frame
The Homall gaming chair comes with a premium PU leather material
With 360-degree swivel, it also has multi-direction wheels
The recline function is between 90 – 180 degree
Has adjustable lumbar support as well as a headrest.
It has a maximum load capacity of as much as 300 pounds.
The chair offers good adjustability options.
Measurements:
Height: 17.3-21.5 inch
Size: 19.8″X20.5″
Backrest dimension: 22.5″X30.5″(LXW)
Homall Gaming Chair Design and Quality
The design of the gaming chair is not very different from what you will get with most other gaming chairs even though it is designed with so much emphasis on ergonomics. With a touch of both official and casual sense, it is very easy to appreciate even as it also allows for a rather much adjustability.
The only thing that beats the design of this gaming chair is its quality. With a steel frame, there is no reason why this should not last. More so, the materials used in designing the entire chair is likewise great for what it asks.
In addition to this, it has six different colors from which you can select: blue, deep black, mesh/blue, mesh/red, red, and white. The different colors cost slightly different with the most expensive going for less than $150 while the least expensive sells for less than $100.
Comfort and Ergonomics
Comfort is one of the most important things you need to consider before you get a gaming chair since you will, as a typical gamer, mostly spend at least 4 hours playing games each day. The Homall scores good points here as it is designed to give the best comfort possible based on the materials used. The cushion is responsive and the lumbar and headrest do their jobs quite well.
Also important is the fact that you will be able to adjust the chair in different ways. The adjustability options you get includes its height which can go higher or shorter as well as the back adjustment. Here, you can get the seat to recline to different positions that move from 90 to 180 degree. More so, the chair can easily rock if that is what you want.
One thing we don't like in this department is that the adjustability does not extend to the hands of the chair so you will have to find a way of using it without any adjustment.
Price
Gaming chairs are not necessarily the cheapest things you will find considering that the high-end ones can even cost you as much as a thousand dollars. However, coming down, the Homall is a good chair if you are looking for something affordable.
While this price may seem good, what you get for the chair may still not be able to stand with most others that ask for more. Not to get confused, it is a chair with much value, but it is for someone on a budget.
Pros
Offers great value for the money and it is very affordable
Comfortable enough to give you good hours of gaming.
A good chair when it comes to stability.
It has premium looks and an excellent design, giving you different choices.
There is a warranty of one year.
Cons
While at the price range the quality is good, it still falls short of the most excellent quality chair you can get.
Not the best when it comes to comfort.
There is a limitation in terms of arm rest adjustability.
Is It Any Good?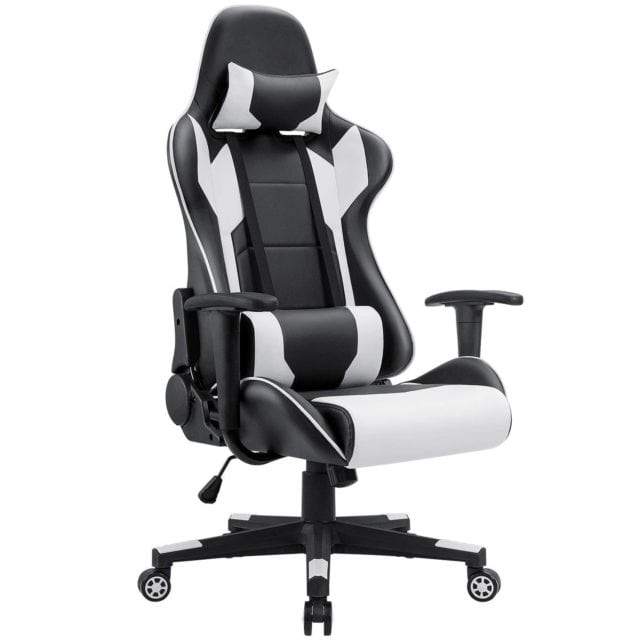 One of the things that this gaming chair has above most others in the market is its friendliness when it comes to the price. Nonetheless, it is not the one that we are going to recommend for anyone who can afford something that costs more and still offers more.
See Also: 9 Highly Comfortable and Ergonomic Computer Gaming Chairs
Conclusion
At the end of the day, the Homall gaming chair is as good as it gets. It combines great design, comfort, adjustability, and durability to offer something that stands almost alone in a market that is crowded by many bad gaming chairs. It is important to note that this is not the one to bring salvation to gaming chairs, but it has played its part very well. Placed against some more expensive gaming chairs, this may be left with some unanswered questions. Nonetheless, at its price range and even slightly above, this chair is a very good bet.
With all said, if you have more money to spend, our recommendation is to go for something better from our collection of best gaming chairs but if you are on a budget, this should serve you just right.