CD Projekt Red has got its name in the good books of a lot of gamers thanks to The Witcher which has for a long time now remained among the most favourite open-world RPGs games. As a result of that, gamers have had their fingers well crossed for the next game that is coming from the developers, Cyberpunk 2077. Already, the game has gone a long way in development and is expected to drop any time soon.
The game is coming as a sequel to the Cyberpunk 2020 which was released as far back as 1988. The new game will pick up as 2077, which is 57 years from 2020. At this stage of the development of the game, there are a lot of things that gamers want to know about the game. Here are the things we know so far:
Cyberpunk 2077 Release Date
For now, there is still yet to be anything official from CD Projekt Red. However, it is known that CD Project Red has already gone far with working on the game and although still not confirmed, it is expected that a release date will be made known in 2019.
At the E3 2018, the developers made it clear that they are not ready to rush the game or provide a release date yet in order to be able to take their time making it. With that said, if a release date gets to be announced in 2018, we may get to see the game released in 2020 or 2021. One thing that we are certain is that it will be very hard for the game to drag to a time beyond 2021. So at worst, by 2020, we should get a release date and a release of the game in 2021.
A Roleplaying game, it was first announced in 2012 and the next year, we got to see a teaser. The only thing that beat the teaser was the kind of reception it received with over 12 million views in its very first week. As it is at the moment, the game has already reached a playing stage, but there is still some work that DC project is still doing on the game.
Gameplay Trailer
The first gameplay trailer for Cyberpunk 2077 was shown behind closed doors at the E3 2018 by CD Projekt Red. The problem with that release apart from it being released for only the media was that it was disjointed at some point. After that, however, it went on to release a more proper gameplay trailer that was much clearer.
Prior to the gameplay trailer, there were other trailers and teasers that were released. Earlier in 2018, a teaser was first released and that was then followed by a trailer. The emphasis, however, was on the gameplay trailer which has revealed a lot of things including the following.
The game is set in 2077 as you have rightly guessed, in a city known as Night City (alternate-future California). Nonetheless, you can move to other places outside of the city.
The main character of the game is a mercenary known as V, although you can decide the gender you want. For the demo, V came as a woman. Also, there is also a lot more in terms of character customization which covers almost everything from your weapons to hair and even tattoos.
While The Witcher is played in the third person point of view, Cyperpunk is first-person.
One of the most interesting things with the game is that you have the option of either fighting your way out of troubles or talking out. You will have dialogue options and whichever you decide to go with will have its own consequence.
Apart from just selecting your gender and the customization option, you also get to choose the life path you want to take. You can as well select a background story for your character and what has brought them to Night City.
As a part of the story of your character, you can decide on whether you are in the city in search for love or revenge.
There are various skills that you can choose from and it is based on these skills that you get to fight your enemies. With the fluid class system, you can either decide to play as a solo, techy, net runner, or you can mix them all.
Other things that CD Project has revealed through the trailer are things like unlockable inspection system, street cred level, and some great effects most especially when you are in a combat.
Finally, it is important to know that the game is a very mature game which features complete nudity alongside things like the use of swear words. More so, you can have one night stands and even visit brothels.
Cyberpunk 2077 News and Update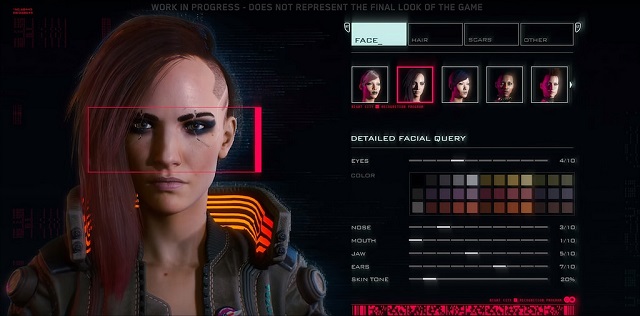 Thus far, there are a lot of things that have been revealed by CD Projekt Red as regards the game. One of the very important ones is that there is a work going on the multiplayer mode for the game as well as other games. Nonetheless, do not count too much on seeing this, because the developers are only researching on it as something that it may begin to use in future games. Because of this, expect the game to be released as a single-player game without a multi-player option.
See Also: Dark Souls 4 Release Date, Announcements and Rumors
While Cyberpunk 2077 has been confirmed for Microsoft Windows as well as PlayStation 4 and Xbox One, Lead Cinematic Animator, Maciej Pietras, has revealed that since the start of the development of the game, there has been work to have it optimized for the platforms as well as for current generation consoles. This has further made it clear that the game will soon be released in order to meet the current generation of consoles before the release of the next-gen consoles.
One of the best things about the game is that CDPR has made use of many non-player characters (NPC) in the game to add to the variety, while one of its main downsides (not that there are many) is that with the use of first-person. As a shooter game, it may have been better as a third-person game.
Conclusion
As we await the release of Cyberpunk 2077, there is every reason to believe that the game is entirely in a class of its own, gaining credence to why people are eagerly anticipating its release. One of the main strengths of the game is the different character class options it avails a gamer as well as the vast customization. To that, the gameplay is also expected to be great in almost every way possible.