For every hardware that you have on your computer and peripherals you use, a driver software is also is needed to make it function properly. These drivers are updated from time to time so that they can meet the recent demands, fix some issues detected, and even improve the security of your computer. Because of this, there are many free driver updater software that can serve.
Beyond just having the driver updater for free, the greatest concern for most people is the safety of the program because there are programs that can introduce virus and malware to your computer. Hence, care must be taken when you are looking to get a driver updater software.
What is a driver updater?
These are programs that serve to find drivers on your computer that are either outdated or corrupted to be updated to the latest version or fixed. Normally, the Windows Operating System will automatically update drivers based on the settings made, however, driver updaters give you greater control.
Best Free Driver Updater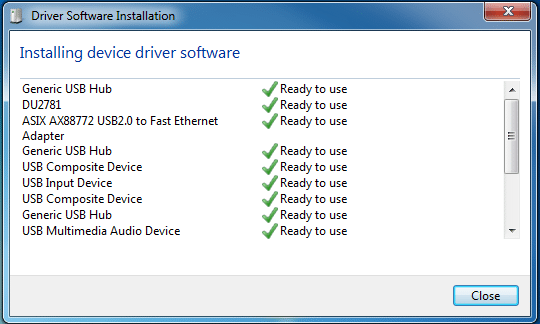 1. Driver Talent
Known before now as DriveTheLife, this updater is very good because it is designed to find missing drivers as it also finds those that are either corrupt or out of date. More so, it is easy to use and convenient because once it finds the drivers that are outdated or needs fixing, you can download it from the program itself without needing to search the internet.
Compatible with all Windows operating system from XP upwards, it allows you to backup and restore drivers, just as you can also install and reinstall. Even when there is no network, you can as well install drivers that have been pre-downloaded. Another interesting thing with the software is that it can also be used to download drivers for another computer and transfer to the computer.
While you should be good with the free version of the software, the pro version is also available for someone needing additional features like automatic download and installation of drivers.
Pros
Very easy to use.
It comes with many features that are good
Finds missing and broken drivers also.
Easy backup and allows you to download drivers for another computer.
Cons
No automatic installation except for the pro version.
2. Driver Booster
The Driver Booster will find itself unsurprisingly at the top of the list for most people looking for a free driver updater because it comes with good and easy features. More so, it is compatible with all versions of Windows. Also delivering a pro version, the free version of the Driver Boost also serves with no problem except when you need automatic updates.
It allows for you to schedule for it to keep searching for outdated drivers. Once it finds them, it will download them so that you do not need to search the internet for the drivers.
The most interesting thing with the software is that apart from just showing you both the current and old version, it creates a restore point in case soothing doesn't go right with the installation.
Pros
It creates a restore point.
The software is compatible with all Windows versions.
There is the option of background installation.
The driver library of the software is very extensive for a wide range of hardware devices and peripherals.
Cons
It does not install drivers automatically except when you have a pro version.
3. Driver Easy
With this software, you can schedule a daily, weekly, or monthly scan for drivers that are outdated. Available for both personal and commercial use, Driver Easy can be used to scan for missing, outdated, and mismatched drivers.
More so, even without internet, the software can still scan for needed drivers and download them when you have a connection. It has a good interface and you get to know details about different drivers. Just as with others, the software allows you to download without needing to search for the different drivers you need.
Pros
Good interface and easy to use
You can scan even without an internet connection
It provides hardware details.
Cons
There is a limit to the download speed when using the free version
Not the best for detecting many updates
4. Snappy Driver Installer
One of the most powerful free driver updaters, this may not be the easiest to use, but it is very functional. The software has a lot of features for a driver updater that comes free.
With this software, invalid drivers and valid ones can easily be separated, and you get to see if there are duplicate drivers. In addition, it doesn't limit the number of drivers that can be downloaded.
If you want to create a restore point, the software also places neither a restriction nor limits to download or to the internet speed as you will find with some other software.
Pros
You can download drivers in bulk and install them.
Doesn't come with download restrictions.
It allows for scanning without internet.
You can create a restore point.
Cons
Not the easiest to use
It doesn't allow for scheduled scan
5. Winzip Driver Updater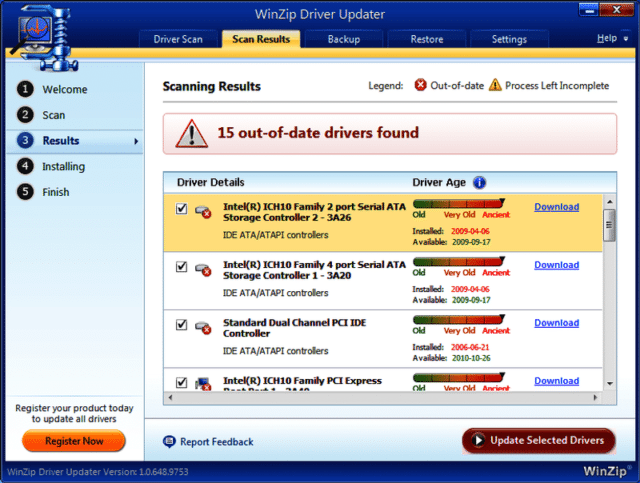 It is not just because this comes from the highly recorded archive freeware, WinZip System Tools, that we consider this to be among the best free driver updater, but also because it functions better than many others. The software is very easy to use and quite convenient.
See Also: How To Monitor Your RAM, CPU and GPU Temperatures [Easy Guide] 
While one can update manually, it allows for one to schedule for scanning based on how you may want. Once it scans, it allows you to install. Another thing with the software is that like other good ones on the list, it allows for backup.
Pros
It is very easy to use
Allows for scheduling of scan.
The backup option comes useful in case you don't understand some updates.
Cons
You can sometimes get a false update notification.
6. DriverMax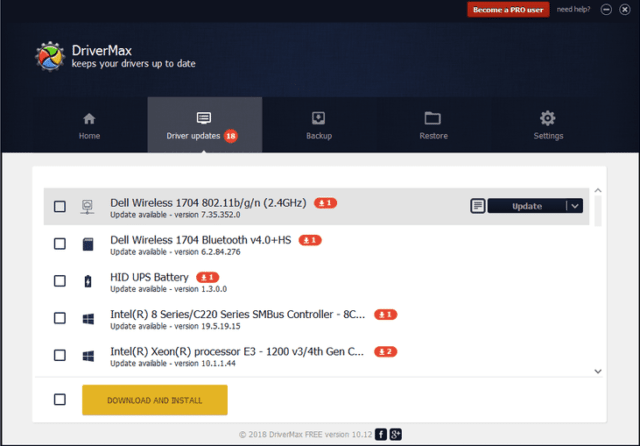 The DriverMax driver updater comes with a pro version that beats the free version by a very wide margin to include things like hourly driver check and simultaneous driver downloads. That said, the free version is still good for someone who only needs the basics.
Beyond just finding drivers, this software creates both drivers and system restore points which is something that we found to be very helpful. More so, it can allow for rollback to a previous version.
Even better than some that appear atop it, DiverMax finds many outdated drivers. If you have an unknown hardware, it will identify it.
Pros
You can create a backup
Unknown hardware identification
Compatible with all Windows computers.
Cons
There is a limit to the drivers that you can download and install.
7. DriverIdentifier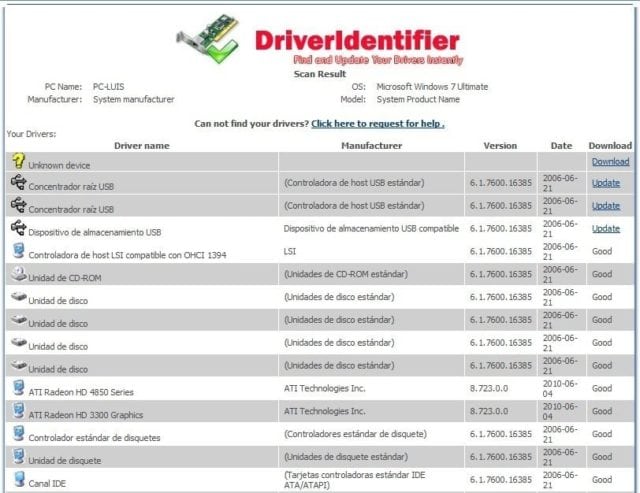 This may not be the most perfect or smoothest driver updater, but it is one that you can go for because it has a very good library. It has a good interface and it is very easy to use. Even when you don't have a network connection, the DriverIdentifier allows you to scan for drivers.
Some problems that you may have with the driver is that before you can use it, you will need to register, and you can only download manually and without the option for scheduled scanning.
Pros
You can use it offline.
It is very easy to use since it doesn't require any settings.
Has a very large library.
You get much info about updates.
Cons
It requires one to register.
No schedule scans.
8. Free Driver Scout
If you are among those that want to have everything handled for them by the updater, your best free driver updater may just be the free driver scout. It scans for any needed driver, downloads them, and installs automatically without you needing to do a thing.
The Free Driver Scout has a feature of backing up drivers and it also easy to restore. If you do not want automatic driver updates, you can decide to do it manually.  Interestingly enough, making use of the software is very easy.
Pros
Complete and true automatic driver scanning, downloading, and installation.
It backs up your drivers and makes for smooth restore.
Easy software to use
Cons
May not be the most effective in finding an outdated driver.
Conclusion
Inasmuch as you can pick any of the free driver updater above and achieve the standard functions of a driver updater, most of them have premium features that you can use. But then, updater is one thing that we would not recommend that you get except when you really need it. This is because apart from the fact that a free driver updater is easy to get, your computer can automatically update your drivers based on how you set it.