Don't you hate it when you pay for channels you don't like watching at all? Wouldn't it be great if you just pay for a package that comes with everything you want? Most customers pay for channels they don't really want on their television screen and sometimes, they end up abandoning them for favorites. To address this issue, the DISH Network decided to introduce the Flex Pack as their way of putting smiles on the faces of people and since the package made its way to the market, many people now easily add or drop channel packs of their choice and even create their own customized programming.
What Is Dish Flex Pack?
It is a fully customizable plan by the Dish Network which allows the younger, cost-conscious customers to only pay for channels they'll actually watch. The Flex Pack is much like Dish's Sling TV, customers are presented with the opportunity of paying for theme-based program packs, including ESPN sports channels, kids programming, and local broadcast channels. The Flex Pack has premium channels like Showtime and HBO as options too, for additional fees.
The core Dish TV Flex Pack comes with a standard Dish receiver, which can be upgraded to the more advanced Hopper 3 DVR if a customer so wish. This will, however, cost him an extra $10 more per month. If you are a new customer, you are eligible to receive two-year price guarantee and free installation but you have to register in AutoPay and eBill.
Cost of Dish TV Flex Pack
The Dish TV Flex Pack cost $40 a month. Upon purchasing the pack, customers are allowed to select from one of the eight theme-based program packs. However, other packs are sold at prices ranging from $4 (for the outdoor pack) to $10 (for the national sports and news packs) monthly. Interestingly, you can as well forgo the included add-on pack and go for the 50-channel package which costs $30 a month. But if you're comfortable with the base set of channels, you can just leave it at that and your bill will be lowered by $10 every month, which will bring your bill down to $29.99 per month.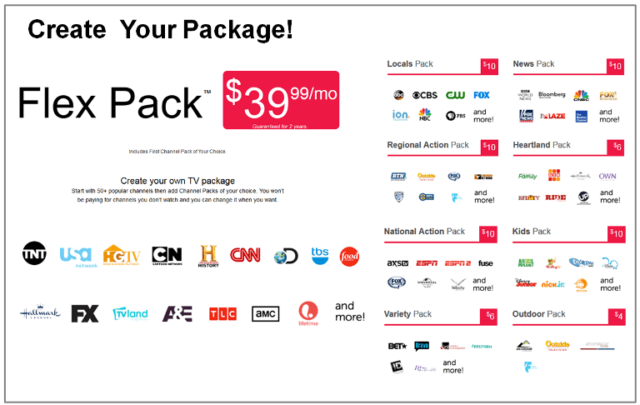 What channels are on Dish TV Flex Pack?
Priced at $40 per month, the Dish Flex Pack comes with a base pack of 50 channels, including CNN, USA, Discovery, Spike, Cartoon Network, HGTV, Food Network, TBS, FX, E!, AMC, A&E, TV Land,  The Travel Channel, TNT, National Geographic, and AMC. This pack is called the Skinny Bundle. Recently, DISH Network announced that some channels that need separate subscriptions have been added to the base TV package, making it easier for customers to comfortably subscribe to these channels as well.
Below is the list of all channels that come with the Dish Flex base pack:
A&E
AAN (America's Auction Network)
Almavision Hispanic Network
AMC
Baby First
BET Gospel
BET Jams
BET Soul
BYU Television
Cartoon Network
CCTV-E
Classic Arts
Showcase
CMT
CMT Music
CCTV News
CNN
Comedy Central
Cooking Channel
C-SPAN
Daystar
Discovery
DISH Studio
DIY
E!
Epic
Entertainment TV
Food Network
FX
FXX
EWTN (Global Catholic Network)
Evine
Family
Gem Shopping Network
Great American Country
Hallmark Channel
HDNet Movies
HGTV News
History
HLN Headline
HSN Home Shopping Network
HSN2
IFC
Impact Network
INSP
Jewelry Television
KTV (Kids & Teens
Television)
Lifetime
Link TV
MTV2
mtvU
Others include:
| | | |
| --- | --- | --- |
| National Geographic | NASA Television | Nick Music |
| PixL | Pop | QVC |
| QVC Plus | Reelz | Spike |
| SyFy | TBS | TBN (Trinity Broadcasting Network) |
| TNT | TMC (Turner Classic Movies) | TLC |
| Travel Channel | TV Land | truTV |
| USA | VH1 | VME |
| WE tv | Weather Nation | |
The eight theme-based channel packs available are:
1.  Locals Pack: This pack costs $10 per month and comes with channels such as FOX, CBS, NBC, ABC, plus Univision and others based on the local market.
2.  Kids Pack: This costs $10 per month and has the following channels – Nicktoons, Animal Planet, Boomerang, Baby TV, Disney Jr., Disney XD, Disney Channel, and Nick Jr.
3. Heartland Pack: Customers pay $6 per month for this package. It comes with these channels – Uplifting Entertainment, Hallmark Movies & Mysteries, OWN, Baby TV, GSN, Discovery Family, FamilyNet, RFD-TV, Ride TV, Hallmark Channel, and PIXL.
4. News Pack: You need to have $10 each month to get this pack. Once you get it, you would be able to watch the following channels – Weather Channel, Fox News Channel, BBC World News, CNBC, Bloomberg, The Blaze, FOX Business, and MSNBC.
5. Variety Pack: This costs $6 per month and comes with these channels – Lifetime Movie Network, BET, Freedom, Bravo, Investigation Discovery, and  Crime & Investigation.
6. Outdoor Pack: This pack will cost you $4 per month. It has the following channels – Outside TV, World Fishing Network, Outdoor Channel, and Sportsman Channel.
7. Regional Action Pack: Pay $10 per month to have access to channels such as FS2, RSNs (regional sports networks, depending on location), World Fishing Network, Big Ten Network, Outside TV, Longhorn Network, Pac-12 Network, ESPN Buzzer Beater, and SEC Network.
8. National Action Pack: This one is up for grab for people who can comfortably pay $10 per month. Just be assured that you will have access to the following cable networks TVG2, TV Games Network, AXS TV, Velocity, ESPN, Fuse, ESPN2, FS1, and Universal HD.
Note the following: 
1. Your first pack from the 8-pack channels listed above is free.
2. The prices attached to these packs only apply for every second and extra pack added.
3. If you don't want added channel packs, you will then have to pay only 29.99 per month for 50 channels but if you want the eight channel packs, then you will have to pay $95.99 per month for all the 115 channels.
Reviews
If you have kids, then the Kids Pack, which has a solid mix of 8 popular channels, is ideal while the News Pack, which covers issues from stock market to national/world news, is absolutely a must-have for news junkies and investors. The Regional Action will give you the platform to get your fill of outdoor action and college sports and if you need more national sports coverage, then we would encourage you to go for the National Action. For all your local buzz as well as some Spanish-language programmes, Locals Pack would be ideal. The Variety Pack is a fun mix of different genres and you would absolutely love it. It shows mystery/crime series as well as several other reality shows that are captivating. If family documentaries and movies are top on your list, then you're likely to enjoy Heartland. Finally, the Outdoor Pack is a hard-hitting set of outdoor programming that suits everyone, if you love adventure, this is for you.
See Also: Garmin Connect Login, Download, Mobile App, How To Fix Syncing Errors
Other Facts About Dish Flex Pack
1. The Dish Flex Pack includes a two-year price guarantee.
2. All offers require 24-month commitment, early termination fee with eAutopay, and credit qualification.
3. The package also features Showtime, FREE HBO, Cinemax, and STARZ for 3 Months.