There are so many reasons entertainment lovers root and go for Vizio Smart products. Apart from the fact that they make most entertainment fanatics smarter by bringing them closer to what they love through their products, the brand claim on their website that every creation and innovation they come up with aims to provide users with the most immersive, intuitive, and captivating entertainment experience. The company deals on so many things, from accessories such as remote, cables, parts, soundbars, speakers, to TVs and Displays, Vizio has come a long way in the competitive electronics market. The American brand, which is famed for their easier-to-use products including the Vizio SmartCast, competes with leading companies like LG, Panasonic, and Sony.
What Is Vizio SmartCast?
Vizio Smartcast is a product designed by Vizio TV for people who would love to bring together all their favorite entertainment contents from various apps into one place. With the app, users have everything it takes to explore music, TV shows, movies and more across different apps, and also discover their favorite contents faster with the voice search, find out Chromecast-enabled apps directly from SmartCast Mobile™, watch free content, choose their streaming, choose from multiple content sources form the wealth of content providers available on SmartCast Mobile™, command, control, and even adjust their content and display on all their SmartCast products.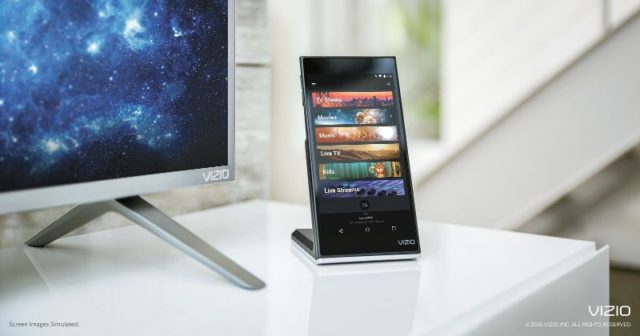 In addition, Vizio SmartCast affords users the platform to stream to their sound bars, displays, and multi-room speakers and to also access advanced settings easily, use the touchpad to play their favorite contents from featured contents to the most popular applications from their display, and even send their music, TV shows, and movies from Vizio SmartCast Mobile™. Other amazing features that the app boasts include easy adjustment of aspect ratio, calibration of pictures, and selection of input without moving out from the app. Did we mention that they can as well personalize their playlists?. Yes, it is very possible on the smartcast. Even, users can also create a custom list of shows, get a quick look at show ratings, crew, synopsis, clips, crew, and search for their favorite actors, songs, shows, and movies easily.
Vizio SmartCast App Download
With Vizio Smartcast mobile app, users are presented with the opportunity to control their entire entertainment experience with their Android device. Once the application is downloaded and installed on an Android device, browsing, discovering TV shows, movies, live streaming, switching across multiple apps are made easy. Users are also allowed to power on or off their devices, modify advanced settings, type words with a keyboard, Swipe to navigate SmartCast Home, enter text on their TV/display from their smartphone using a full keyboard, and also play or pause contents with the mobile app.
It is very important to point out that the Vizio Smartcast mobile app supports products such as 2018 Vizio SmartCast TVs, Vizio SmartCast Crave Speakers, 2016 and 2017 Vizio SmartCast UHD Home Theater Displays, Chromecast-enabled VIZIO SmartCast P or M series, with Ultra HD HDR Displays, Vizio SmartCast Sound Bar, and the E series Home Theater Displays but it is not compatible with Vizio Internet Apps Plus Smart TVs as well as legacy Vizio Internet Apps.
Guess you can't wait to read the guideline on how to download the smart app. To begin, go to Google Play Store, search for Vizio Smartcast, click on "Download". After the download, the mobile app will be installed on your device. You can now open and access the app. If you are using any of the iOS devices, the app is available on the App Store. It is compatible with iPod touch, iPhone, and iPad and is available in Spanish, French, and English languages.
If you are wondering what the age rating could be, the answer is 12+ for the following: Infrequent/Mild Alcohol, Tobacco, or Drug Use or References, Infrequent/Mild Simulated Gambling, Infrequent/Mild Horror/Fear Themes, Infrequent/Mild Realistic Violence, Infrequent/Mild Profanity or Crude Humor, Infrequent/Mild Cartoon or Fantasy Violence, and Infrequent/Mild Mature/Suggestive Themes.
How To Fix It If It's Not Working
There's limited information online on how to fix your Vizio Smartcast if not working but we also have gathered other essential information to help do other things with it. Before we delve into that, if your Vizio SmartCast Home Theater Display or Vizio SmartCast HDTVs is messing up, go to the bottom-left side of the TV, you will see the power button on the top button on the back, hold down the device's power button for about 15 to 30 seconds and then re-plug the power cable into your outlet or device (depending on whichever was disconnected). Finally, you can try powering the device on. This method works for so many people but if it didn't fix your device, you may need to reach out to the brand's support representatives or technicians.
More Questions
1. How Do I Connect My Vizio SmartCast To My Wireless Network?
Answer: Follow the steps mentioned below:
Pick up your Vizio remote and press Menu.
Select Network and press OK.
Click Network Connection.
Select the Wireless option from the list of available WiFi networks shown.
Choose your In-home WiFi network.
Enter your WiFi password.
Note: You will receive a confirmation message once your connection is completed.
2. Can I Reset My Vizio SmartCast Remote?
Yes, Vizio allows its customers to reset their remote control. To do that, press and hold the input button (which is the bottom button) for 5 seconds until your screen turns black. Once this is done, the HDTV will automatically reset to Factory Defaults and then switch to the First Time Setup Screen. At this point, you can now complete the setup with the SmartCast Mobile Application or Vizio remote.
See Also: Garmin Connect Login, Download, Mobile App, How To Fix Syncing Errors
3. How Do I Connect My Vizio SmartCast To A Wired Connection?
This task is very simple and easy to carry out. Just do the following:
Fasten one end of an Ethernet cable to an open Ethernet port on your WiFi router and the other to your Vizio Smart TV.
Pick up your remote and press "Menu'.
Select "Network" and then press OK.
Select "Wired Network".
You will receive a confirmation message once your connection is completed.