The internet has offered us so many things that make life easier virtually in all ramifications. Being an integral part of our daily lives, the global computer network has caused this generation to abandon old ways of doing so many things. USPhonebook is one smart tool that has replaced old ways of accessing information. Many people seem to have favored the directory because it is better than the conventionally printed phonebook which is quite clunky. The software has the mission of connecting people with anyone and anywhere by providing users with a fast and easy way to get in touch with other people.
Without a doubt, phone detective is one of the best things that has happened to internet users. With search tools, you can look for people by just entering their phone numbers and maybe state code. Whether you want to run a landline number search or mobile phone reverse lookup, everything works fine with most available tools. USPhonebook is one o such tool.
What Is USPhonebook?
USPhonebook is an online directory that lists entries on people, their addresses, and contact information. The free app provides users with information obtained from PeopleFinders.com, which arguably has the largest collection of both current and historical public records data. As you already know, PeopleFinders.com allows consumers to access detailed reports about a person's identity, maiden names, property ownership, marriage and divorce records, aliases, age, possible relatives, and more. The site also boasts of Social Profiles search that enables a user to see all of a person's online social networks in one location and also provides a sneak peek into the person's daily activities including photographs, networks, recent blog posts, group memberships, and interests.
Similarly, with USPhonebook, you can easily search for people, trace numbers to find the contact information and address of any US caller, and also pick out fake numbers using reverse caller ID so you can block calls you don't want to answer. According to the information we obtained, the online directory scans more than 2 billion contacts so you can look up names. So, whether you are searching for a relative, long-lost friend, neighbor, the solidness of USPhoneBook.com allows it to return accurate and comprehensive search results.
Unlike other online directories, USPhoneBook.com is designed in a way that it enhances easy navigation. With the tool, users can make a phone call or send a message from their phone book and even save contact information they want on their phone. The site, in addition, offers users with three quick searches, which are:
People Search by Name: If you want to find a current phone number and current address of a person, simply enter a name as well as city and state if you know them.
Address Search: Here, you simply have to type an address to search for the contact information and the name of the resident at that location.
Reverse Phone LookUp: Here, to get the name of the person who called you, all you need to do is to enter a phone number.
If you are using an Android device, you can download the USPhoneBook: Lookup Phone Numbers & Reverse Call using your favorite browser. After downloading it, simply click on install to install the app on your device. It is pretty
How To Lookup Or Opt Out Of USPhonebook
Also known as a reverse phone directory, gray pages directory, or criss-cross directory,  Reverse Telephone Lookup is one of the most popular and smart investigative searches on the Internet that retrieves details of a person associated with their telephone numbers.
USPhoneBook.com reverse phone lookups are 100% free. The reverse lookup is a way of tracing and getting a name and further personal information behind a phone number. Results are obtained after a thorough research of billions of records, after which a name and location of any U.S. phone number will be provided to users. It offers unlimited searches in a private member area without a hassle and can give users access to mobile number and landlines, owner's name and address, and family members and other public information.
If you want to do a reverse phone number lookup for free, you can still use Google by typing the full phone number, including an area code. You will receive dozens of numbers from the online phone directory. Generally, the reverse phone lookup can be used to unmask mystery callers on landlines and mobile numbers, keep a check on your neighbor and co-workers, learn more about people you meet, learn more about people you may date online, avoid calls from debt collectors and telemarketers, keep a check on your children's phone activity, and more.
The USPhonebook reverse phone lookup which works perfectly in the USA also protects users' search history, making it impossible for people to know that you've searched for them. If you want to run an instant number lookup, unlimited reverse searches or even search for unlisted numbers or if you want to find an updated or previous address, lookup for business phone numbers, you are assured of your full privacy on USPhonebook, as it is one of the trusted tools to verify an address.
See Also: What Is True People Search, Is It A Scam? How To Remove Yourself From The Site 
Do you want to opt out of USPhonebook? If you are done reconnecting with old friends, pals and carrying out other activities on the platform, deleting your information from the people search website is pretty simple and the beauty of it is that they actually honor users' requests to be removed immediately from their database. To begin, follow these steps:
1. Visit USPhonebook opt-out page.
2. Type in the name of the phone number you want to be deleted from the online directory.
3. Search for the profile that rightly belongs to you and then click "This is me" button.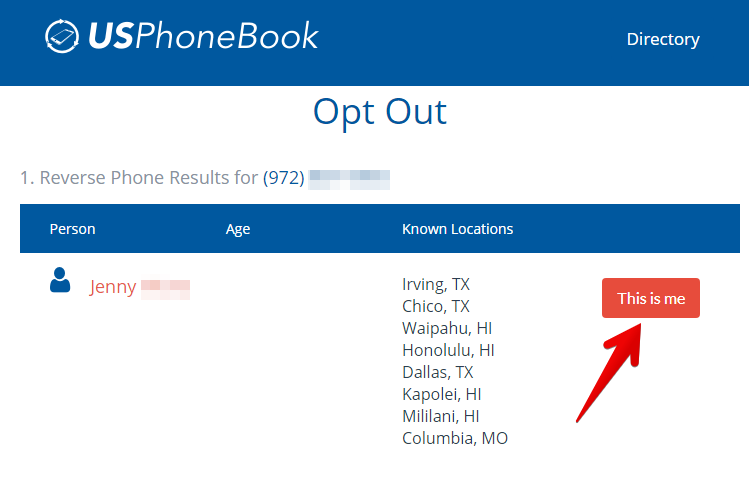 4. To remove your phone number, click the "Remove My Phone Number" button.
5. The next thing is to confirm your opt-out request.
You will receive a notification telling you that your records have been removed from USPhonebook.com.