Quick Answer
Robux (RBX) is popular among members and users of Roblox where it is used as the main primary currency of the platform. With that said, you can use it to carry out transactions on the platform and even convert it into real money. While you can buy it from the currency page, there are other ways that members can accumulate Robux whether you are in the Builders Club or not.
When Roblox was launched in 2007, it came with a lot of things that were unique, even as the platform itself was different from most others. It came as a hub for gamers to create and play 3D online games. Through the years, it has grown to accommodate many members and millions of games that people play for free. The popularity of Roblox is enhanced by its playability across most devices including PC, Mobile devices, and even consoles.
When Roblox was created, a lot of thought was put into it to create a structure where you will not only get to create games and play, but you will also buy and sell different things you need for the production of your game. The purchases are done using the currency of the platform, Robux which is then exchanged by developers for real-world currency.
What is Robux?
RBX is a virtual currency which has become the means through which products are bought and sold on Roblox. For anyone who is on the platform, there is hardly a single thing that is more important that RBX because you will need it for most of your activities.
Since the start of the platform in 2007, Robux has always been a part of it. Apart from the different transactions that you make using it, many developers have made money from it also because after getting much of it, it can be exchanged for a currency that can be spent in the real world.
How To Get Robux Free Or Give To People
Although you may come across some platforms and websites or probably apps claiming to generate RBX, the Roblox currency cannot be generated. In fact, getting free Roblox is not something that you can get from anywhere outside of Roblox itself.
Only members of the Builders Club get to receive daily Robux based on their type of membership. For Classic members, you are entitled to 15 daily RBX while Turbo Builders Club (TBC) are entitled to 35 daily RBX, and Outrageous Builders Club (OBC) are entitled to 60 daily.
Another way that you can get Robux is through the sale of items such as place access, shirts, and pants. In the sale of these items, you will receive 70 percent of the gain, however, it is only Builders Club members that can make such sales. When it comes to things like Game Passes such as VIP shirts which are free to create, they can be sold by both Builders Club and Non-Builders Club members to earn more currency. The thing is that while members will take 70% of the profit, non-members only get 10%.
Another way that you can get the currency is when you join as a new member. This joining bonus only comes when you join the Builders Club.
The most popular way to get RBX is not the freeway since as stated, there is no free way of getting it. Instead, you will have to buy it from the RBX page. To buy the currency, there are two kits available; the Starter Kit and the Super Value:
Starter Kit: This comes with three packages, the R$ 400 which is sold at $4.95, R$800 sold at $9.95, and R$2,000 at $24.95.
Super Value: With this, you can get R$ 4,500 for $49.95, R$ 10,000 for $99.95, and R$22,500 for $199.95.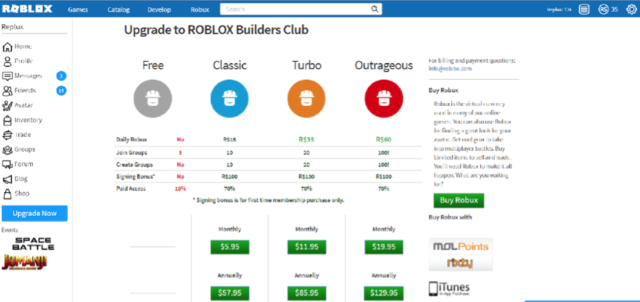 Finally, you can join the Robux affiliate program and earn Robux when you get someone to join and buy items. From the purchases of any member you get to join, Roblox will give you 5 percent of what they spend. Interestingly enough, you will always get the bonus whenever the person makes any purchases in the future.
How To Give Robux To people
Even though you cannot simply transfer the Robux to friends, there is a feature that allows you to trade items and transfer RBX. Before we get to how you can make use of the Transfer System, it is important to point out that it is only available to Builders Club members and it allows them to exchange RBX and other Limited U items with other Builders Club members.
To trade items and the Roblox currency, here are the steps to take:
Go to the profile of the friend that you want to carry out the trade with
At the upper right corner of the profile page, you will see three dots. That is what you are to click on.
Select Trade Items on the menu that will pop up.
You will see all the items the person has to trade. You can select whether you want to Add to Offer or Request to include in the exchange. With that done, you may as well decide to add some Robux to it although if the offer is accepted by your friend, there will be a 30% transaction fee.
Note: Although it is allowed for you to add RBX when trading, there is a limit to what you can add. For example, you will not be able to give your friend more than 50 percent of the current offer which is calculated when the transaction fee has been taken off.
Once you are done with your side of the trading, it will be open for your friend to either accept it, counter it, or even decline it.
Is It Safe To Buy Robux?
Your safety on Roblox, just as on many other platforms, all depends on how you operate there. When it comes to buying Robux, it is very safe to buy it if you only buy it from the right source; the Robux page.
See Also: What Is Skype, Is It Free? How To Login, Get ID, Delete Your Account

There are individuals and some sites that may claim to have it for much cheaper than you can get it from the main source, but you cannot vouch for the safety of such sites. Hence, the only safe place to get RBX is from Roblox itself.
Other Questions ABout Robux
How much is $1 in Robux?
If you want to cash out your RBX which is done through the Developer Exchange (DevEx), you can decide to have it converted to the US dollar. You have various conversion options of conversion. As from March 1, 2017, the rate is $.0035 per R$. This means that when you have 100,000 Robux, you can exchange it for $350 USD. Nonetheless, it is important to know that this can change at any time.
What is Robux used for?
You can use the currency for everything from buying custom gear to getting special abilities. More so, you can use it to create groups and do a lot of other things including exchanging it for real cash after you must have amassed so much of it.
Can you buy Robux with iTunes?
It is possible for you to purchase RBX through Google Play, iTunes, and Amazon although that is only through the free Roblox Mobile app which you can find on the platforms.