Short Answer
Omegle is a social networking site that allows one to chat to strangers. Through the free chat website and mobile app, you can get to chat, via text messages, video calls, and audio even without needing to register. The main idea is to allow you to talk to strangers. 
Apart from Snapchat, Instagram, Facebook, and Twitter, which are among the top social media sites, there are many others that you may not know that exist. One of such that is not very well known is the Omegle which operates rather differently from any other.
The website which many see as rather creepy in the least and potentially dangerous was started in 2008. At first, internet users could head to the site and just begin chatting to strangers including video chats that sometimes included nudity and sexual contents. However, much has changed about it most especially as regards the sexual contents and nudity because the video chat is now monitored.
What is Omegle?
As pointed above, the website was designed to allow individuals to chat with strangers they have never known before, without knowing where they are chatting from or who they really are. When it first began, it started as a text-only app, however, the video was later implemented.
Apart from Omegle the social network, there is also the OmeTV which is something entirely different, although they offer similar services and people may tend to see them as being affiliated.
Shortly after the site was launched, it soon pulled over 150,000 visitors in just a month, Today, there are close to 30,000 people that you may find online at a particular time.
Inasmuch as one can simply go to this platform and start chatting to strangers, the site is only restricted to people from 13 years old. Through the site, the only way you identify someone is through "You" and "Stranger" as you chat. There is no way of knowing if you are talking to a kid in a basement somewhere or an old man in a balcony in Bangkok. What you are told is what it is.
There is also an unmoderated section. As you have rightly guessed, you will meet strangers via video chat who will freely engage in sexual behaviour because it is not moderated. According to the site, users are completely responsible for their behaviours in this section.
To chat on Omegle, here are the steps to follow:
Simply go to the website through this link https://www.omegle.com/
Type in what you want to talk about such as relationships, religion, sports, sex, or any other thing that interests you. You can decide to leave it blank but adding something helps to link you with people who have similar interest.
You can decide to add your Facebook likes as topics by checking the box and you will be made to link your Facebook. This is not something advisable to do.
Under Start Chatting, Select Text to chat via text or Video for video chatting.
Are there similar sites for Chat, TV, Games, pranks?
Even though Omegle is entirely different from most other social networking sites, there are some similar sites that are very similar to it. Just like other social media sites that allow for video chatting, people are easily pranked on Omegle by strangers.
Some similar sites to Omegle include:
OmeTV
OmeTV is very much like Omegle that people believe that they are the same, however, they are not affiliated with each other. Ome TV is a site that allows you to talk to strangers from different parts of the world through the webcam.
With both sites, you do not need to register or login before you can start chatting with strangers, and you don't need to have anything in common, not even language.
The difference between the two sites is that with Ome TV, you get to know where the person you are taking to comes from since it is indicated, unlike the former. Another difference is that there is no text chatting on OmeTV.
Tiny Chat
This is another site that is very similar to Omegle where people can chat, play role games, and even prank each other. Tinychat is one of the most popular voice chat sites out there. The difference between this and the other is that with Tinychat, you can either decide to either register and sign in, or join the instant rooms.
Nonetheless, for you to gain access to some rooms, you will need to sign in. Also, you can find chat rooms that are run by people close to you and you can even create your own room.
Chatroulette
This is a fun-filled site which is very much like playing games. Via this webcam-based chat service, strangers get paired and then, they get to chat. They play Russian roulette verbally.
Chatrandom
Chatrandom is very similar to Omegle because not only does it allow you to chat freely with a lot of strangers via video, you can also decide to chat via text. However, you can decide to register with the website and your location is revealed to the person you are chatting with.
Other similar sites
There are many other sites that are very similar to Omegle including iMeetzu, Chatred, Bazoocam, and ZAKZAK.
More Questions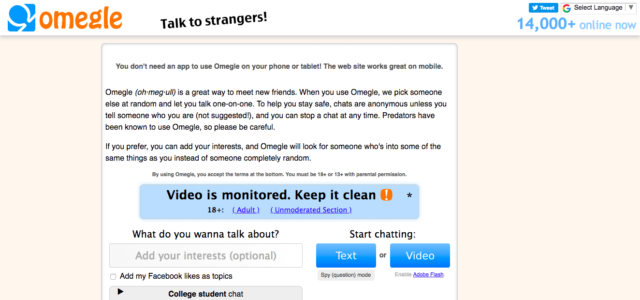 Is Omegle safe?
The website allows you to talk to strangers from different parts of the world. For children, the site may not be safe and that is why it is restricted to people that are above 13 with the consent of parents until you are 18.
See Also: Is Hulu TV Worth It? Account Login, Plans, How to Activate, Customer Service
The time it becomes much less safe is when you give your social media details to a stranger and you get to hook up somewhere. If you have kids, Omegle may not be very safe for them.
Is Omegle really anonymous?
While people remain anonymous without really knowing anything about the other person, the chats are not completely anonymous as they are saved on the server even after you are done chatting. More so, messages are scanned automatically for spam.
How old do You have to be to go on Omegle?
According to the site, it only allows people that are from 13 years and above to chat. However, there is no way of knowing if a child logs to the site since there is nothing to monitor or even any form of registration.