Quick Answer
FRAPS is a utility program used by gamers and streamers for screen  recording, screen capture, and benchmarking. Using the software, you can record various videos and games as well as monitor the performance of your game and also troubleshoot issues relating to performance.
There are a million and more applications that serve the many needs of a gamer including needs of capturing the games you are playing and recording things on your screen. One of such software programs is FRAPS which is derived from "frame rates per second". With the app, you can get to record games that you play for as long as you want, although you will need to pay for the service.
What is FRAPS?
As stated above, FRAPS is a software that comes with vast functionalities that include recording games and videos as well as live streams, getting screenshots, and other things relating to the performance of your game.
One of the main things that make the program popular is that it allows you to also record other things such as movies. That said, it is much more than just a tool for recording as it is also used for synthetic benchmarking to help you understand how different games play on your PC.
Through the benchmarking function of the tool, you can easily figure out at what graphical settings your game performs best while it also helps you in troubleshooting issues relating to performance. What still remains its most popular function for both gamers and nongamers is the recording option on PCs that make use of DirectX and OpenGL.
How to Download and Install FRAPS
Downloading Fraps is free and rather straightforward. However, before you begin, ensure that you have Winrar on your computer or any other program that you can use to open zip files. Here are the steps to follow to download the software:
If you don't have WinRAR, the first thing to do is to download it via this link. Look for the one that is right for your computer and have it installed. You will not need this app program if you are downloading from the FRAPS website.
Once that is done, go to the official website of FRAPS.
Either click Download at the top menu of the page or down on the page and click on "Head on over to the Free Download page."
The download page will now appear on your screen. Simply click Download FRAPS 3.5.99 Setup (Version is subject to change).
Now you can go ahead and open the downloaded program and then select yes to allow it to install.
Once the downloading is finished, it will indicate that it is complete. It is now time to close the program.
Note: If you download it from media fire or other places and it comes in a zip file, you will need the WinRAR to open it before installing.
How To Use It For Screen Recording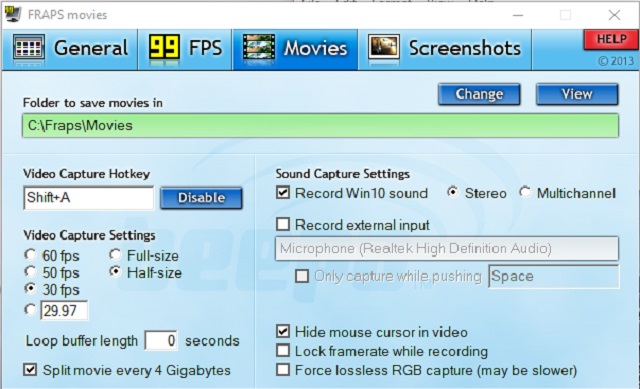 While downloading the utility is straight, recording is not something that is very easy because it comes with various functionalities. Here are the steps involved.
 Launch your program and then select "Yes" to allow it to make changes to your computer.
Select Movies. This is what you will use to make the settings of your recording. If the video is what you want to be recording, you will need to choose a default program once you select Movies.
At the top of your page, you will see "Folder to save movies in" You can either leave it there or change where your recorded videos would be saved.
4. Take note of the Video Capture Hotkey, it is very important. You may decide to change it.
Select the Video capturing setting you want. For most Videos, 30 fps is enough. The higher you go, the better the quality, but it will all depend on if your computer can handle it.
5. You can either select "Full Size" or "Half Size".
6. Select "Record Win10 Sound" (if you are using Win7, that is what you will see).
7. If you are are using any recording device or microphone, select "Record external input" and then select your microphone. If you do not see it, you may need to take the mic off and then put it back in. If it still doesn't show, you may need to relaunch FRAPS.
8. Select if you want to hide your mouse or not, and any other option.
9. Next, you can decide to check the box to "Split movie every 4 Gigabyte." This will split your video into after every 4GB.
10. Once you are done with your settings, start your game or whatever you want to record, and then hit your "Video Capture Hotkey." This will start recording what you have. If you check your FRAPS icon at the left-down corner of your PC and you see it in red, it is recording. If it is still yellow, you need to try again.
See Also: Where to Find the Default Steam Screenshot Folder Location
After recording your video, go to the location where it has been saved to see if it is there. Before starting your recording proper, you may also consider test-recording to see what you will get.
Note: 
Unless you pay for the program, there are some limitations to its use when it comes to recording games and videos. The first limitation is that you will not be able to record a video for more than 30 seconds. Secondly, there will be a watermark on the recorded video. In order to buy it, click on help on the FRAPS utility and you will be taken to the site. There, select "Buy" in the menu above and you will get to select your method of payment.
Other Questions
How much does it cost to buy FRAPS?
FRAPS costs $37 for now, however, like everything else, the price is subject to change.
Is FRAPS worth it?
Even though there are similar programs like FRAPS that you can use to record and even edit games such OBS for free, Fraps comes with much more than that as it allows you to do other things including monitoring the performance of your game and troubleshooting. That said, it all depends on what one wants, but at $37, it may be too much when there are apps like Xfire that are completely free.
Is FRAPS a virus?
FRAPS is not a virus. It has never been associated with bringing viruses and malware to computers, except when downloaded from the wrong sources.