Quick Answer
Avast Secure Browser is a free web browser that is designed by Avast based on Chromium. Unlike many other web browsers, the emphasis of this is to enhance the internet security of its users and people who shop and carry out other financial activities on the internet such as shoppers and bankers.
In the past years since the Internet was born, we have seen the rise of many web browsers such as Internet Explorer, Firefox, Opera Mini, Google Chrome, and so many others. One thing that is most common with all these browsers is that the greater emphasis is always placed on speed and good interface before many other things. One place that most of them seem to be caught napping is when it comes to advanced security features for privacy and safe transaction.
Avast Secure Browser, on the other hand, was designed to put emphasis on things relating to your security on the internet that many other browsers do not consider. While on the surface the browser looks very appealing, there are many questions that remain on its general functionality and safety.
What Is Avast Secure Browser?
A successor of the Avast SafeZone Browser, Avast Secure Browser is a Chromium-based web browser that has been designed by Avast to provide the internet security solution to internet users.
The internet browser which comes with privacy tools and other security features takes over from the SafeZone Browser which was stopped by Avast in 2017. This means that for those who had the former browser running on their systems, it was automatically updated to the latest release. While maintaining some of the features of the former browser, this also comes with various tools to help users in managing their online activities.
The important thing to note is that the browser is entirely different from the Avast antivirus software which also comes with different security provisions for internet browsing. Hence, it can function as a stand-alone product or as a part of other security products from Avast.
One of the main features that differentiate the SafeZone from the Avast Secure Browser is that it has the Security & Privacy Center which is a console of settings, tools, and features that you can use to manage all your different activities online.
Is It Safe?
As noted, the main reason why the Avast Browser was introduced is so that you can get ultimate protection and safety when you are online. Thanks to the many features it has, you will be quite safe with a lot of things.
With that said, the safety will not take you all the way as there have been questions that were raised in the past with some errors in the codes that were discovered. The flaw which was discovered in 2015, has already been patched, but that still doesn't mean you can bet 100% on the safety of the browser.
How To Download, Update, And Remove
As already pointed out, it can function as a stand-alone product, hence you can download and use it without having to download other Avast products. More so, if you still have the Avast SafeZone, by simply updating it, you will have the Avast Secure Browser. To download the browser, here are the steps to follow:
Go to the Avast Website through this link and you will fill find a version available for windows.
Click on the Free Download link and the installer will download.
Launch the installer and then click on Yes to confirm the installation.
In the next Window, click on the ACCEPT AND INSTALL button
Once it is done with the installation, the program will launch and then you can go on to make the security settings you want.
After installing the browser, there are a number of extensions that it comes with, some of which are already enabled: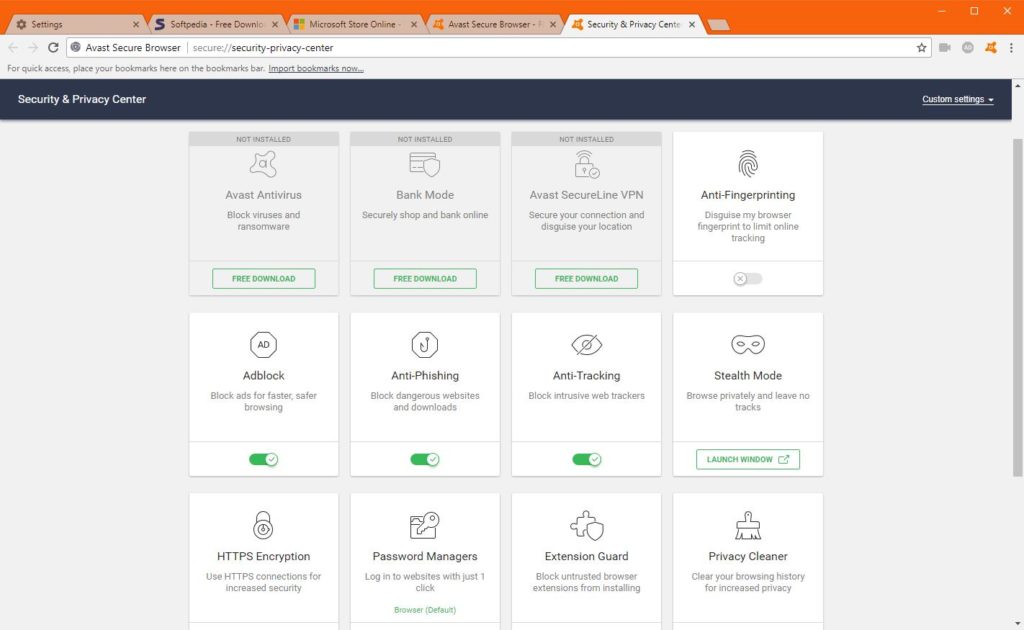 Adblock: This is powered by uBlock Origin which is a very good adblock that supports third-party filter list. More so, it allows for custom lists while also giving you the option to have your whitelist.
Avast Passwords: To use this extension, you will need to, first of all, enable it and install other compatible software.
Avast SecureLine VPN: This is a subscription-based VPN service which before you can use, you will need to have the Avast SecureLine VPN software installed.
Bank Mode: While this is a good feature, you can only use it when you have other Avast security programs or the Avast Antivirus installed on the system you are using.
HTTPS Encryption: What this extension does is to enforce the HTTPS on websites that are supported so as to give you the security that comes with it.
Video Downloader: This feature serves to help you when it comes to downloading videos.
Other things that you get with the browser are Anti-Tracking feature to block web trackers, Stealth Mode for private browsing, Extension Guard to protect you from installing extensions that are not trusted, Privacy cleaner for clearing your web browsing history, and Flash Blocker so that you can have faster and safer browsing.
How to Update the Browser
It can be a little tricky when it comes to updating your Avast Secure Browser. To do that, here are the steps:
After you have launched your browser, at the top right corner, you will see three vertical buttons. Click on that.
In the drop-down, go to Help and About Avast Secure Browser
Next, go to About Avast Secure Browser and then click on it.
This will automatically check to see if there is a new version of the browser and it will update it.
See Also: What is Frostwire Plus? Features, Download, Is It Safe And Legal?
How to Remove the Browser
If for any reason you want to uninstall the program, the steps to take is the same as any other program that you are uninstalling:
Go to your Windows Menu and then type Control Panel. Click it if it appears.
In the panel, click on Programs and Features
Click on Avast Secure Browser and then click on Uninstall at the top.
Select Yes to give permission to uninstall.
Check the box for Also delete your browsing data in the Avast Secure Browser Setup dialogue box that will appear.
Click Uninstall. This will remove the program from your computer.
If you want to give the reason why you are removing the program, select OK, Sure in the next box or simply close it.
Other Questions
Is Avast secure browser good?
To a very large extent, the browser can be said to be good thanks to the tools and functionality that it offers to users. Nonetheless, it still has some issues when it comes to things like data collection, fingerprinting, adblocking, and some other things. Because of this, you may not get 100% protection.
How do I get rid of Avast secure browser?
To remove the browser, you can simply follow the steps above or by going to your control panel and selecting Programs and Features. Select the browser and click on Uninstall. Follow the prompts that come after and give necessary permissions.
Is Avast secure browser free?
Yes, it is a free Chromium-based web browser which does not charge you for downloading, installing, and using it. Hence, it is like many other browsers that are also free.