Avast SafePrice is a free browser extension whose main function is to help you find the best offers when you are shopping online (buying goods, tickets, or even paying for a service). The browser extension is able to do so by selecting the best prices from its database of trusted e-shops. It also goes a step further to search for coupons that can be applied to your purchase and then notifies you if one is found. The extension then presents these findings to you in the top right corner of your browser as you carry on with your business so you do not have to leave the shopping site, or whatever else it is you were working on.
There are, however, sometimes whereby Avast SafePrice is unable to provide a good deal or price comparison for a particular product. This could be due to a variety of reasons that include:
1. The price that you are seeing is the lowest price available for the product.
2. The product in question has an extended delivery period.
3. The item being purchased is currently out of stock.
4. The item in which you are trying to purchase was not identifiable.
5. The online store you are visiting is not a part of the participating SafePrice stores.
Avast SafePrice is available for use on any of the following browsers; Microsoft Edge, Google Chrome, Mozilla Firefox, and Opera. The extension installs automatically in your browsers when you install Avast Antivirus on your personal computer or if you use Avast's SafeZone Browser on your computer. For people who are not using any of Avast's security program, you can download it on the internet and include it as a plugin for your browser.
After the extension has been installed, Avast SafePrice will carry out its function automatically in the background without interfering with your work. The extension will display pop-up notifications when better prices and coupons are available for your search. If you click on the notification, the offer will open on your current page for you to learn more about it.
To use a coupon offer or code, click "Apply coupon" or "Get code" within the notification. For the offer, a new tab will open where the coupon is applied, prompting a notification that will appear to confirm the process. The coupon will then apply savings to your shopping cart. For the code, you would have to copy it and then paste it at checkout in the field provided for a discount code.
Avast SafePrice Review
Avast SafePrice has proven to be a good extension to have on your browser because of the many benefits it provides, such as:
1. It helps you find a bargain for the item you want to buy by locating the best prices
2. Various coupons which you can use to shop are provided while you are shopping online
3. It gives you access to amazing online shopping deals
4. It installs in your browser to make it easy for you to access Avast SafePrice without leaving your browser
5. It's unintrusive since it does not appear when you are not shopping online
6. You save money while shopping online
How to Disable or Remove Avast SafePrice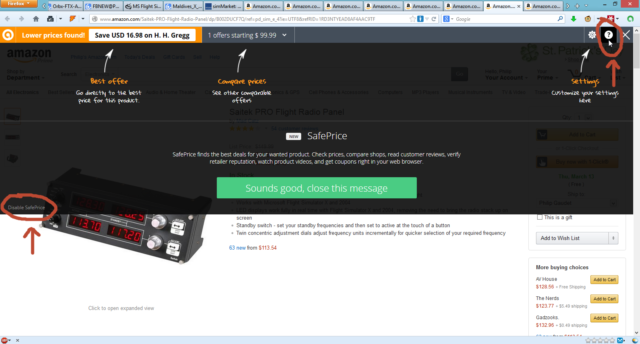 When Avast SafePrice is initially installed, a welcome layer which explains the extension's functions is shown to you, including how to disable or remove it. You can also look below to see the step by step process of getting rid of the extension on each of the available browsers that you may use, as well as from the Windows operating system.
How to remove Avast Safeprice from Windows (Control Panel Removal)
1. Launch the Start button to locate "Control Panel" and open it or right-click on the Start button and choose 'Control Panel' from the context menu
2. In the "Control Panel" folder, locate "Apps & Features" and then click on the program (Avast SafePrice) to uninstall.
3. Click on "Uninstall" to remove the extension from your computer and then follow the on-screen prompts to complete the process.
Note: For Windows 10 users, to locate the "Apps & Features" folder, you would have to go through a different process. Click on "Start" then go to "Settings" and then "System" to find "Apps & Features".
After successfully removing the extension from your operating system, you will be required to also remove its attachments from your browsers as well. Below is a step by step breakdown of ways to remove Avast SafePrice extension from your different browsers.
Hoe to uninstall Avast Safeprice from Mozilla Firefox Browser
1. Open the "Menu" option on the browser and click on "Add-on"
2. Locate the Avast SafePrice extension in the list of add-ons displays and then click on "Remove" which is displayed next to the name of the extension.
3. After a few seconds, Mozilla Firefox will have removed the add-on from your browser and then you will be required to restart the browser to complete the process.
Hoe to remove from Avast Safeprice from Google Chrome browser
1. Click the "Customize and Control" button that is displayed as three dots in the upper right-hand corner of the Google Chrome browser.
2. Go to the "More Tools" option to reveal additional options that include "Extensions"
3. Click on "Extensions" and then perform a search for the Avast SafePrice extension. When found, click the delete or trash can icon to remove it from your browser. Restart your browser afterward to complete the process.
Note: You can simply type "Chrome://extensions" in the browser to open the Google Chrome extensions page.
Read Also: How To Fix "System And Compressed Memory Disk Usage" In Windows 10
How to uninstall Avast Safeprice from Internet Explorer
1. Click on the "Tools" icon in the upper right-hand corner of your browser to reveal a "Manage add-ons" option and click on it.
2. Perform a search or manually locate the Avast SafePrice extension and then click on it to reveal the "Disable" button.
3. Click on "Disable" and wait a few seconds for the browser to completely remove the extension. Restart the browser to complete the process.
How to remove from Opera browser
1. Click on the "O" button located at the top left-hand corner of the browser to reveal the menu.
2. Move to "Extensions" to reveal additional options and then click on "Extensions." Ensure "All" is selected from the left panel
3. Click on "Disable" which is located next to Avast SafePrice to remove it.
Note: You can alternatively remove the extension by hovering your mouse over the Avast SafePrice tile and clicking on X in the top right corner of the tile to uninstall it.