Quick Answer
Amazon Audible is a part of Amazon store which provides audio materials such as audiobooks, articles, podcasts, and other things which can be accessed by members on a subscription basis or by members of the Amazon Prime. The platform also sells things like radio and TV programs.
When Amazon began, it started as a bookstore. More than two decades later with the giant online store becoming some sort of a plague, a good one, that no one can escape whether you are looking to buy groceries or even a vehicle, that part of its history is mostly forgotten. However, it will still come back to it, although this time around as Amazon Audible which is a producer of audiobooks, entertainment, information, and other materials.
Audible began in 1995 using a digital audio player which it used for the next four years before iPod was introduced. It kept growing as an independent company until 2008 when it was bought over by Amazon for 300 million dollars. According to Audible, consumers have listened to over a billion hours on the platform in 2017.
Is Amazon Audible Free With Prime?
In addition to the many things that you get as a Prime Member, Amazon has made it possible for one to access Amazon Audible for free. Once you have an annual subscription as a prime member, you will have access to Kindle books, audio narration, and much more at no additional cost.
More than just that, you will have access to ad-free contents including podcasts. Other things Prime Membership offers on Audible are comedy shows, talk shows, free music, video, and audio versions of articles from some major publications.
However, for non-prime members, there are various plans that you can subscribe to. The plans available are:
The plans are divided into 5:
Gold Monthly: This plan has a credit per month and it costs $14.95 per month.
Platinum Monthly: With 2 credits per month, the plan costs $22.95 per month.
Gold Annually: $149.50 per year, the Gold plan has 12 credits per year.
Platinum Annually: At the top of the plan is this package that costs $229.50 per year and has 24 credits per year.
Audible Channel Plan: Although this has no credit, it only costs $4.95 per month.
If you decide to join the Audible Membership, there are some benefits that come with it such as:
Exchanging credits for a single volume title. A credit equals an audiobook.
If you do not use your credit, it will be rolled over to the next month or year depending on your plan as well as the allotted credits.
There is also a membership discount of up to 30% for regular purchases.
If as a member you are not satisfied with a title, you have up to 365 days after purchasing it to return and exchange it with another.
You get to choose two from six Audible Originals made available each month. These Audible Originals are only exclusive to Amazon Audible.
How To Login Or Cancel Amazon Audible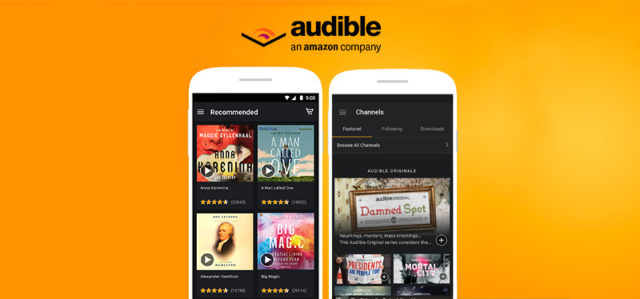 Before anything else, for you to use the platform, you will need to sign up with Amazon. Interestingly enough, Amazon gives a trial period of 30 days within which you will have access to an audiobook and 2 Audio Originals.
Here are the steps to set up your account:
Go to Audible and you will see a button Click to Try Audible Free. That is where you will want to click.
In the next page, simply log in with your Amazon details. If you are not yet registered to Amazon, you will need to create an account.
If you are a Prime Member, you will be able to access as many books that are selected for prime members, although you can also be an audible member.
In the registration process, you will need to put in your credit card number in order to continue. Hence, you will select a payment method.
After putting in your card details or selecting an existing method of payment, click on Start Your Free Trial Now.
When you are through with your trial, Simply go to Pick a Plan on Audible and choose the plan you want.
Click on Next and you will be taken to complete payment.
Having completed the process, a confirmation email including your audio credit will be sent to you.
Although you may decide to use the website, Amazon Audible comes with an app that can download for various devices. The apps are available for iPhone/iPod Touch, Android, and Windows Phone. More so, it works on all Amazon enabled devices and Sonos Speakers.
One of the best things with the app is that is synced across all devices, hence you can start listening on your mobile phone and pickup on your tablet, computer, or even something else.
How to cancel your Audible membership
If for any reason you want to cancel your membership, here are the steps to follow:
On your computer, go to the Account Details page of Audible.
Under View membership details, you will see the Cancel membership button. Click on the button.
Follow the instructions that you will be provided with and your membership will be canceled if everything goes well.
Note: The most important thing to understand is that even if you decide to delete your mobile app or carry out the process on your mobile phone or tablet, your plan will not be canceled. Hence, the only way you can have it done is to use your computer.
See Also: What is Amazon Prime Now, How Does It Work? Cost And Tow To Tip
Before you can be sure that your cancellation is successful, you must receive an email from Amazon Audible, notifying you of the changes made. If you do not receive this or you are unable to cancel the membership, you may need to contact Audible customer service.
Other Questions
What Audible books are free with Amazon Prime?
As a Prime Member, there are many books that you can select from to read. You will find the Prime-exclusive Audiobooks which are a collection of audiobooks made available for prime members.
How much is Amazon Audible per month?
While there is the annual subscription which is more affordable, you can also decide to go for the monthly plan which costs $14.95.
Can you listen to Audible after canceling?
If you decide to cancel your Amazon Audible, your account will remain active so that you can always access your books because the audiobooks you have purchased are yours to keep and download across devices as much as you want.