Are you ready to completely transform your PC experience? Whether you are an ardent gamer, or you just need the extra space, choosing to wall-mount your PC has many benefits. Lucky for you, there are plenty more resources and kits for wall mounting PCs today than a few years back when we first tackled this issue. Read on and discover the exciting payoffs of having a wall mounted PC.
Essentially, a wall mounted pc, as the name implies, is one that is directly mounted on a wall. However, there are different ways that you can go about achieving that wall mount setup. One way is to use an open frame case where the PC components are exposed like a piece of art or simply using a CPU holder.
Why You May Want to Use a Wall Mounted PC
Let's look at some of the main reasons why you may want to wall mount your gaming or productivity PC:
1. SAVE SPACE
A desktop computer usually takes up quite a lot of space, especially if you don't have too much room to work with, in the first place. If you are tired of hitting your PC with your legs anytime you stretch, mounting it on the wall may just be what the doctor ordered. You will not only be able to work on your projects more comfortably, but also avoid leg cramps by being able to sit in the right ergonomic position.
2. BETTER AIRFLOW
A major appeal of an open wall mounted PC, especially for gamers, is the improved airflow. If you are running the latest AAA games with lots of graphic details, then you need your PC to always remain cool. This is very important as the performance of your GPU and processor with their "Turbo" modes can be affected by high temperatures. Essentially, a well-cooled PC will generally be much faster, hence higher frame rates for all your games, therefore, sufficient airflow is totally critical for gaming rigs.
Read: Best Mini ITX Cases: 6 Excellent Small Computer Cases For Your PC
If your PC is squeezed in a tight, blocked corner, then you may not be getting the most out of your expensive hardware. By using the wall mount option, all your components will get enough breathing room and improve the overall performance.
3. SHOWCASE YOUR BUILD
There is a certain pride and great feeling of accomplishment that comes from building your own PC. Actually, PC assembly is a nice functionally useful skill to have and is worth learning for any IT enthusiast. Now, after you created that masterpiece, why would rather you put it under your desk?
Nowadays, you can add lots of interesting LED effects to your build and give your rig a unique appearance. So, you should definitely consider a wall mount after putting in the work to assemble a gaming machine. It is simply doing justice to your rig and being able to appreciate your workmanship.
4. CHANGE PC COMPONENTS EASILY
Placing your PC on a wall gives you easy access to all the various components within your PC for easier upgrades. Whether it is refilling a water cooling unit or switching out an SSD or GPU, making any upgrades is more convenient when you can access your PC easily.
See Also: Best Fan Controller For Your PC and Gaming Rig
HERE ARE THE TWO BEST OPTIONS FOR THOSE INTERESTED IN A WALL MOUNTED PC:
Thermaltake Core P5 Black Edition ATX Open Frame Panoramic Viewing Wall Mounted Gaming Computer Case
Thermaltake's Core P5 case is designed for gaming enthusiasts who feel that typical PC cases do not display their hardware to their satisfaction. With a clear glass pane covering the PC components, this case offers an unobstructed view of every fancy component in your gaming rig.
Similar to test rigs, the Core P5 from Thermaltake is based on the open frame concept. Basically, all the various PC components are attached to the black base, with the glass pane only being used for protecting the hardware. Optimal airflow plus visibility is achieved by the fact that all four sides remain unsealed without any covers.
Read: Best Gaming Monitor Under $200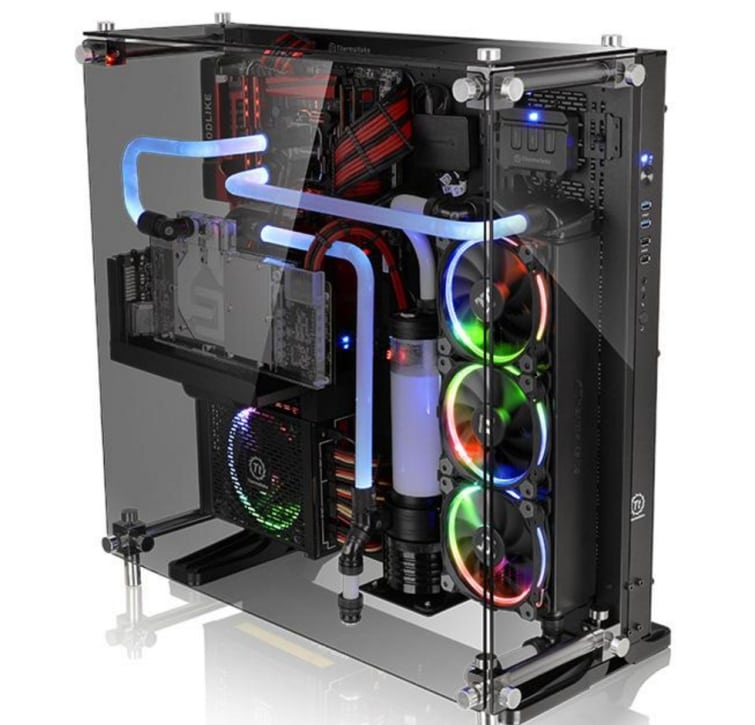 Besides being also suitable for micro-ATX boards, this Thermaltake case can support a full sized motherboard and still have enough space for installing liquid cooling. The case comes with an adequately sized vent that can handle a large 480mm radiator and four 120mm fans. There is also enough room for mounting a water pump and reservoir.
If you use several hard disks for storing your files and games, then you can take advantage of four hard disk mounts on this Core P5 Black Edition case. The mounts feature support for both 3.5-inch and smaller 2.5-inch drives. The rear part of the tray also offers space to run your cables and create a cleaner look.
In short, this open frame wall mounting case from Thermaltake is a great deal. It is flexible for multiple configurations, supports water cooling, VESA compatible and an all-around well-built base for your PC.
Don't Miss: Best Gaming PCs Under $1000
Universal Wall Mount CPU Holder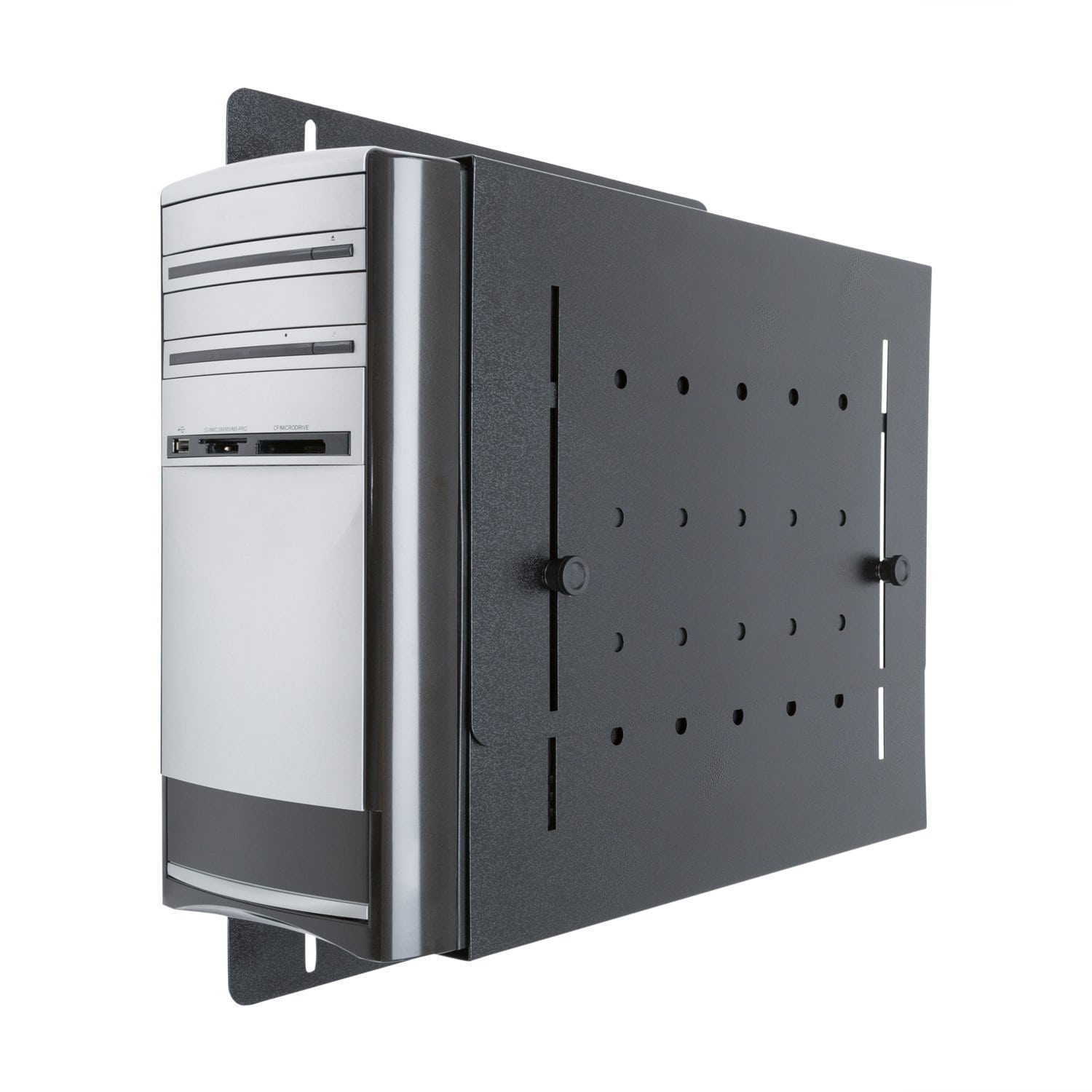 If you already own a PC and are not overly excited about the idea of dismantling it just to hang it on your wall, you should get the Universal CPU Holder. Whether you are running a small form factor machine or a full-size tower, this wall mount will securely hold your PC. It is highly flexible and can support most common brand name machines from Dell and HP to Acer and many others.
The Universal Wall Mount CPU Holder is made with high-quality commercial grade steel to withstand years of use without fail. It is even backed by an extensive lifetime warranty. Weighing only 6 pounds, installation can be done within a few minutes without any hassles.
If your CPU has a height that ranges between 10.5" and 20" and a width of 5" to 8", then you should definitely get this universal wall mount.
Read: Best Thermal Pastes and High-Performance Heat Sink Compounds 
Conclusion
Hopefully, you are now more confident about mounting your PC to the wall. It is the ideal workstation experience for those looking for increased productivity and saving space. Better still, it allows you to create a masterpiece and share it on your wall like a piece of art. In short, a wall mounted PC offers a lot more flexibility. Try it out today by choosing from one of the above mounting solutions.