Vizio Smart is an Irvine, California-based mega HDTV brand that is very popular in the United States of America. The brand also holds the record for being the number one Sound Bar Brand in the US. The entertainment company is known for delivering smart products with high performance and for connecting people through products to the entertainment they love. In addition, Vizio Smart is famed for enhancing users' favorite contents through their breathtaking picture quality and providing simpler ways to access these contents. These can be seen on their Vizio Smart TV which is available in sizes ranging from 24, 32, 36, 42, 60, 65, 43, 47, 72, 56, 30, 20, and 19 inches.
Vizio Smart basically buys parts and LCD panels for their products from external companies unlike brands like LG, Sharp, Panasonic, and Samsung who assemble their own HDTVs and make their own panels. In addition, Vizio counts on third-party factories to assemble these into TVs. They mainly patronize companies owned and operated by AmTran, a popular Taiwanese company while their products are designed at their headquarters in Southern California.
Vizio Smart TV Apps
Are you looking for a platform where you can stream your favorite music, movies, and television shows? Vizio Smart TV has many popular apps that can take care of it. They include Toon Google, Pandora, Pluto, FlixFling, Flickr, Netflix, Hulu, Google Play Music & TV, Amazon, Plex, iHeartRadio, Sony Crackle, YouTubeTV, Yahoo Sports, Movies and TV Vudu, Vizio SmartCast, FANDANGONow, CN, TG, DirectTV Now, ABC, Red Bull, CBS, YouTube, NBC, Spotify, and Xumo.
The contents you can find on some of these apps include:
Yahoo Sports: This is a sports news website that shows the latest stats, information on teams and leagues from MLS, NBA, MLB, NFL, NHL, NCAA, and others.
Netflix: With this video-on-demand app, you can watch TV shows or movies on the internet and can even stream right to your tablet, Mac, Pac, game console, and smart TV.
Vizio SmartCast: This app allows you to discover TV shows, movies, browse as well. It is compatible with Vizio SmartCast products.
Yahoo Weather: This app shows instant forecasts together with amazing photographs of your location that correspond to current weather conditions.
Remote
There are about four remote control models for the Vizio Smart TV.
The first is the XRT300 Remote which costs $30.00 and works for the following TV models – M470SL, M420SL, M550SL, M420KD, M320SR.
The second is the XRT301 Remote and is sold for $24.00. It works for these models M3D550SL, E3D420VX, M3D650SV, M3D470KD, and E3D470VX.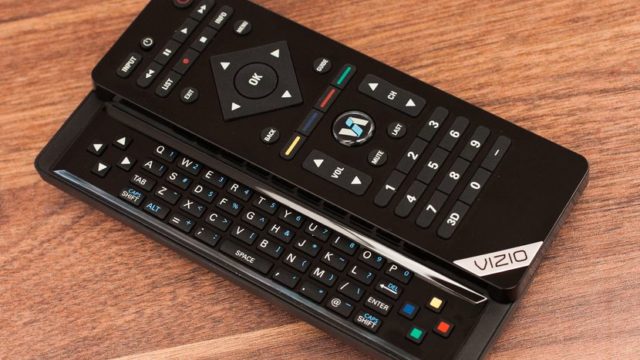 The third model is the XRT302 Remote and it is compatible with the following TV models – M470VSE, M420SL, E701i-A3E, E650i-A2, M550VSE, M420KD, E701i-A3, XRT30, E601i-A3,  M470SL, M550SL, M650VSE. It is worth $16.50.
Lastly, the XRT020 Remote, which is sold at $39.95, works for E221-A1, E291-A1, E320-A1, E320-B0, E320-B2.
Vizio Smart TV Common Problems And Solutions
Although technology has come a long way, it is still far from perfect as there are a number of things that still go wrong with gadgets and household appliances. Vizio, for instance, deals on an array of plasma, LED, and LCD models in all sizes and any of these models can develop a problem at any time.
After thorough research, we found out that the most common problem with Vizio TVs is that they show a blank black screen even when they are switched on and the indicator light is glimmering. Another common problem is faulty remotes and lastly sound-related issues.
For the first problem, you can fix it by changing the power board even though other things that can lead to a blank black screen include a faulty screen, T-con board, or the backlight converter.
If your remote has issues, it could be as a result of a bad IR sensor or a loose wire. You can replace it altogether rather than dealing with the TV itself.
For sound-related issues, check if your speakers are faulty or if your wires are disconnected. Both issues can be resolved easily.
In addition, you can visit shops offering LCD TV repair services to take care of any of these problems if they are difficult for you to tackle.
How To Fix If It Won't Turn On
When your TV won't turn on, what do you do? There are so many reasons electronic devices misbehave. Sometimes it could be as a result of wiring problems, component failure inside the device or power surges, which most times may require service or changing parts inside the TV. Most people complain about their Vizio device refusing to turn on and we really want to address the issue. While you pay to have your TV repaired or use your warranty service, there are several ways you can employ to get your TV working again. These methods require no tools and who knows, with luck on your side, your TV might start working again within minutes if you try any of the listed steps.
Step I: Confirm The Screen Is Not Showing An Image
Sometimes when your television shows a black screen, it doesn't really mean that it is not working. It could be as a result of source or panel issue and not a power problem. What you have to do is to press the menu button on the side of your TV or on your remote. If the menu pops up, just know it is definitely not a power issue but could be a source issue like satellite or cable TV service.
Step II: Try Using The Power Button On Your TV Instead Of The Remote TV power button
When your remote is faulty, it might make you think that your TV is no longer working. To find out if the problem is from the remote, use the power button on the side of the TV to ascertain the cause of the problem. Sometimes Vizio TV users think that the device has no buttons on it. On the contrary, however, almost every Vizio TV manufactured from the year 2014 has a power button on the back, so it's easy to find out. Just move around the lower left corner of your TV and you will see the power button. This might be the lifeline you need to get your TV working again. So, if eventually, the power button works, then you need to work on your remote – maybe it needs new batteries or something might have blocked the IR sensor.
See Also: Sling TV: Packages, Login, Customer Service, Promo Code, How Does It Work?
Step III: Power Cycle Your Vizio TV
If you are using a Vizio Smart TV, this method can solve a lot of problems for you. All you need to do is to detach your TV's power cord from the power outlet first, then leave it unplugged and press and hold the power button on your TV for about 10 seconds. After doing this for 10 seconds, release your hands and power the TV.
Step IV: Re-seat The TV's Power Cord
You may not see or know it, sometimes a loose power cord (caused by moving the TV when cleaning or pets) can make your TV not to work. To find out if your Vizio Smart TV cord fits well, check its connection to both the TV itself and power. The best idea would be to unplug it and re-plug it back in. You can then test the TV.
Step V: Connect Your TV To A New Power outlet
Make sure your TV is plugged to a functioning wall outlet. You can even attempt to power it on another outlet and please avoid using a surge protector because sometimes these devices can be the source of the problem. If you test the TV in a new outlet and it eventually works then know that it was the original outlet that is faulty.
If your TV doesn't work after trying all the methods, you need to reach out to the customer support, precisely a technical support representative. In most cases, the above-mentioned steps will fix your Vizio Smart TV but if any of them didn't work for you, there might be some issues with your device that you can't fix yourself. You will then have to contact Vizio customer support service on their website.