There are some users who may have a problem with opening their Steam program on either Windows 10 or Mac. When experiencing such a problem, Steam does not open completely when you try neither does anything happen. There are other times when after launching it, the program will close back after a short while.
It even gets more disturbing when after launching the program, you go to the task manager to see that it is running, but when you try, nothing happens.
While this can be very frustrating, the good news is that it is a problem that is very easy to take care of without needing any special skills or technical help from Steam.
Steam Won't Open? Here are Ways You Can Fix It On Windows
Before doing any other thing, the first step we recommend for you to take apart from the first step below is to restart your computer whether you are running on a Windows or MacOS. Although this method may seem trivial, it can help solve many problems you are having with your computer and programs.
The next thing that may cause a problem and prevent your Steam client from opening is bad network status. Therefore, what you may want to do is to restart both your computer and your network source to see if that will be able to fix it. To do this, you will need to unplug your router or modem from the power source after shutting down your computer and allowing it for some minutes before putting it back. This is another method that you can use no matter your operating system.
Here are other methods that you can also use:
1. Close all Steam Tasks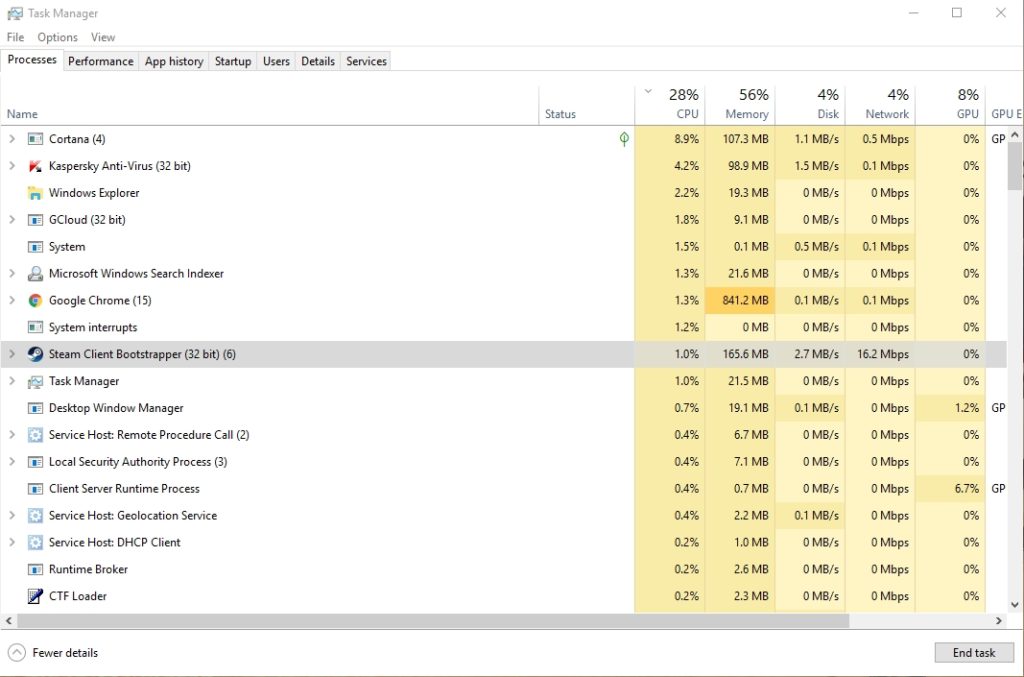 There are times when your steam may fail to launch because there are other Steam tasks that are running in the background. Because of this, your computer may get into believing that the program is already running, as such it will deny the permission for it to launch again. To fix this, what you want to do before anything else, is to look for all the Steam tasks in the background and then close them. Here are the steps to follow:
Open your task manager by pressing Alt + Ctrl + Del and then select Task Mager in the options that display.
Next, select the Processes tab if it is not already there and look for "Steam Client Bootstrapper" in the list of the Processes.
When you find it, right-click it and select "End task." This will close the program.
What you want to do next is to relaunch your program. Most of the times, this will fix the issue for you.
2. Reinstall the Program
Sometimes, the easy way of fixing the program is simply to have your Steam client reinstalled.
One thing to know is that if you are not careful, you may lose your games and data. As a result of this, before you uninstall the Steam, make sure you move your /steamapps/ subfolder to a safe place and then uninstall the Steam Client. Moving the subfolder may take longer depending on the number of games and the sizes that you have on your steam account.
From here, you can go back to Steam to download and install the program. When that is done, launch it and then exit it. The next thing to do is to replace your new /steamapps/ subfolder with the old one you have earlier saved.
Finally, launch your Steam client and it should now, most likely, work well.
3. Update your OS and Drivers
The next thing that may cause the problem is a bug which you can simply fix by updating your Operating system and Drivers. More times than occasionally, updating these will fix this problem for you. Here are the steps to follow to update the Operating System:
For windows, what you need to do is to click on the Start Menu and then click on the "Settings" icon. Select "Update & Security" and finally, click on the "Check for updates" button.
To update Mac OS, go to App Store, click on the Updates tab and under Software Update, select the latest operating system available (macOS Sierra) and then click on "Update." After this, restart your Mac.
Note: Before updating your Mac, make sure to back up your system because there are times when things may not go as smoothly as one may want.
When it comes to updating drivers on Windows, go to your Device Manager by searching for it after clicking the Start Menu. Expand your drivers, right click on them and select "Update Driver." If you prefer, you can also use a free driver's updater which can check and update the drivers for you, although your computer can also do that automatically if you set at automatic updates.
For Mac, simply click on the Apple at the top left corner of your screen and select "Software Update." It will show you all the available updates from where you can update it.
4. Clear Steam Cached Data
In the same way that you can fix a problem with your browser by clearing the cache to give it a good start, so too you can do for Steam. What this does is that it will refresh your steam client. The only thing you will need to remember before doing this is that you must not have any game half downloaded because it will be deleted and so you may have to start afresh. This mostly fixes problems with games that are either failing to download or start. Here are the steps to take:
Open your run command by pressing Windows + R
The next thing to do is to run this command, steam://flushconfig
Give it a few minutes and then restart your computer.
You will be forced to log in again, but your Steam client should launch without any problem.
See Also: Steam Refunds, Login, Charts, Support, How To Share Games Or Get Refunds
Conclusion
With the steps provided above, you should have the Steam won't open issue solved almost all the time. That said, there are times when all the steps may fail you, most especially after making some changes to your computer. In such a case, you may need to restore your computer to a point that it functioned well.
If you have installed a new Anti-virus or you have updated yours, you may also need to deactivate it temporally to see if that is the problem because there are times when the problem may simply be as a result of the antivirus that you are using.