Senso Bluetooth headphones (Senso Activbuds S-250) are ideal not only for those peaceful times or when travelling but also for music by the pool, here are things you didn't know about this great wireless sports noise-cancelling headset
Do you ever get the feeling that you never get to fully enjoy a song unless you listen to it with your earphones? All music lovers understand the importance of feeling every note and hearing every lyric. My fascination has made me try out almost every version of earphones there is; whether earbuds, ear hooks, on-ear or over the ear, I have tried them all. Nonetheless, I haven't encountered a brand or quality similar to the Senso Activbuds S-250.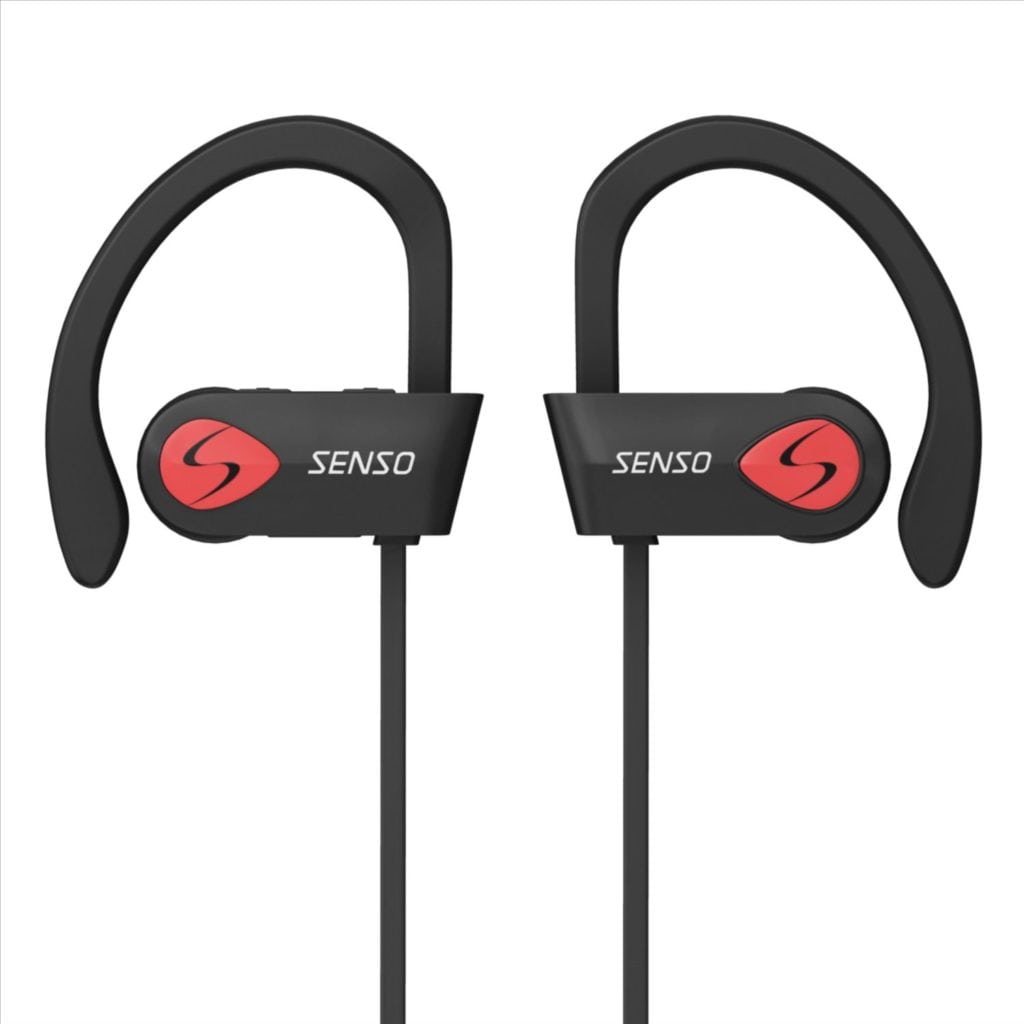 Senso Bluetooth headphones are ideal not only for those peaceful times or when traveling but also for music by the pool thanks to their waterproof feature. Aside from being waterproof, they are also in tune with technology with 4.1 Bluetooth technology, noise-canceling, and an HD stereo function. With Senso Activbuds, I enjoy extra crisp treble, and amazing rock-solid bass and the vocals are never choked at whatever volume I choose.
The headphone business has thrived in recent years thanks to innovative inventions that are placing technology in almost all aspects of our lives. A few years ago, you wouldn't hike, swim, or run comfortably with the set of headphones that were being produced. Portability has been exponentially reduced in the Senso Activbuds thereby enhancing their functionality. Let's have a look at some of the other things that make these earphones so unique.
Senso Bluetooth Headphones Appearance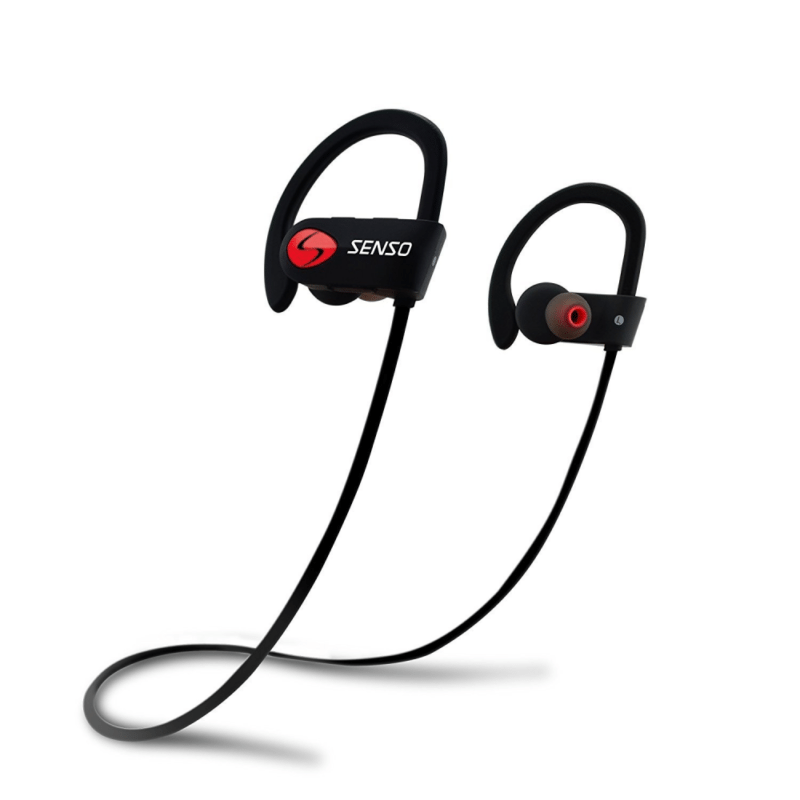 Over a decade ago, a Walkman was the in-thing, and the most common set of earphones were over the ear. However, they had many flaws, and their design wasn't that appealing either. As the market grew, more companies started producing flashy earbuds so as to make them more attractive to customers and make more money. A lot of people have been deceived by design and ended up buying low-quality earphones.
See Also: Gaming Headset Under $100: Cheap Wired, Wireless, Bluetooth Headsets
Senso Bluetooth headphones have a simple yet stylish design. Also, they do not have excessive features making them bulky. Instead, they only have a single connective cord, plain black buds, and an over-the-ear hook. A red Senso logo complements the design on either side of the earphones, which is the only other color used aside from black. The result is a simple yet classy set of earphones.
The box comes with a black carrying case, a charging cable, cable management clip, a manual, and three ear tips each with a different size.
Senso Bluetooth Headphones Audio Quality
The sound that you will get from earbuds is very distinct from the quality guaranteed by high-end headphones. Many manufacturers know that for a fact and compromise on earbud sound quality citing size as a major hindrance to good audio quality. Even Apple users expressed their disdain over the poor sound quality their set of earbuds produces.
However, Senso Bluetooth headphones are widely recognized just for their sound quality. They have a 10-22 kHz frequency, which is more than most earbuds in the market can claim to have, a feature that helps them produce quality Hi-Fi sound. Not to mention, the 4.1 Bluetooth feature means all wireless headphone connections are flawless and instantaneous.
See Also: Computer Speakers Under 50 Dollars
I once owned a set of earphones with 3.0 Bluetooth technology that I ended up shelving for good due to the audio delay they had when I was watching videos. Audio delay is among the most irritating things when it comes to earbuds with Bluetooth technology. However, Senso Activbuds come with CSR technology and CVC 6.0 noise suppression feature which give you instant connection and crystal clear sound respectively.
Comfort
Comfort is a major point of consideration when choosing earbuds. Designed for the active user, Senso Activbuds offer comfort thanks to their durable and soft materials. Also, their ergonomic design plays a big part in ensuring the earphones function efficiently without causing any discomfort to the user.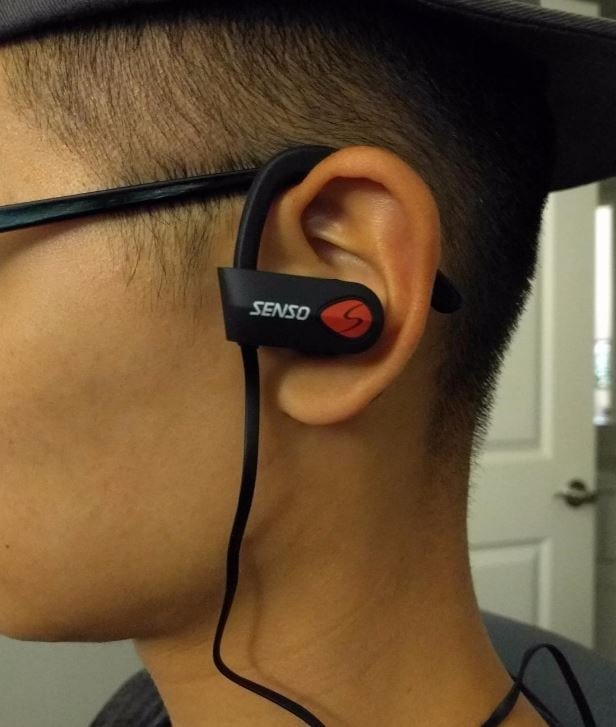 It is for comfort reasons that the manufacturers place three sets of silicon ear tips each of a different size. This way, the listener can pick the size that is ideal for them without sacrificing strain in their ears to listen to music. The ear hooks are light too and do not weigh your ears down. The cable is tangle-free and doesn't require cord readjustment or placement too making it not only comfortable but convenient as well.
Read: Microphone for Gaming and Streaming
Senso Bluetooth Headphone Functionality
There aren't many earbuds on the market that can offer over seven hours of playback without recharging; such is the functionality of Senso Activbuds. With these earbuds, you can listen to music on your way to work or throughout the day and charge them at night. Not to mention, even when the charge runs out, you can always plug in the auxiliary cord to your mobile device or music player.
This feature also makes Senso Bluetooth headphones ideal for long hikes, picnics or even road trips. Also, they come with a mic that allows you to switch from music mode to receive a call at the touch of a button. This feature makes the earbuds an ideal accessory for hands-free calls, which is needed when running or driving or even when your hands are preoccupied with other tasks.
With a connection range of about 30 feet, you can keep your mobile phone in your backpack at the gym and still work out comfortably with your ideal choice of music.
Value
At the end of the day, no matter the number of features an earbud set might have, its price has to match its effectiveness. Most earbuds are expensive because the manufacturers put in some features meant to make them produce better sound quality. However, they do not go all the way across the board to also ensure that they are comfortable and will serve their client for the longest time possible.
See Also: Budget Computer Speakers – Cheap PC Speakers
Senso Activbuds are not only affordable but also have a one year warranty. A year is more than enough time to decide whether you like a set of earbuds or not, in fact, a few seconds are enough. Senso Activbuds provide good value for money by not only having a low price but also coming with accessories such as a 3ft charging cable that can be used on both Android and Apple devices and a Dual Port USB car charger.
Buying options
In Closing
Senso Activbuds is the ideal set of earbuds for the active user who seeks comfort, functionality, and high-quality sound all in one package. Also, their design and affordability make them stand out among hundreds of other brands on the market. They are also fitted with the latest technology and are easy to use making them one on the best earbuds of our time.