Typically, there has always existed that line between handheld gaming consoles and mobile devices which made the gaming experience on mobile phones to always be behind handheld consoles. However, thanks to some of the biggest names in gaming peripherals such as Razer, we now have gaming phones that have crossed the line. One of such phones is the Razer gaming phone.
Coming as the first generation Razer phone, the piece is not only complete as a mobile phone but also complete as a gaming device. Although it is now behind the Razer Phone 2, the phone still has some ground it is conquering.
Any gamer would recognize Razer as one of the biggest names for things such as gaming laptops and other PC gaming peripherals, so its credentials when it decided to delve into phone making has been questioned. However, with the acquisition of Nextbit, the phone is not out of place even though it came rather too soon. Nonetheless, it has managed to beat most expectations with satisfying looks, enduring build, and gaming performance that is powerful.
Razer Gaming Phone Specs
Display: 120Hz UltraMotion Display (Corning Gorilla Glass 3)
Sound: Stereo Front-facing speakers (Dual Amplifiers)
Processor: Qualcomm Snapdragon 835
Memory: 8GB LPDDR4
Storage: 64GB with a provision for external microSD (up to 1TB)
Rear Camera: Wide: 12MP AF f1.75
Front Camera: 8MP FF f2.0
Battery: 4000 mAh lithium-ion battery
Size: 158.5 x 77.7 x 8 mm
Design of the Phone
While most phone makers are heading towards phones with curvy edges, Razer has pulled away to produce something that is entirely rectangular shaped which is quite good. But more than that, the overall look is appealing and comes with a solid metal black chassis, the build quality is overwhelming. The buttons are well placed, but you may need some time to adjust to the way they feel.
First things first, let's state that the display is not OLED considering that at 120Hz and for now, you will not find OLED at such refresh rate. With that off the way, the display is a game changer for mobile phones as a whole, as a result of the stated refresh rate. This obviously makes a lot of sense since the emphasis is on gaming, but it still leaves one with much more than you can ever ask or imagine. With that refresh rate which you can never get tired of talking about, it is not only your gaming that becomes different but everything else because of how smooth the phone operates as you navigate and do other things.
On the negative side, if you will be bold enough to say that, the range of brightness is not as high as some may want it, even though the brightness is most fulfilling.
Performance and Software
The Razer Gaming Phone has a performance that makes it true to its name, thanks to the Qualcomm Snapdragon 835 processor that it comes with. This is a very strong processor that also powers other amazing phones such as Samsung Galaxy S8 and S8 Plus.
It started out on the Android Nougat but has now upgraded to the Android Oreo. The memory of the phone is also pretty amazing which was first used by Samsung only a year before the release of this phone. This makes room for good multitasking and fluid performance.
Of course, there is no reason why you should expect to have any bloatware with the phone. Instead, it has the Game Booster setting to help with your game settings and give you gaming customization of things such as the FPS, among other things.
Do we need to talk about the speakers? Yes, we do because for now, there is no phone that has speakers as good as can be found on the Razer Phone which features double amplifiers. Needless to say, the speakers are retained on version two of the Razer Gaming Phone. The speakers have strength and clarity to them.
The thing that you may not appreciate greatly with the phone is the camera performance. If you go by the specs on paper, the camera is very promising, but when it comes to the real world performance, the promise is non-existent. The front and back camera both perform poorly whether you are capturing still photos or videos as there is softness to the image it captures.
Battery Life
With almost every box checked, the death for this phone would have been poor battery life. Somehow, that box is not left unchecked; it features a fast charging battery (thanks to the Qualcomm QuickCharge 4.0+) with a 4000 Mhz capacity.
With that said, the battery performance places it in a good position for a long period of gaming. But one thing you need to know is that because of the demands of the phone, the battery may drain faster than normal if it is set at its maximum performance with full-screen brightness and the maximum refresh rate.
This means that if you want to get the best in terms of the battery life, you may consider playing at 90Hz which is still very good and keep all other settings at the average point.
Pros
It has a very solid build quality and good looks.
High refresh rate and great gaming performance
Top notch cooling system for a phone
The battery performance that beats expectations.
Cons
The major let down of the phone for us is the camera which performs below expectations.
We believe that the fact that it does not come with a headphone jack is another thing that may turn some people off.
Updated Version 2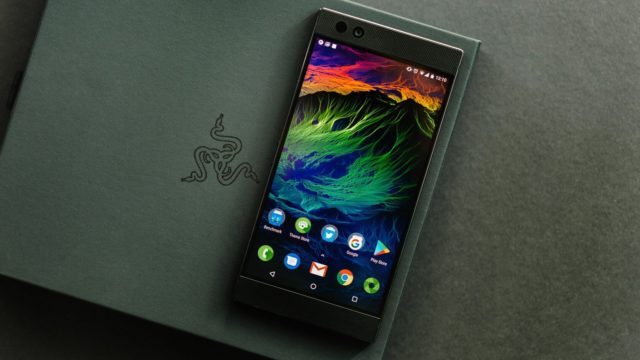 With all that has been said about the Razer Gaming Phone, one may easily wonder if there is another phone that will beat it. Yes, there is; the Razer Phone 2 which is its updated version. Before anything else, it is important to point out that the phone, just like the first, is an entirely different phone from what the market typically offers in both features, focus, and performance.
While the display of the Razer Phone 2 is similar to the first, it ditched the Corning Gorilla Glass 3 for a Corning Gorilla Glass 5 and for the processor, you get a more beastly Qualcomm Snapdragon 845 which gives a greater performance, power efficiency, and better image processing than the Qualcomm Snapdragon 835.
See Also: What is Roblox, When Was It Made? Login, Download, Free Account
In addition to that, the updated version 2 comes with an 8GB LPDDR4X memory and a Vapor Chamber Cooling in place of the Heat Pipe Cooling of the former. One place where one may feel let down is with the camera which although is better than the first, you will still find yourself asking for more. The storage capacities that you get with the two phones is also the same.
Interestingly enough, this phone which is slightly larger than the former, measuring 158.5 x 78.99 x 8.5 mm, has IP67 water resistant up to 1m and also a wireless charging capability, thanks to the wireless charger it features, coming with RGB lighting to give it appealing looks.
Price
With both phones selling at over $500, these are not the cheapest that you will get in the market, but with all that they have to offer, there is no reason why one should not go for either of them if one can afford it.