MyCricket app has remained a very useful tool for Cricket Wireless subscribers across operating systems and devices. Not only has it made it possible for users to carry out activities such as making payments and checking data, but it has also made it easier for people to manage their accounts on the go.
Cricket Wireless is a prepaid service provider which is a subsidiary of AT&T, and it offers services such as data, voice, and text packages. All these services are offered using the Network of AT&T making it have good coverage as well as stable connection. Also, Cricket comes with plans that have been designed with attractive prices, making it good.
Apart from just the services, here is a simple guide on how to get the myCricket app, how to log in and manage it as well as pay your bills.
MyCricket Account Login
The App has been designed for both iOS devices and Android devices. As you will rightly expect, the app comes free, giving you full access to manage your account as well as make payments and other things even when you are on the go. If you have multiple lines, the app can also be used by each person on different phones.
For customers who have purchased their Android phones from Cricket, the phone will come with the app already installed and your account must have been set up at checkout, so all you will need to do is to put in your login details.
If you are coming with your device, on the other hand, you will need to set up your account after downloading the app. From the login screen, select Create an Account and then follow the prompts in order to set it up.
To log into your myCricket app, simply launch the app and then put in your details and tap on login.
How To Pay Bills On MyCricket Account
When it comes to the payment of your Cricket wireless bills, there are a number of methods that you can use. The options are available whether you are using the myCricket app or you are using the main website. You can also pay via phone or in person. When paying your bills, one may use different cards including the Credit Card, Debit Card, Gift Cards (only for one-time payments), Cricket Refill Card (Quick Pay only), Reloadable Prepaid Credit Cards, and Service Payment Card. Nonetheless, gift cards may not be accepted when making payments in some stores.
1. Online Methods
This method makes it possible to make the payment through My Account or Quick Pay. With Quick Pay, you do not need to log into your Cricket account, hence it becomes possible for you to make payments on behalf of someone or when you have lost the password to your account.
Using the Quick Pay, all you need to do is to visit Cricket's website and then click on Quick Pay on the menu.
Now, select either Cricket Refill Card or Credit Card.
The next thing you want to do is to put in the Phone number you are making the payment for and then the amount.
Put in the card information then click on continue, before finally submitting the transaction.
When you are using Quick Pay, you have the options of paying with a credit or debit card, Cricket refill card, or service payment card.
See Also: Cricket Wireless: Phone Plans, Customer Service, Login, APN Setting, Locations
For payment of bills using My Account, you will need to go to the homepage of Cricket and then select My Account. Log in and then click on Payments. Select the method of payment you want and then put in the amount and the card details. Agree with the Terms and Condition and then click on Continue. You can now review the transaction before clicking on Submit.
2. Using myCricket App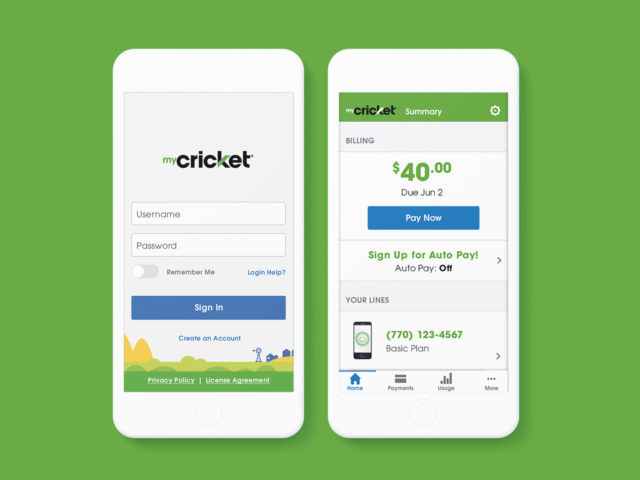 One of the most convenient methods of paying your bills is through the mobile app. However, before you go on with this transaction, you must have downloaded and installed the app on your mobile device.
Launch the myCricket app
You will see Payment on the home screen. Tap on it.
Simply follow the prompts and put in your card credentials.
In the same way, as it is with the My Account method when you are making payments using the myCricket app, you have the options of using a credit refill card, or a debit or credit card.
Note: When you are using the two methods above, you can also set up AutoPay so that it will be paid automatically when the time comes.
3. Phone Payment Method
This is another straightforward method of payment, although it will cost you a service fee of $3 whether you are using the Cricket Support or the Automated Payment System.
To make a payment using the Customer Support, all you need to do is to dial the support number, 1-800-Cricket (274-2538). As noted, it comes with a $3 Customer Assistance Fee which you can avoid by using other methods provided.
With the Automated Payment System, you can simply dial *PAY (*729) from your phone and make the payment. With this also, you will pay the $3 Customer Assistance Fee which you can avoid by using other methods.
4. In Person
Making use of this method, you will only need to visit either a Cricket Stores or even one of its many payment centers. While with the Cricket stores you may use any of the above-mentioned cards or cash, with payment centers, you can either bring your cash or your account number.
With either of the methods, you may also be charged the Customer Assistance Fee of $3.
MyCricket Rewards And Rebates
Cricket Wireless has the reward program which makes it possible for customers to get Cricket Refill cards as well as gift cards from major retailers. Also, they get to enter sweepstakes where they have the opportunity of winning other prizes that may include phones and different other things.
The reward program may come with an app which you will be made to download in order to earn points for things such as playing games, paying your bills, and even just checking into locations that are close to you to sign in for services. With the points you have gathered, you may donate to a charity of your choice or do other things including getting TV network subscription.
One more way that you can gather points and get rewarded is through referring your friends to pay their bills. For each that makes payment through your referral, you will be rewarded.
Apart from the reward program, there is also the rebate offer which is available with the purchase of a Cricket Wireless handset and also other devices that have a service plan that qualifies for the offer. With rebates, it is all subject to the availability of qualifying products in your location.