MRT.exe file is among the many files that you can come across if you are a computer user. If you see it, it is not something that is there by accident as it is Microsoft that added it there to improve the security of your computer although not in place of an antivirus.
The question, however, is:
Is it a file that one should get worried about or is it something that is innocent or even helpful?
What Is MRT.exe?
An acronym for Microsoft Removal Tool, MRT is a tool which was designed for Windows users by Microsoft to serve as a malicious software removal tool. What this essentially means is that the file is not something that is dangerous since the mrt.exe file on its own, is an executable file that is used to run the Microsoft Removal Tool (MRT).
MRT was first released by Microsoft in 2005 and has been on all windows since then. You will, therefore, find it on almost computers that run on Windows operating system unless it has been deleted.
Is It a Virus or Not? 
As shown above, the mrt.exe is a malicious software remover rather than a virus. The important thing to know here is that even though it is a malicious software removal tool, it does not prevent a virus from accessing your computer. What it does instead is to scan your computer automatically from time to time and remove any malicious software it finds.
Inasmuch as it should not take the place of an antivirus, it is still a tool that can be important on your computer. Hence, the advice is never to delete it unless it is causing a problem to your computer. For example, when you are having a problem of high CPU Load you may decide to delete it.
See Also: How To Enable Game Mode in Windows 10 (Step By Step Guide) 
As stated, the Malicious Software Removal Tool is completely different from your antivirus. Instead of protecting you from getting infected, it works as a post-infection tool to remove prevalent infections. Here are points to note:
Its work is to remove malicious software from your computer after it has been infected.
The only software that it can remove are those that are running on your computer. This means that even if you have a malicious software on your computer but it is not running, the MRT will not be able to remove it.
Even though there are more malicious software today, it is only the prevalent ones that the tool is able to remove.
How Can You Remove It?
The only time that it is advisable for you to delete the file is when you are unable to find a way of fixing the high CPU load or any other problem it is causing.
Because it is a non-system process, removing MRT.exe is possible but it is not recommended because every added protection you get for your computer is very important.
Nonetheless, viruses and malware can hide on your computer and pretend to be MRT.exe files. These are the ones that you should delete. To locate such files, follow the steps below:
Open your Windows Explorer by holding down the windows key and then pressing E
Press the Control button and then F to find.
Type in exe and then hit enter.
Your computer will display all the files that are found with the same name.
Right click on each and click on "Open file location."
Delete all the files with the same name except for the ones that are in this location: C:\Windows\System32
You will also want to consider deleting the mrt.exe file when the program is always running. This may also suggest that your computer has been infected. But before doing that, what you may want to do is to scan your computer to ensure that it is completely free of any malware that may cause that to happen.
To check the log and know how the MRT is running on your computer follow these steps:
Open the windows explorer
In the address bar, type this: %windir%\debug\mrt.log
Press Enter and that should supply you with a Notepad with all the log. Unless it has found a suspicious file, what you should see is Return code: 0 (0x0). The log shows details of all the scans that have been carried out on the computer by the tool so to get the latest scan, scroll to the end of the report.
If you have deleted the file, there are different ways for you to download it back:
Automatically: This is the easiest and most recommended way of downloading and installing the MRT. All you have to do is to turn on your Automatic Updates. The program is released each month automatically hence if your Automatic Updates is on, it will download and once it is installed, it will run on a quiet mode and only notify you when it finds something.
Manually: Another way of downloading the Malicious Software Removal Tool is through visiting the Microsoft Download Center to do it manually.
How to Run the MRT.exe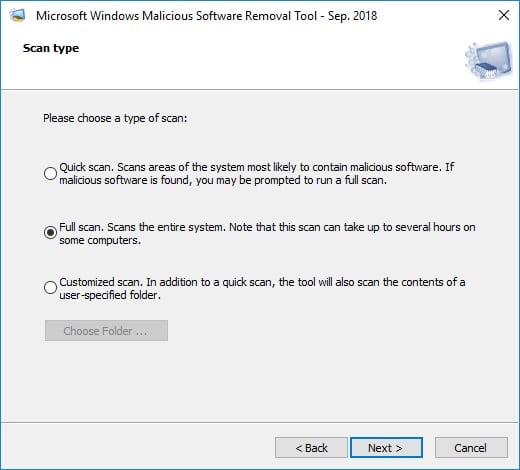 You can manually run the program yourself to find out if there are any prevalent virus or malware. Before you do that, however, you should ensure that you have the administrative rights to the computer. Here are the steps:
Hold down your windows key and then press R to enable the Run command
Type this in the box mrt.exe and click OK.
A box will appear asking for administrative permission. Click Yes and it will load the Microsoft Windows Malicious Software Removal Tool.
In the MRT dialogue box that displays, click Next
For the Scan type, select Full Scan and click Next to start the scanning.
Depending on the size of the files on your computer, this may take some time. If it finds anything malicious, it will prompt you to have it deleted.
Once it is done, you will have a Scan result box notifying you on whether it has found something malicious or not.  If anything malicious was found, you will see "infection was found and successfully removed" or "infection was found but was unable to remove". If nothing was found, you will see "No malicious software was detected".
Click on View detailed results of the scan if you want to go through it.
Click Finish and it will exit.