Just as the global use of computers has successfully provided a certain ease, speed, and accuracy to the way in which businesses run today, so too are things like the modern computer desk, chairs, and other office furniture designed to complement the ease with comfort. From simple calculations to recording and analyzing complex data, computers have become fundamental to the survival of any business in the contemporary world.
However, to make use of this very important gadget, you need to first get a computer desk, not just any type of outdated desk but something with a touch of modernity that will make you enjoy working on your computer.
There are many beautiful modern computer desk designs made with various materials. While some of the desks were designed to be functional enough that it would not only take care of your problem of having too little room for a desk but also look absolutely incredible in that small space, others are suited only for large rooms that accentuate their gorgeous shape.
Some of these desks are also fashioned in a way that they can transform from a small, one-man workstation to a large, conference table.
Modern Computer Desk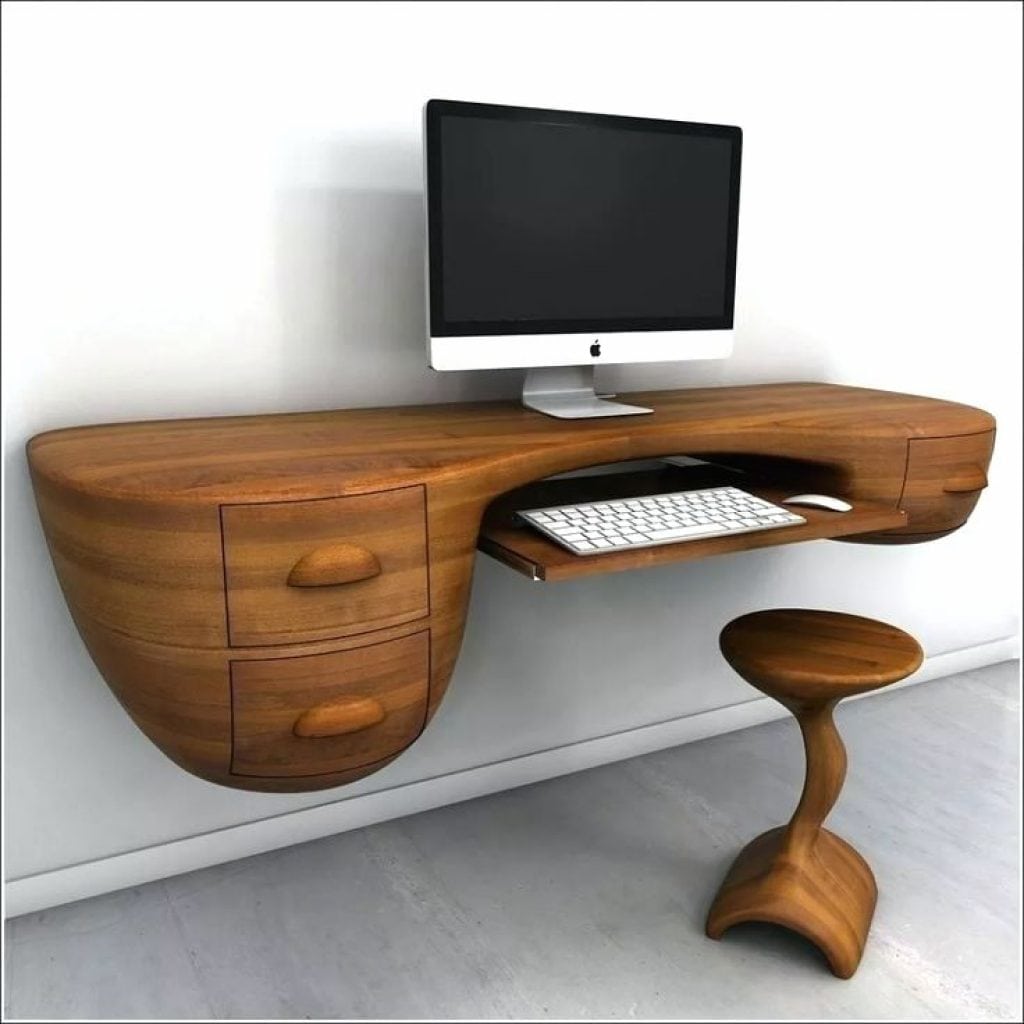 1. TheSwerve Desk
In case you are working from home and need a new and stylish touch to your office, then this desk was created just for you. It is called a swerve desk and it is a very practical piece of furniture. This sophisticated computer desk designed by Victor Klassen was made from high-quality wood and can be purchased in two different colors, natural and espresso stains.
Its smooth curves will create an atmosphere of elegance and sophistication in your office and working on this desk will definitely be a delight.
You can bid farewell to the dull working hours and the messiness of other desks as this one has just enough space for both your laptop and documents. The desk also has drawers where you can store any other papers or accessories you need. This piece of furniture can be mounted on the wall so you will have a lot of space saved for other things.
2. The Duplex Workspace Desk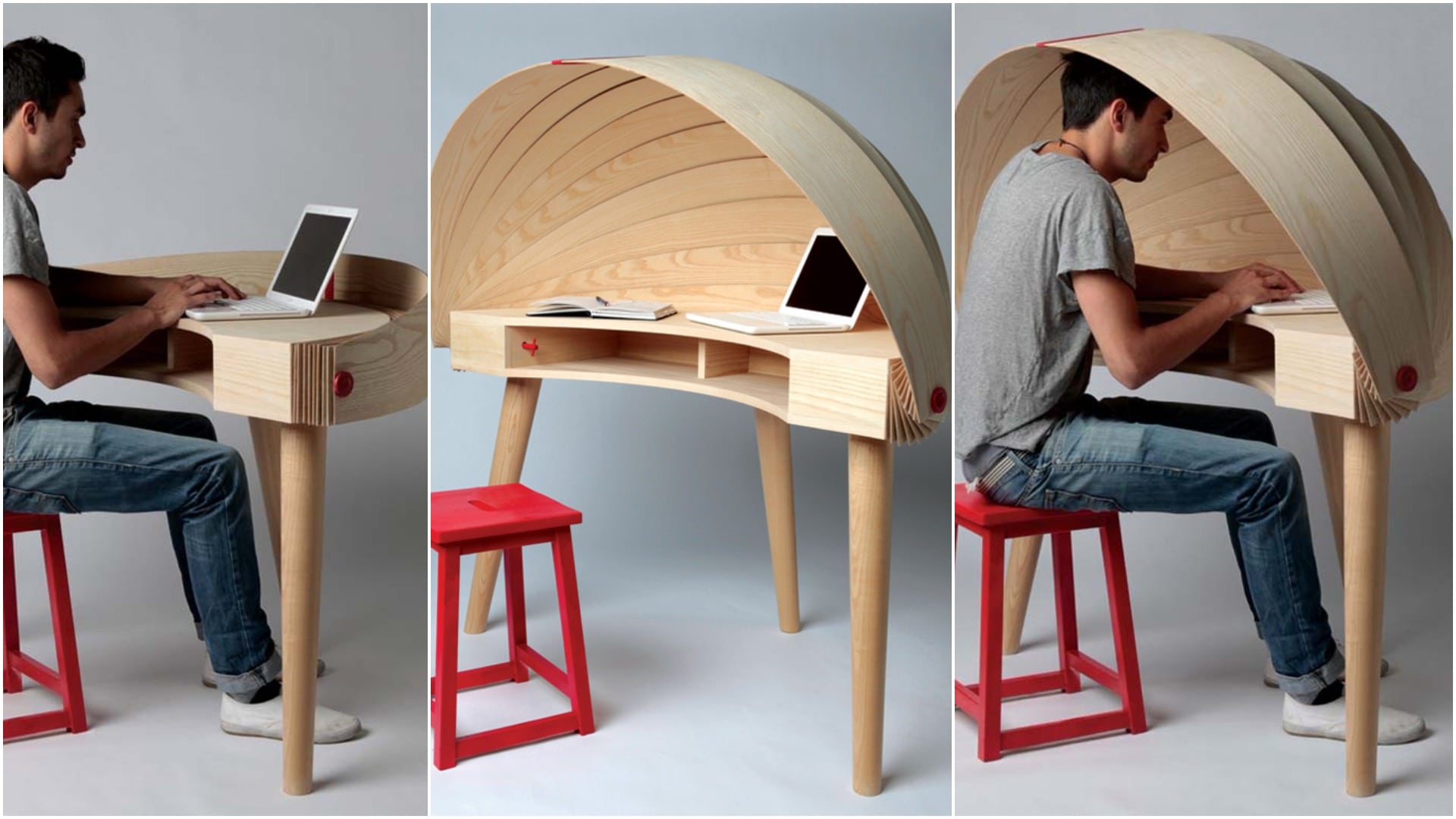 There are times when you need to concentrate on your work with no disturbance from other people but working in an environment with too many people might make it difficult to focus.
In order to solve this problem of working in crowded spaces with no intimacy, a creative, designer Sophie Kirkpatrick created the Duplex Workspace Desk to suit the needs of the user.
Duplex Workspace Desk is a hooded desk that allows one the opportunity of creating an individual working space away from the actual working environment. This computer desk design is sure to give you the privacy you've long longed for.
If you are one of those people who feel uncomfortable with the idea of someone reading over your shoulder, the Duplex Workspace Desk is pretty much perfect for you.
3. Le Orchidee Desk
This desk was designed by a designer with a most fabulous name: Marc Fish. Astonishing in every detail, Marc Fish`s Le Orchidee Desk was inspired by a desk with the same name from Musee d`Orsay in Paris. Many cues were taken from the designer of the original desk (Marorelle,) not the least of which was using groundbreaking techniques utilizing design research and experimentation.
One of the results is the fabulous seamless tambour roll top – appearing to be one solid piece of wood – this top is actually veneered canvas layered upon strips of wood.
According to the creator of this exquisite modern computer desk, the technique used to attain the effect of the desktop had never been used on a desk before. Looking at the pictures of the desk, you'll see the lovely drawers and sassy angles that make up this fantastic-looking desk.
4. The Reindeer Desk
Pay no mind to the name of the amazingly modern computer desk, does it have the shape or a deer? The Reindeer Desk is a creation of Alex Kozynets who thanks to the inspiration of purity and dynamicity, decided to create a desk that is fulfilling for creative activities and writing.
While it doesn't look like the piece of furniture to last forever, it is surely one to bring some fulfillment to an environment that works on creative output.