There was a time when MapQuest was the immediate GPS Navigation tool that you would go to whether you are heading for a long trip or thinking to find your way around a city. When the tool was first introduced, it almost instantly became very successful with as much as a million visits only after its first month. And then came Google Map and a few others that would soon change everything about GPS and navigation technology.
Apart from Google Maps, MapQuest also has many other free GPS and navigation apps and tools to compete with, forcing it to almost be nonexistent. That being said, there are some who still swear by the tool on computers as well as on Andriod and Apple devices. The Question that remains, however, is if it is able to now serve as much as it did many years ago.
Mapquest Driving Directions
The Navigation tool offers both driving and walking directions. However, it does not give the direction for public transit which is one of its main shortcomings. With direction finding, the navigation tool works well for both walking and driving, but it performs better for the latter than if you want to walk.
MapQuest gives you the options of either looking for a place or getting directions. Once you select to get directions, all you need to do is to indicate where you are and then where you want to go to. Interestingly enough, it also gives you the option to also add stops if you have any as well as whether you want to walk or drive. How it works is pretty straightforward as it either presents the routes for you as you drive including the turns, your distance or the entire route.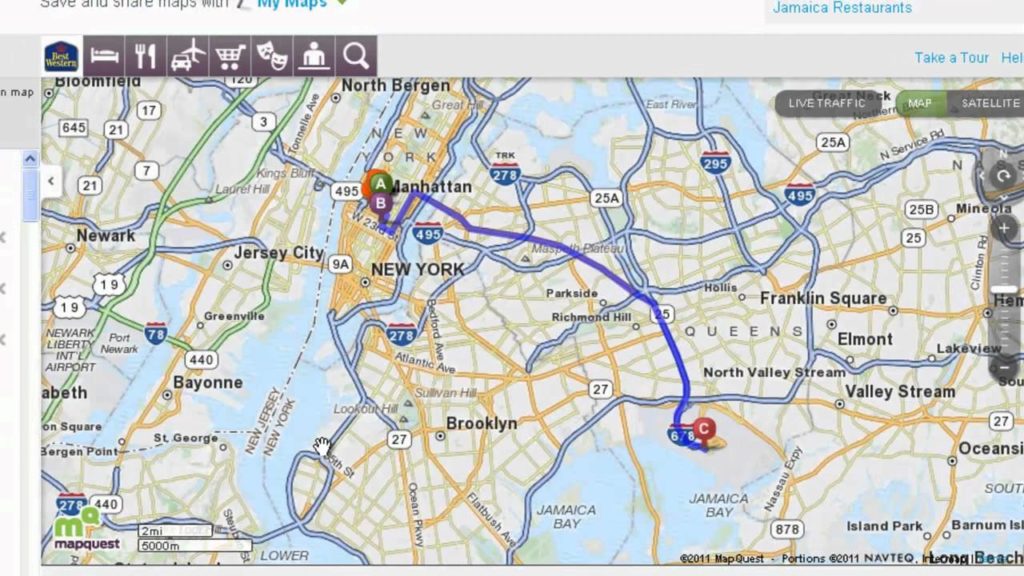 More so, other features that the tool has include notifying you on the traffic condition and also the time it will take you to get there. You may also choose to use the voice guidance which you can adjust to any level you want or even turn it off completely.
Because it is connected to city webcams, it is able to offer real-time information on the situation of the route you are taking including things like potential slowdowns, lane blockages, stalled vehicles, and heavy traffic. Other features that it comes with if you are driving or even walking are public areas, gas stations, and even local listings, although the manner of its listing will not be found to be among the best.
Even though mapquest has been around for longer than almost all others, it does not stand among the best if you need something for direct driving and the walking features are not the best that one can get.
Route planner
The importance of the Route Planner which Mapquest has patented is to create routes for you, optimize them, or help you in manipulating routes that are complex and even put in as much as 26 stops.
An ideal tool for sales reps and other busy people whose work has to do with them driving from place to place, the Route Planner tool is very easy to use, affording you to either manually enter your different stopping points or even import them from a spreadsheet. More so, you get to select whether you want to follow the exact stops you put in or you want the Mapquest to reorder it in a way that will save time.
The route options available are to create the route in the specified order, allow the tool to reorder the stops to save time, or allow it to arrange in order to save distance. You can also select whether it is a round trip or not.
Milage and Gas Calculator
Another great feature that the tool has is the fuel cost calculator as well as the mileage you will cover if you are driving. After putting in where you want to go or you decide to make use of the route planner to put in all your stops, the details that you will get to see are the total travel estimated time in hours and minutes and also the miles that you will be covering. Close to the information, you will see the option to calculate your fuel cost which gives you the estimate once you click it.
In the same way that the tool gives you different routes and their distances, so also it can allow you to calculate the gas your vehicle will consume on the different routes.
See Also: Web Summit Conference and Startup Competition: 5 Things To Know
In order to calculate the fuel needed for a particular trip, Mapquest simply multiplies the route distance you will cover by the average cost of gas along the route and then have that divided by the vehicle's MPG.
The tool gets the average cost of fuel from the OPIS which provides petroleum data. There is also provision for estimated fuel saving for someone making use of an electric car.
Mapquest for iPhone and Android

When it first started as the pioneering digital navigation tool, the options you had was either to print out your routes from your computer or to save it. However, it has now been made as an adaptive application for both Android and Apple phones.
Apart from the fact that they both come with the services that you get if you access it from the computer, the apps are also powerful and highly functional. Inasmuch as there are other mobile apps that provide similar services with some being even better, the tool has been able to still maintain its fair share of the market with millions of users.
Conclusion
While it may not be the best for people who move from a particular point to the other, it is a great tool for people who make many stops a day because while not only helping you find the different places you want to go to, it also gives you the shortest routes.
There is no denying the fact that the tool has its shortcomings most especially with a user interface that is not very friendly, the absence of public transit directions, and the limited database, it still does well with things like traffic information monitoring as well as directions for both someone who is walking or driving.