There is a massive fulfilment in getting a new gaming PC, but what is even more fulfilling and rewarding is building your own rig from start to finish. You are set to do that, but you are caught in the liquid cooling vs air cooling debate that has caught a lot of people building their own computers for gaming.  Now you are confused about which of the two you should go with.
The thing, however, is that both coolers are good in their own rights and can serve in giving you good cooling performance and in allowing for good overclocking. Nonetheless, there are some differences that may give one an edge over the other in some departments.
Liquid Cooling vs Air Cooling
The liquid cooling is a system that makes use of water to take away heat from your CPU. As the water goes to the radiator, it is cooled down by the fans and then it moves around again in a continuous cycle. The air cooling system, on the other hand, makes use of air produced by the fan in order to keep your CPU at a good thermal level whether you are overclocking or not.
Both coolers come in various designs and shapes for different cases and they offer performance at different levels. While they are both great, they have their pros and cons when placed against each other in different areas as we can see below:
Thermal Performance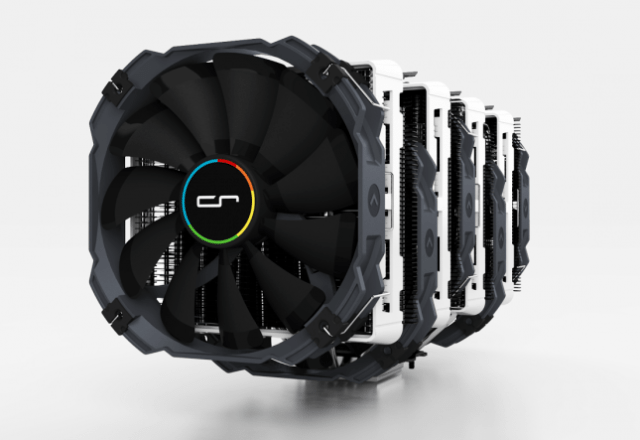 Looking at the cooling performance which is one of the most important things you should look out for, both coolers have performed very well in both stocked and overclocked configuration. In fact, they have dispelled the myth earlier held that at all levels, the liquid coolers outperform the air coolers.
At the lower levels, you will find the air cooler performing by a very little margin better than the air cooler. A little step higher, you will find them performing at almost identical level while higher up the ladder, the liquid cooler performs better than the air cooler by a slight margin.
That said, the irony in terms of performance is that while in the higher end of the spectrum the liquid has the edge in performance, there is also the very crazy cost that you will have to grapple with. Because of this, if you are considering it on a price to performance basis, you will again be left with some questions to answer.
Acoustic performance 
Here, the liquid cooling vs air cooling debate favors the liquid cooling system when it comes to producing much lower noise. This is thanks to the design of the pumps and the fact that you can get a software to make it more silent by setting the RPM of your fan.
Compatibility
Before selecting either of these coolers, you need to make sure that it is compatible to your CPU socket as well as to the chassis that you are using.  The good news is that the coolers are now made to be able to support almost all the CPU sockets you have in the market today.
One thing you need to understand here is that there are many options available on both sides of the coolers that can be compatible with most cases that you are using. You just need to be careful in selecting either because they can both interfere with other components in your gaming computer.
If you are going down to make use of the mini-itx case, you will find out that the air cooler takes the day as far as compatibility is concerned because there are no too many liquid coolers that you can use here.
Size
This is slightly different from compatibility. If you are going to build a big gaming system, you will be better off with the liquid cooler over the air. This is because the liquid coolers are designed to fit such cases and they can provide good thermal performance.
Another thing to consider if you want to go for the big air coolers is that they are heavier than their other peers. Because of this, they can put so much weight on your motherboard after some time, hence if something large is what you are looking for, you will be better off with a water cooling design.
Installation and Safety
When the Liquid Cooling vs Air Cooling debate shifts to installation and safety, your easy pick may have to be the air cooler. With the installation of the air cooler, it is pretty much straightforward as you don't need too many other parts as you do with the water cooler which has the reservoir, radiator, and fans among others.
Better than a few years ago, you hardly find many water coolers leaking even though that doesn't mean the possibility of them leaking has been eliminated. Because of this, the safety of your gaming rig may as well be put into some question with them more than with the air cooling system which has no potential of destroying any other component because it fails.
Aesthetics
In line with the cliché about beauty being in the eye of the beholder, the appeal of either cooler depends on your preference. Nonetheless, you will find more people leaning towards the liquid cooler.
Price
When it comes to gaming, just as it is with all other things, we cannot pretend that price means nothing because it may sometimes mean everything. If you are on a budget, getting an air cooler over a liquid one may be the best thing to do because it comes much cheaper and with many options to choose from.
See Also: Best CPU Cooler 2018: Top 15 Liquid and Air Coolers / Fans Reviewed
If you are going with a high-end air cooler, you will get to find some that are more expensive than the entry-level liquid coolers but on a general note, the air coolers are cheaper than the liquid coolers.
Liquid Cooling vs. Air Cooling- Summary
| | | |
| --- | --- | --- |
| | Liquid Cooling | Air Cooling |
| Performance | ✓ | ✓ |
| Noise | ✓ | |
| Broader Compatibility | | ✓ |
| Size | ✓ | |
| Installation and safety | | ✓ |
| Aesthetics | ✓ | ✓ |
| Price | | ✓ |
Conclusion
As far as performance is concerned, it has been seen easily that the liquid cooling system has an edge over the air cooling system if you want to go to the higher-end and you don't mind spending too much. However, there are still some air coolers that can deliver even a better cooling performance than other liquid cooling systems even at those levels. Generally, however, neither has the clear victory when it comes to performance so you can go with whichever you prefer.
At the end of the day, if you are wondering which you should go for, it all depends on what exactly you want since the liquid cooling vs. air cooling comparison has no clear winner. But beyond that, you need to carry out a research to find out what exactly will work for you based on your needs.