Quick Answer
PowerISO is a software that is very safe to use. However, the safety is only guaranteed by how it is downloaded. If you get it from the legitimate source, you will be more certain of the safety than if you get it from other sources most especially when it has been cracked.
Your entire CD, DVD, or even BD can be represented perfectly by a single file which is known as the ISO File or ISO image. The importance of this file is that you can have your disc duplicated through it. The thing, however, is that the file is completely useless unless you are able to open and use it. There are a number of tools that one can use to create and open such files such as the PowerISO.
PowerISO is a tool that allows you to create ISO files from CDs, DVDs, and other collections from your computer. Apart from just creating these files, the tool also makes it possible for you to mount them on virtual drives or burn them on discs.
One of the main advantages that you get with the tool is that allowing you to create these files, you can back up your files and games and mount them to a virtual drive from where you can play them or save them from any damages to CD or DVD.
How To Use It
The uses of PowerISO is quite much, from things like making bootable CDs to creating ISO files, and opening such files. Here is how to use the software to create ISO files.
1. The first thing you want to do if you do not have PowerISO is to download it. To do this:
Go to PowerIso's website through this link
Click on Download
If you are using a Windows OS, select the bit version your computer is on (32-bit or 64-bit)
To check your bit version if you don't know it, go to My Computer on your computer, right-click on it and select Properties and you will see it under "System".
Click on the link for your computer and it will download. Go ahead and install and then launch it.
Note: There are also versions for Linux and Mac OSX.
2. After you must have launched the software, click on Add.
3. Find the folder or files that you want to be added to it. If it is from a CD, open it and add the files here. You can also right-click on files, go to PowerISO and select where you want them to be added.
4. From the menu, you can select on action to create a new folder, change the label, and see the file properties among other things.
5. After adding all the files you need, click on Save on the toolbar. You may also decide, if you want to save it as ISO file, to go to File on the toolbar, select "Save As" and choose the format you want to save it as and then save it.
Note: If you want to save files as ISO files, simply add them to PowerISO, click on Save, and after putting in your file name, set "Save as type" to "Standard ISO Images (ISO)".
To Mount a Game in PowerISO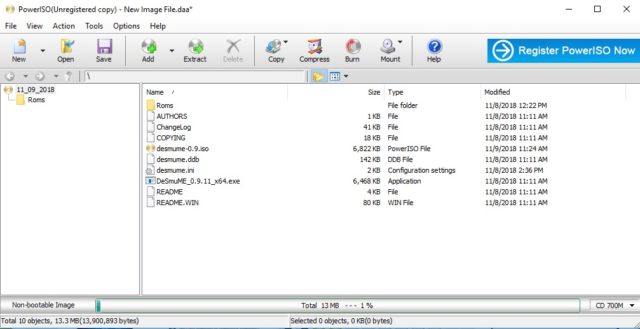 Another thing that you can use ISO for is to mount games from your CD. The steps to take are not so much different from the steps above:
1. Insert the CD or DVD of your game into the optical disk drive.
2. Having launched your PowerISO, click on Copy and then select the CD or DVD you insert in the Drive.
3. Give it a file name and set the type to ".iso" and then click "OK"
4. Now, on your toolbar, click on "Mount" and then click "Mount Image to Drive [your drive]:"
5. The file will then be mounted.
Key And Registration Code
Although you can download and make use of PowerISO without needing to pay anything, it also has a premium version with which you will get much better benefits.
With the free version, you will always see a popup thanking you for trying the product when you launch, something that can get you frustrated as it keeps coming up each time you launch it. Also, there is a limitation to the size of files that you can save at a time, placing it at only 300MB for the free service.
As a result of these and other inconveniences that come with the free version and the limitations, many may prefer going for the premium version, although it costs US$29.95. Here are some ways to get the code:
From PowerISO
Of course, the first place where you can get the genuine code without any fear of problem is from the developers of the software. All you need to do is to launch the free version and when the pop up appears, click on "Order Online". This will take you to a page where you can buy the code.
If this is the method you are using, there are many codes and coupons that you can use to bet a better bargain here are some:
PISO-YAR1-ULNI (50% off)
PATR-YHF3-AUTE (20% off)
Others 
Apart from this, there are also other ways that people have found to get these codes for free, although these ways are not legal. More so, you will need some tweaking and tricks to get them to work.
Interestingly enough, there are more places on the internet where you can find the cracked version of the software and free codes than there are the places where you can buy the genuine code although the genuine code is much safer.
Is PowerISO Safe?
The software is one that is very safe to use, but that will depend on how you get it and the process of installing it. When you download it from the website of the manufacturers, you can count on its safety as it has not been tampered with.
See Also: What is FRAPS? How To Download And Use It For Screen Recording
When it is downloaded from third-party platforms, the program has been cracked to allow you to use it for free, there are tendencies that such may not completely be safe.
That is not to suggest that all such cracked programs are not safe, but their safety is not as guaranteed as it is when you get it from a legitimate source.
Other questions people are asking
What do you mean by ISO file?
These are files that contain the complete image of a disc. They are used to transfer CD and DVD images in order to back them up or to use them.
Does PowerISO come with a virus?
No, if you get the program from the right source, it does not come with a virus or anything else that can harm your computer.