Short Answer
Green Man Gaming is far from being a rival to game distribution behemoth Steam, however, this does not affect its legitimacy at it can still be well described as authentic for many reasons that include the safe purchasing of games, customer support efficacy, and affordable game prices.
In the online video game distribution and retail market, there are very few platforms that can claim to have the amount of sway that the Valve Corporation platform, Steam, has. Steam has grown to become a behemoth in the industry, leaving other competitors with no option but to fight for the scraps by more often than not, entice customers with discounted prices on some of the biggest games available.
One of such platforms that are looking to make headway in the market is UK-based digital video game retailer and distributor, Green Man Gaming. Here, we will be taking a look at how legit the platform is and what exactly sets it apart from the huge number of other retail outlets that are fighting to have a stake in the online video game market.
What Is Green Man Gaming?
As previously mentioned, Green Man Gaming is a UK-based digital video game retail and distribution platform that was established in 2009 by Paul Sulyok and Lee Packham. The platform, which has portals in various languages (English, Dutch, Spanish, and Portuguese), operates in 195 different countries and conducts transactions in more than 16 different currencies. It stands out by offering the best prices and providing the latest game data tracking, reviews, and discussions on its community.
The British-based online video game retailer stocks a wide catalog of games, from digital versions of PC, Nintendo 3DS, and PlayStation 4 titles to thousands of games from obscure independent developers. Green Man Gaming works with independent developers from all around the globe to market their own games and increase the visibility of games in a challenging marketplace. It previously sold physical versions of PC, PlayStation 3, PlayStation 4, Xbox 360, and Xbox One games, in addition to consoles and various other accessories like controllers.
Aside from this, Green Man Gaming also specializes in game keys of which an overwhelming majority can be redeemable on Steam, alongside other major gaming platforms. There is also a digital trade-in service offer where game keys were deactivated and resold as pre-owned. In addition to these, since 2015, the platform has also self-published a selection of games for PC and OS X. One of their most recent works is the open-world coastguard rescue sim Stormworks: Build And Rescue.
Since its launch in 2010, Green Man Gaming has been recognized by various leading bodies in the video gaming industry with over 30 awards.
Is Green Man Gaming Legit, How Does it Work?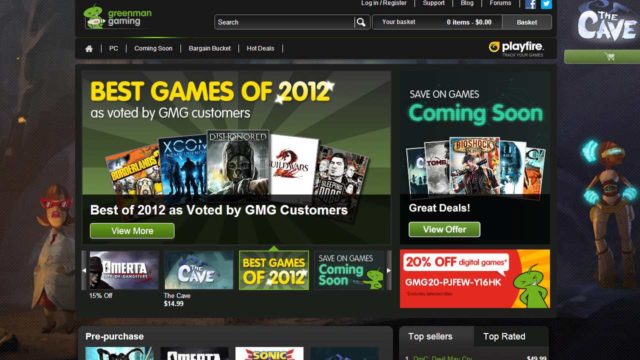 Despite the presence of one notable controversy in the past, Green Man Gaming can well and truly be described as legit. The platform can be described as legit for many reasons that include the safe purchasing of games, customer support efficacy, and affordability of games.
How Safe is Green Man Gaming?
Steam, which is the yardstick many people use to measure other similar online video game distribution platforms, built its reputation on many things, but most importantly on how safe it is to buy a game. The online video game publisher has managed to borrow this by making sure the platform affords its users that same quality of safety. In comparison to Steam and taking catalog size into consideration, Green Man Gaming still has a long way to go although its own catalog is ever expanding as it includes a colorful variety of games.
Another factor that points out the legitimacy of Green Man Gaming is its customer support efficacy, which many users say is way better than that of Steam by a wide margin. It is said that the platform's support team is quick to offer assistance in case of game key issues, which is an obvious occasional issue thanks to the very nature of the service.
In regards to pricing, Green Man Gaming has also proven its legitimacy by offering customers games at competitive and affordable prices. The platform often sells games at far more appealing prices than other platforms, and there is a huge chance for one to be able to land a bargain. You can also save a decent amount of money by pre-ordering a selection of upcoming games for less than you would get it through other online retail and distribution outlets. It also runs seasonal sales with more aggressively discounted prices than its competitors.
In addition to that, they also offers an attractive service called "Lucky Dip". Via this service, users get a game chosen at random from a list of 45 titles after paying a nominal fee of 99 pence, or local currency equivalent. Green Man Gaming describes the service as "a Kinder egg; you don't know what surprise you'll get inside until you buy it!"
For loyal customers who have notably purchased a large number of games on the platform, Green Man Gaming offers a VIP membership. This invite-only membership provides access to a special VIP area on the platform, as well as free games and exclusive discounts.
Another feature that has been welcomed by users of the Green Man Gaming website is the forum area. Here, users are able to have discussions about a wide array of different video game topics. There are also a number of sub-forums that users can visit and talk about topics like retro, mobile gaming, and free-to-play.
Read Also: Uplay: Download, Account Login, Free games, Support, Promo Code
Controversy
Earlier, we alluded to a controversy in which Green Man Gaming was involved in. The issue in question happened in 2015 following the release of The Witcher 3 video game. The platform was offering the game for a preorder price of $39, which was substantially lower than the standard launch price of $60. Before the eventual release of the game, the developer and publisher released a statement accusing the online video game retailer of using an unknown source for the distribution of the game keys in question. They went on to tell customers not to purchase The Witcher 3 from Green Man Gaming.
The CEO of the company immediately responded with a statement of his own, explaining that the keys were legitimate and came from an authorized third party vendor and not the publisher of the game. He added that they did so because of a failure in negotiations with CD Projekt Red.
Following this incident, Green Man Gaming began to identify where all of their keys came from. There has since been no controversial issues with the online video game retailer since that time.