Quick Answer
Inasmuch as the Avast Driver Updater may not be the best out there in a market that has many driver-updating utility programs, it is still one that is very safe to use. This is because it doesn't have any problem of downloading harmful drivers. Instead, it downloads drivers from the manufacturers and before it updates any drivers, it backs up your existing drivers and then it creates a restore point.
Avast has made a name for itself, thanks to its Antivirus which at a point, was one of the best solutions you could get for your computer. To complement the antivirus, Avast introduced many other security tools such as the Avast Secure Browser, Avast Secureline VPN, Avast Behavior Sheild, and Avast Driver Updater.
Needless to say, all the tools serve to give you better security features as you browse the internet and to keep your computer safe. With the Avast Driver Updater, you have a program that serves to scan and update all the drivers that have a problem or that are out of date so as to ensure that your computer does not run into any drivers' related issues.
With that said, there are so many who do not consider driver updater as something that one should necessarily have since your computer can update all the drivers that are outdated unless you turn off the automatic update, which means that you can still update the drivers manually from time to time.
Even when it comes to having a driver updater, there are many of such tools that have established a presence in the market for their sheer performance and functionality, as well as the options they afford including software programs such as Driver Booster which is probably the most popular around, Driver Easy, and Smart Driver Updater. While they have the premium options, there is also the free versions that one can use.
And then came the Avast Driver Updater which like many others, scans your system for drivers that need to be updated and fixed for free, although it charges you for a premium license that will allow you to have the drivers updated.
Generally, the updater offers the same things you get with most others, but there is still the question that remains about its safety.
Is Avast Driver Updater Safe?
Among the different reasons why so many people are not necessarily fans of driver updating utilities is because of the fee that they charge for a job that your computer can do perfectly on its own at no cost whatsoever. More than that, there are also issues about how safe such utilities are since your system drivers are powerful enough to stop your system from properly functioning.
Because of this, the source of drivers is always a thing of concern as a poor driver updater may get a driver from an untrusted source that could be harmful to your computer.
In the department of safety, the Avast Driver Updater does not leave questions unanswered. The drivers you get with the utility are from the manufacturers and most importantly, before it carries out any driver's update, it backs up your existing drivers and also creates a restore point on your computer. With that, you can roll back any update that you are not sure of, or if your computer begins to misbehave as a result of an update, you can simply restore it to a previous point.
How to Download and Activate Avast Driver Updater Free Trial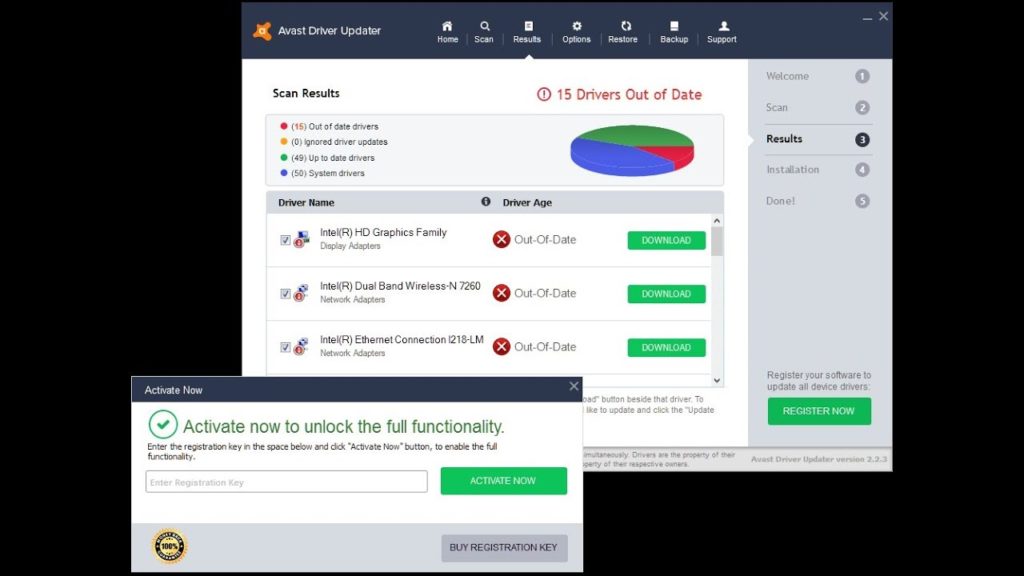 Before you can go ahead to try downloading the program, you will need a system that has a RAM of at least 256 Mb, a storage of 400 Mb, anything from Windows XP SP3 (32-bit) to as high as Windows 10, and a pc that is compatible with at least, an Intel Pentium 4 / AMD Athlon 64 processor. Also, you need to have an internet enabled computer.
For you to get the full benefits of the program, you will need to buy a premium version which costs $49.99 for a subscription of one year, $89.99 for a subscription of two years, and $129.99 for three years. There is also the trial version which you may as well use before deciding whether to put in your cash on the main product or not. Here are the steps to follow to download the trial version:
Go to the Driver Updater page through this link
Click on the DOWNLOAD TRIAL button and that will download the installer.
Run the installer and then select Yes to give it permission to install.
Select I agree and then allow the program to install.
If after the trail you feel satisfied with the Avast Driver Updater, you may as well activate it using the following steps:
The first thing to do is to buy the registration key for Avast.
You will receive a confirmation email with the activation key which you will need to copy.
Launch the Avast Driver Updater icon on your desktop.
On the interface, select Register Now at the bottom right corner of the interface.
In the field for the activation, paste in the code and then click on Activate Now.
See Also: What is BitLord, Is it Safe? Review and How to Download
To use the updater in scanning for drivers, click on Start Scab once you launch it and that will run the scanner. Once that is done, you can either decide to update them one after the other or update all selected drivers all at once. With this done, you can restart your computer if you are prompted to do that.
Other Questions
What is Avast driver updater?
Avast Driver Updater is a utility software that scans your computer for outdated drivers and those that do not function very well to have then updated. It scans for hardware drivers including for network and video adapters, sounds and graphics cards, printers, cameras, and much more.
Is Avast driver updater free?
The utility comes with a trial version with which you can use for a period of time. You can use the program for free to scan for outdated drivers. For you to be able to install the drivers and get its other benefits, you will need to have a subscription.
How do I uninstall Avast driver updater?
To uninstall the program at any time, you will need to follow the same steps in uninstalling other programs:
Go to your control panel
Select Programs and Features
On the list of your programs, select Avast Driver Updater and then click on Uninstall.
Select Yes to give permission for the program to uninstall and then OK to confirm.