For anyone who has ever tried looking for an office chair to buy, there is always a single problem that we are all familiar with; almost every good chair is expensive, and the moment you hit upon one that is cheap, you would realize there is nothing good about it. It is because of this that when you first hear the price of the IKEA Markus you get tempted to push it aside. Don't.
The chair has for some time now, become popular among those looking for a good office chair that is both affordable and of good quality, or at least, much better than what one gets with many others. Two things that Markus promises are comfort for people who sit for long hours and quality which it has to a large extent kept.
With all the great things that many have had to say about this chair, there are many that still have a lot of doubts because of the inconsistencies of IKEA. In the past years, the giant furniture maker has been able to make a name for itself with great products, but in the same way, it has also managed to leave bad experiences with others. Let's see how its Markus chair fairs:
Quick Features of the IKEA Markus Chair
The chair does not come with too many features, as it is designed to be simple and straightforward. Some of the most important features you get are:
The backrest is high and it has a mesh material making it very breathable.
Armrests are not adjustable but they can be taken off.
The height of the chair can be adjusted.
It has pressure sensitive casters that keep the chair in place whether you are standing up on it or just sitting thanks to its brakes mechanism.
The chair is designed with a Lockable tilt function which ensures that you can have it secure in a particular position.
IKEA made it for easy assembly and with the capacity to take as much as 242 pounds of weight.
Design and Quality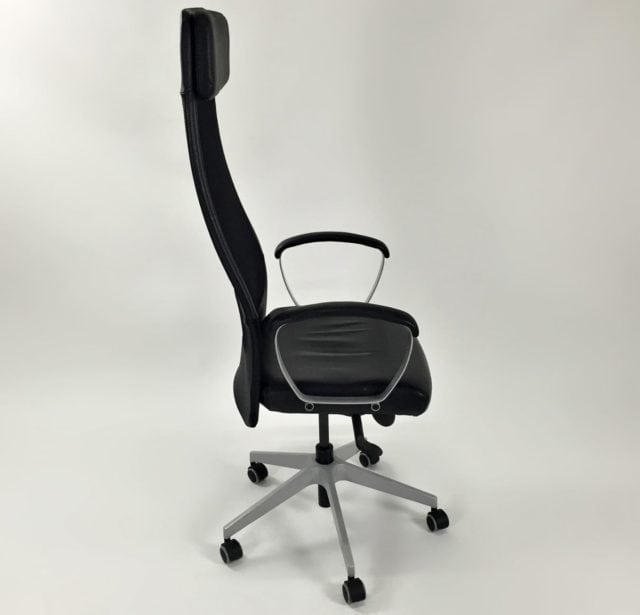 While there is not much that can be said about the design, the little that will be said is all in the positive. The emphasis here for IKEA is to make Markus as simple as possible and still with good quality. As stated, it has a breathable backrest which is very high and armrests that are easy to take off.
Beyond just having good looks which is easy to please, the chair comes in different color options with the black one as the most popular.
See Also: Maxnomic vs DXRacer Computer Gaming Chair Comparison
Another interesting thing with the design of the chair is its simplicity; it is one that is very easy to assemble even as it weighs 23kg when packaged. There are bolts and nuts to tie, but it doesn't need an expert to have it done because it comes with a straightforward manual that can see you through setting it all up in less than 20 minutes. Yes, most people have a problem when it comes to DIY assembly because there is mostly the question of sturdiness. However, if you are able to take your time on this, there is no reason why it will fail to hold.
To the quality, with the IKEA Markus, the company has done a penance for the sins of its past, most especially when you consider that on one hand, the chair is on the mid to low-price range, and on the other, it comes with a warranty of 10 years.
Comfort
This is not the most comfortable chair that you will get to have in your office, but when you are looking to spend less, it may end up being a good deal, most especially because of the ergonomics that it comes with.  That being said, you can sit on it for hours without feeling tired, thanks to the foam used on the Ikea Markus.
It has good armrests and although you may not get to adjust every part of the chair as you will get with many high-end ones, the adjustability is still manageable. For users who are very tall, the problem that you may find is that the arms may be too short for you and they cannot be adjusted to go higher, while for people that are short, you may find yourself sitting too low in the chair.
Pros
One of the easiest chairs to set up.
It is more than just fairly comfortable.
It comes with a good warranty of up to 10 years.
The Ikea Markus has a good price and it has a quality that is better than many other budget chairs.
Cons
Not the best for people with too much or too little height.
Doesn't afford much in terms of customization.
Verdict
For someone who doesn't want to spend too much on an office chair, this is a good one to go with. As pointed out, there are some sacrifices to be made since it is not the most adjustable chair that you will find in any office. But then looking at the quality, design, ease of set up and use, it is one that comes with a lot of value.  If you are not on a budget, I will recommend that you go for a Herman Miller Embody office chair, although you may find yourself spending over a thousand bucks. 
Conclusion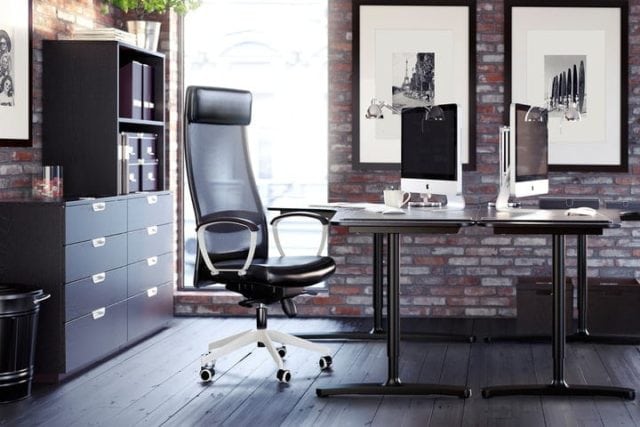 With the creation of Markus, IKEA has found itself in the good books of people who want affordability over every other thing for office use. It may not be able to compete with high-end chairs or even stand as the best pick for someone who is looking for comfort over price even as it has a very good quality. For a seat of that nature, you may need to cough out some more cash.